Furniture design by Vans the Omega
A very talented Australian street artist, Vans the Omega, has embarked on a journey of home design in collaboration with East Editions company. The Brad and Kelly Eastman venture is actually a concept store, dedicated to production of uniquely designed home furnishings, limited edition products and other anti-mass-design household items. Vans The Omega project encompasses design and painting of four coffee tables handcrafted by a local carpenter, adorned with his recognizable abstract angular forms of contrasting chromatism. The result is truly amazing, as the four coffee tables contain warmth, beauty, and a super cool factor. Check out some pictures in the slider above.
The Table
The graffiti furniture was inspired by ancient art, architectural forms, natural material and the concept of balance in movement. He used various geometric forms colored in contrasting color pairs, to create predominantly triangular, sharply edged forms that reveal only a touch of dripping at places. This feature ties the entire design together and provides it with an organic feel, elegantly opposing the dominating geometry of the concept. All four tables are made from Australian East Coast Blackbutt timber, which gave them the particular coloring and natural pattern that carries Vans the Omega's design beautifully. This project proved once again that street art design is very much in love with the world of applied arts, not solely limited to the apparel industry. These four practical art pieces are unfortunately all sold out, but they do inspire all of those who enjoy uniquely crafted home furniture and who knows maybe they success will inspire another edition of the coffee table.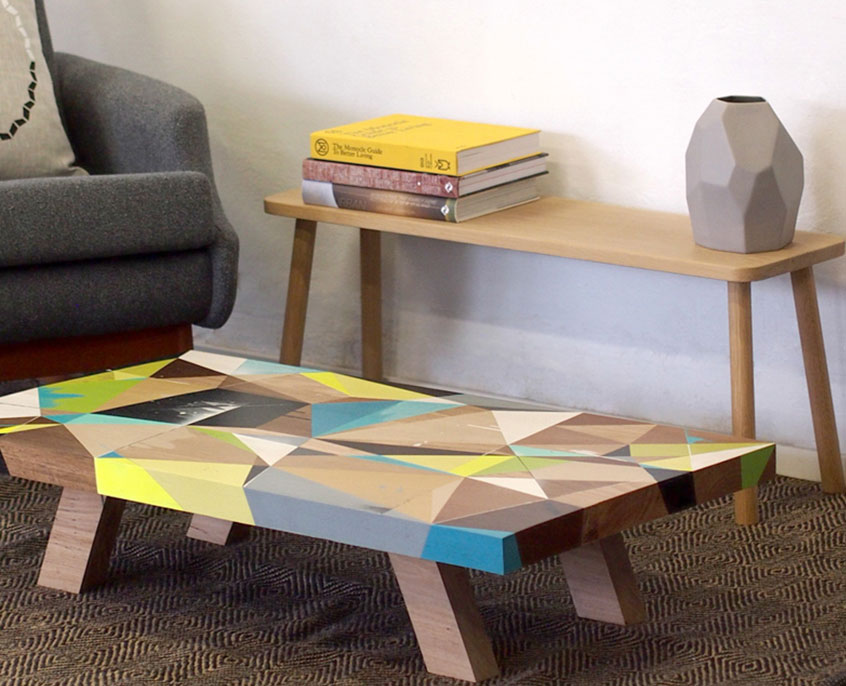 Vans the Omega – Background
Generally based in the city of Adelaide of South Australia region, Vans The Omega has been active as a street artist for more than twenty years. Primarily oriented toward creation and execution of letterforms, his style has evolved into an interesting blend of abstract art, occasionally accompanied with surrealistic figures, characterized by constructive forms, contrasting colors, elaborate compositions and overall harmonious impression. Since 2000, he has been constantly on the road, travelling and painting around the globe. Vans the Omega is a member of TMD crew, and his original style is recognized for exhaustive curation of details, harmonious letter structure, dynamics and signature technique, which set his apart in the street art world and aided his artistic growth among the numerous global crowd of graffiti artists. What occupies this Australian artist today is the development and perfection of sharp, angular shapes, drawn from the engineering realm, highly technical and immaculate in execution, as well as creation of complicated patterned designs infused with traditional street art elements. Commitment and creativity are pushing Vans the Omega into delivering innovative artwork, marking him as one of the leaders of craft who keeps recreating and honing his artistic skills without end. Progressive and productive, Omega is proficient in other artistic fields, ranging from photography and design, to clothing and video. New ideas keep popping into this creative mind, as he continues to materialize them, so his admirers are hoping for a long and prolific future this artist will thrive in.