Graffiti on Girls
Graffiti has come a long way from its original purpose of painting walls and decorating outdoor spaces. For a while now, number of artists have upgraded their skills and, instead of using the wall as their basis for drawings, they use people's bodies, usually girls. It all started in France around 10 years ago when a few graffiti artists privately painted their girlfriends. Soon it evolved into a worldwide movement, and today it is thought to be a fast growing and more and more popular type of body art. There are numerous web sites dedicated to this artwork only, and one of the most known is 'SHRiiiMP Graffiti on Girls' that allows writers to upload and share their graffiti on girls body paintings. The site also collaborates with different sexy urban art and graffiti blogs which even led to creating GRAFFITI ON GIRLS INTERNATIONAL CALENDAR.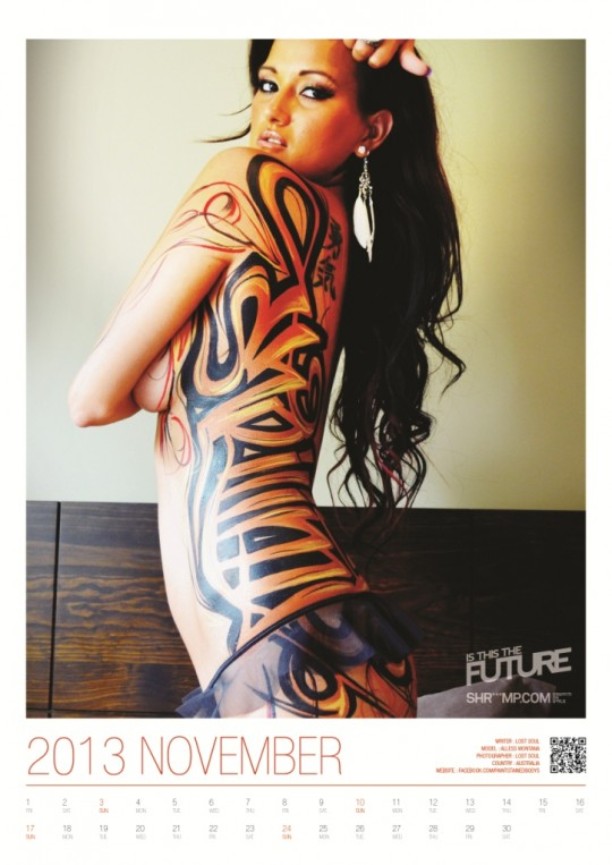 Pics, Events and Contests
The website 'SHRiiiMP Graffiti on Girls' is divided into three main categories – 'your pics', 'events' and 'contests'. The first one features uploaded photographs of girls whose bodies were painted with graffiti; the second one informs you about the future 'SHRiiiMP' events around the world; while the last one is about the contests organized by the 'SHRiiiMP' team, with every contest having a theme, like 'I LOVE BEER AND GRAFF' or 'LOVE' contest. If you click inside any of the categories, it informs you even further about your search.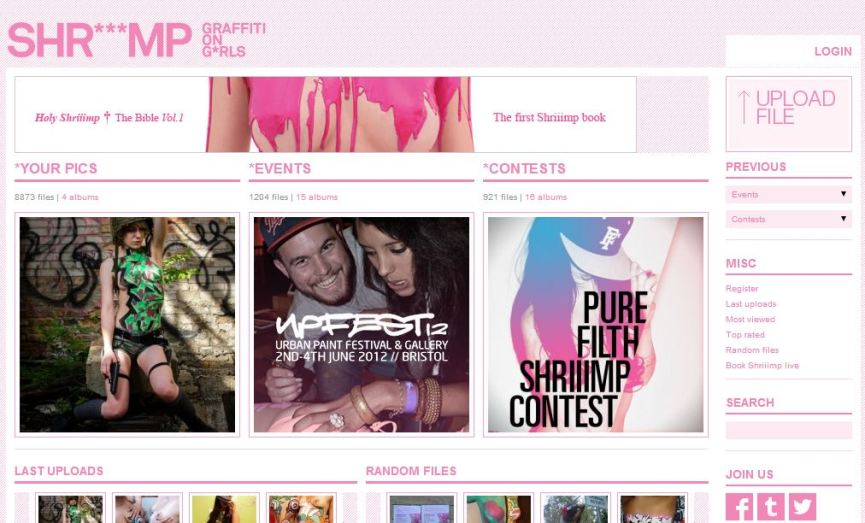 Graffiti On Girls Calendar
The collaboration with art blog ISTHISTHEFUTURE led to creating a GRAFFITI ON GIRLS INTERNATIONAL CALENDAR. It features a collection of stunning Graffiti Body Art  photos by some of the best Graffiti Body Artists in the world – Each month has a separate artist and also includes a 'QR code' which takes you to each artists website for more Graffiti Body art. This year's featured artists are MESH (France), KORES270 (Portugal), ESKAT (France), MR SHIZ (UK), G-KILL (France), JABRINGS (Martinique), LOST SOUL (Australia), CHES (Russia), AKUMA ONE (Canada), 2BLOK (USA), ASOLE (France), ROKRAS LAMPAS (Russia) and JESSY TETSUO (France).
If you want to order your edition of the calendar, just visit the website, or join some of the contests and test your skills.