Human Intervention in the Natural Landscapes: Gregory Euclide Extracts New Meanings at Hashimoto Contemporary
Hashimoto Contemporary is delighted to present Extract, a Gregory Euclide solo exhibition featuring sculptures, paintings, and relief works of the artist. Extract divulges on the liaison between natural and man-made elements within the landscape. Gregory Euclide and his exhibition will tap into the viewer's idea of nature and human technological advancement, and challenge them to think more deeply on the subject. Organic and artificial elements have been in the environment for as long as we can remember. Sometimes they can be clearly separated one from another, but other times they are so intertwined it is hard to distinguish the unrefined from refined matter. Euclide will show us the true state of the world of today and will perhaps warn us about the possible world that awaits us tomorrow.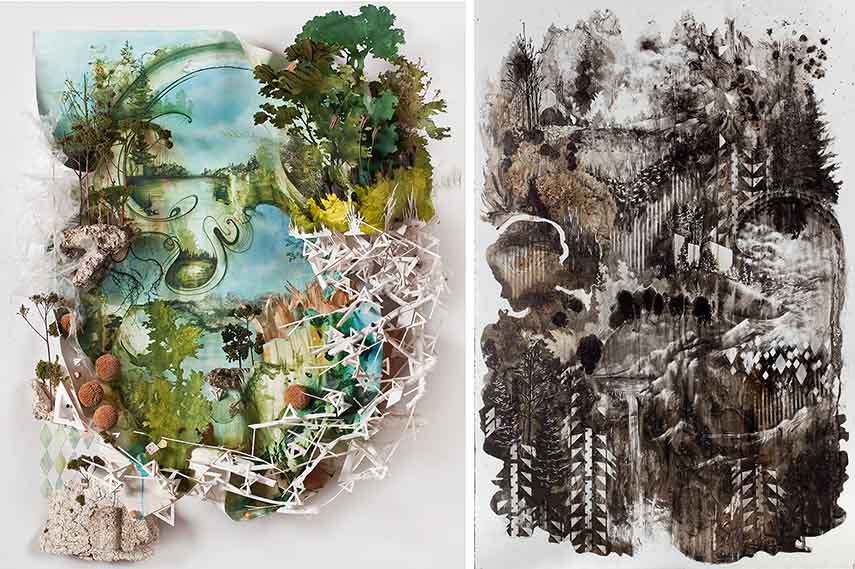 Organic vs Man-made
Gregory Euclide is an artist who gathers organic materials from his surroundings in the Minnesota River Valley, and repurposes and rearranges them through the traditional art mediums. The results of this creative process are the extensive pictures that move to and fro in tides of contrast. These materials are put in a new context as the artist molds them in order to make miniature panoramas permeated with architectural geometry and abstract motion. These forms often wander off their own compositions, and, as the artist himself put it so beautifully, these shapes crack the picture-space at times, and in their calm inhabitation of the frames, swindle themselves of their ability to expound a single view, and simultaneously invite the studious investigation by the viewer.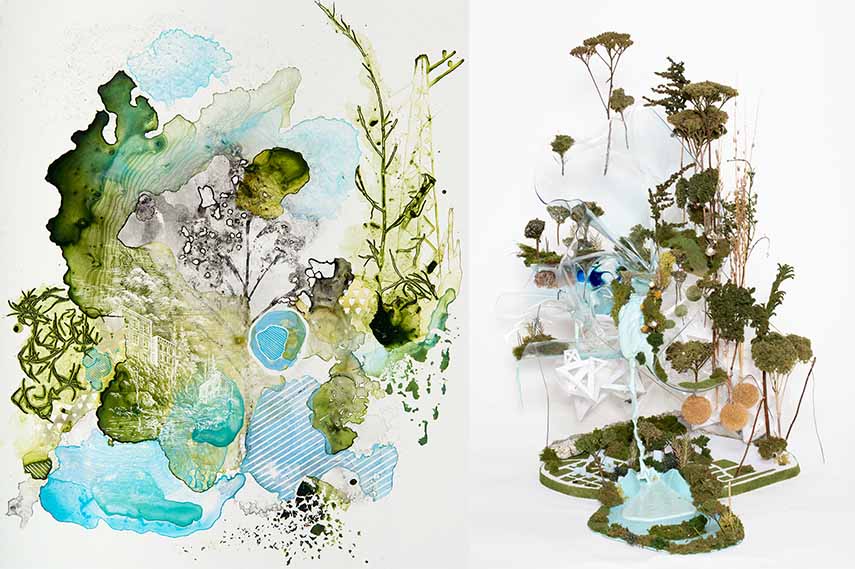 Plants, Humans, Life
Extract brings on a silent presence of human intervention in every environment provided. One of the recurring elements appearing in Euclide's series is the Buckthorn root, which is a highly invasive plant that first came to the United States as a simple garden shrub. Euclide manipulates the noxious weed for its dark pigments and implements it into his work extensively. His other works employ an abundance of man-made objects extracted from the land, such as Styrofoam or disposed plastic. In addition to these unconventional methods of creating art, Euclide also investigates the notions of structural foundation of each image. All of his works carry a feeling of human intrusion into the natural world that can exist perfectly fine on its own, but somehow, in his depictions, manage to look alluring and fascinating.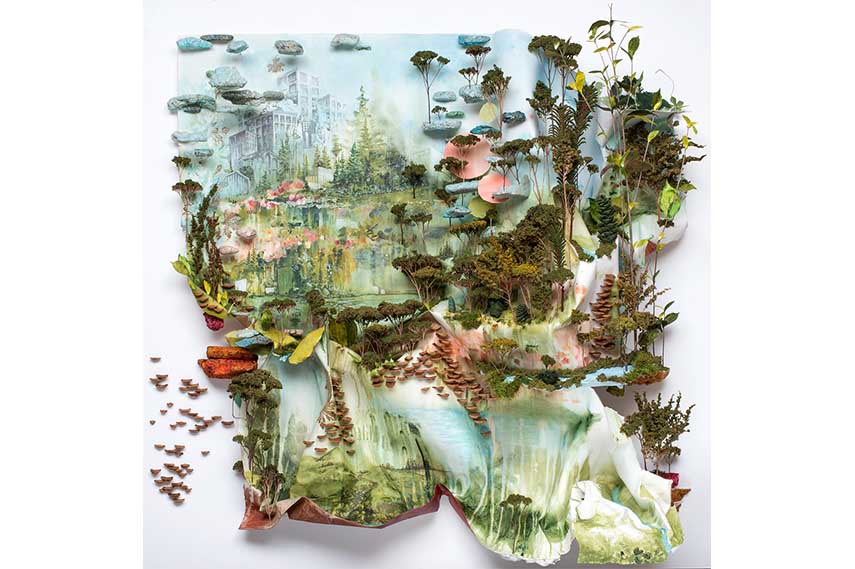 Gregory Euclide Exhibition at Hashimoto Contemporary
Gregory Euclide's Extract is opening on Thursday, April 7th at Hashimoto Contemporary, with a reception from 6 PM to 10 PM, where the artist will be present. The exhibition will be on view from April 7th through Saturday, April 23rd, 2016. Gregory Euclide is a Minnesota River Valley-based artist whose works have been featured in the Minneapolis Institute of Arts, MASS MoCA, and Museum of Arts and Design in New York, among others. Hashimoto Contemporary is located in San Francisco, California at 804 Sutter Street. Their roster consists of a diverse blend of new contemporary artists. Their program focuses on painting, sculpture, and installation-based work, with monthly exhibitions. Hashimoto Contemporary also participates in a variety of international art fairs, such as those in New York, Miami, San Francisco, and Los Angeles.
All images courtesy of Hashimoto Contemporary and the artist.Featured images: Gregory Euclide – Anywhere Kept The Frame Around Wanting, detail | Gregory Euclide – All of your diamonds slipped green points into the ease of not knowing
Follow These Galleries
San Francisco, United States