Gris1 Employs Childlike and Playful Form of Graffiti with a Political Statement at Kolly Gallery
Kolly Gallery is proud to present a solo exhibition by Gris1. The French artist's exhibition presents the motifs of freedom, joy, and lightness, all of which occupy his canvases. The artist uses colorful compositions to introduce his subjective expression of his contemplations of today's society. Gris1's exhibition will feature not only canvas works, but installation as well. These multicolored graffiti-style pieces remind of Warhol's pop art works. They seem inspired by the characters and motifs of popular culture, such as the iconic tomato soup can, Felix the Cat, Legos, Snoopy, the yellow Smiley, as well as the scenes from video games such as Icy Tower. His works evoke the feeling of pixel art mixed with graffiti, a combination that is bound to draw the attention of the public, and take the viewers back to their childhood when they were surrounded by these whimsical characters.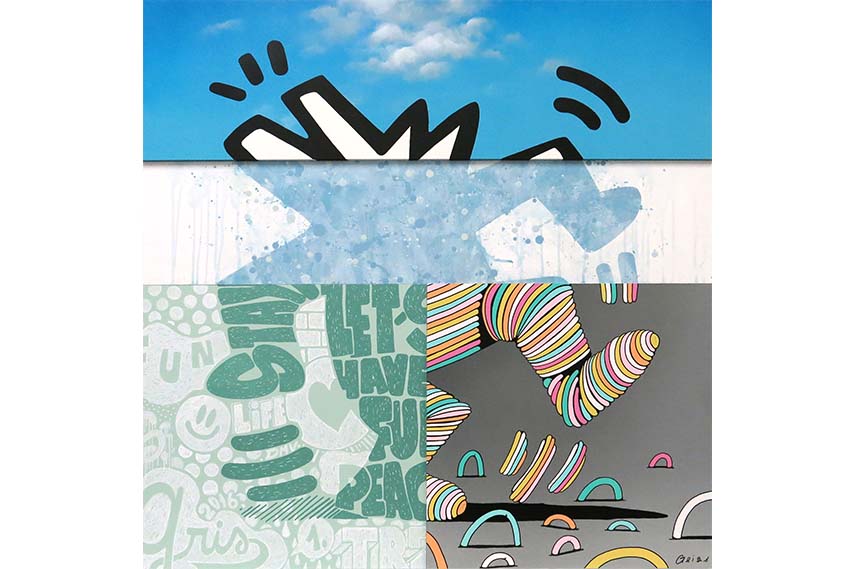 Gris1 and Pop Culture
As we have previously mentioned, Gris1's works are especially interesting because of his employment of pop culture characters and motifs. For him, the world of graffiti is the world of freedom of expression, unrestricted by the conventional constraints of auto-censorship and pressures of the mainstream society. Gris1 focuses on childlike graffiti forms that still manage to convey a serious message and a political statement. His critique of society is packed into the colorful and whimsical artworks that seem innocent and playful at first but nevertheless succeed in their original mission of making a statement against the consumerism and heartless world of politics. He breaks through the boring everyday life in Northern Europe by presenting his ideas through the vibrant canvases that sometimes even look surrealistic and dreamlike. His works invite the viewers to transcend the monotony of their habitual lives and think positively about the future by thinking about today.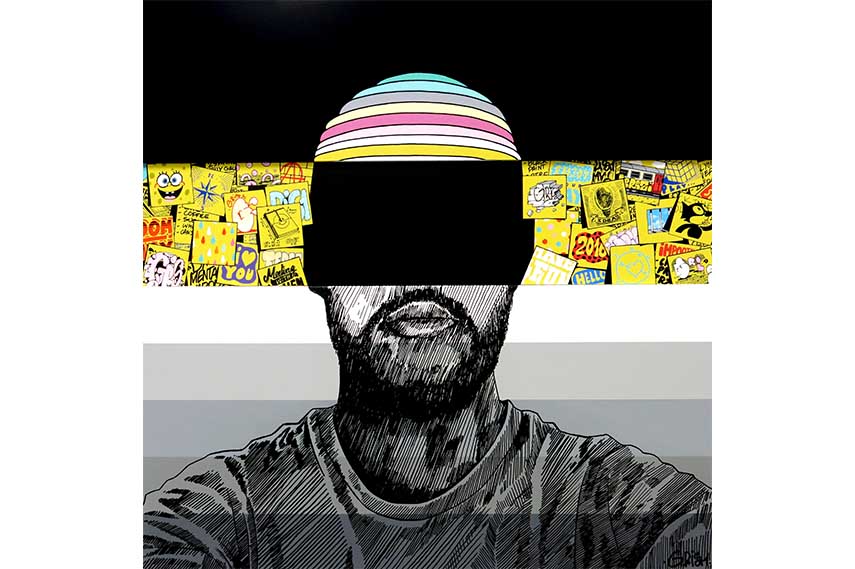 The Critique of Society
Gris1 is the master of depicting the daily life in an exciting and exuberant manner. In one of the pictures, we can see a man, in this case, our beloved artist, taking a selfie. However, his eyes are covered with a black strip, as if he is trying to criticize the practice of censorship that artists had to deal with in the past. Also, the fact that this is a selfie and not a "real" self-portrait, suggests that the today's society is too obsessed with their own image, and the fact that the canvas is done in grayscale, vibrant yellow collage of pop culture characters, and colorful lines, invite the viewer to think about the body, society and the inner thoughts of the artist. Gris1 is the member of Da Mental Vaporz (DMV) Department, founded in France back in the 1980s. The walls painted by DMV offers the variety of graffiti styles, from old school to Pop Art, over surrealism, abstract expressionism to cubism. Gris1's mastery of combining styles and motifs makes him a true representative of this group and makes his works fascinating and exciting to the viewers.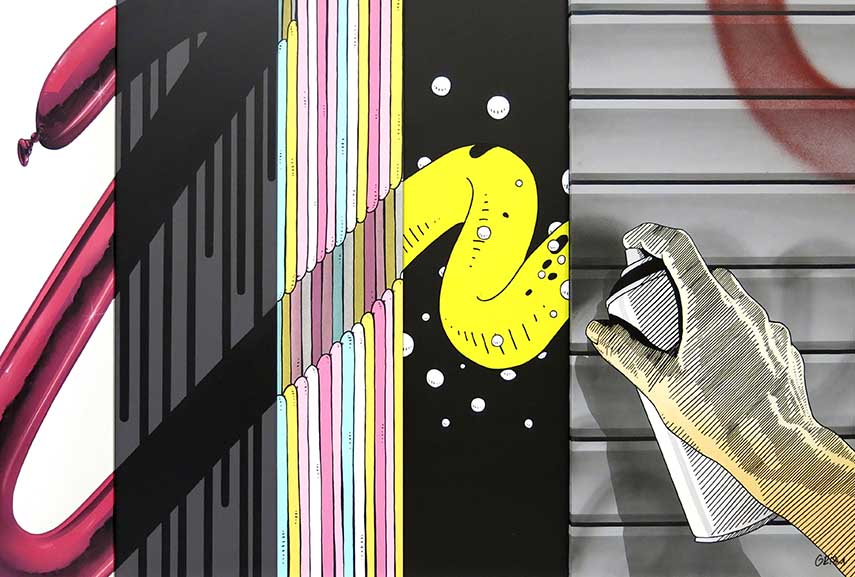 Gris1 Exhibition at Kolly Gallery
Gris1 exhibition is titled Interview. This is because each of the artworks' titles is a question, and the artworks themselves present the answers to these questions. Interview will be displayed at Kolly Gallery from April 29th to May 28th, 2016. The opening reception is scheduled for Thursday, April 28th, from 6PM. Kolly Gallery is located at 56 Seefeldstrasse, Zurich. Founded by Julien Kolly, the gallery promotes street art and culture in Zurich, a cosmopolitan city with a vibrant street art scene. If you are interested in Zurich, check out our article on street art apps, including an app for this beautiful city. Find out interesting facts about it before you visit this amazing Gris1 exhibition that you'll have to anticipate for only 4 short weeks more.
All images courtesy of Kolly Gallery. Featured images: Gris1 – « tes origines ? » | Gris1 – « Une œuvre intemporelle pour toi ?» | Gris1 – « une description de ton style ?»
Follow These Galleries
Zurich, Switzerland

Paris, France

Berlin, Germany