The Interpretation of URBAN ART
With an exhibition titled "URBAN ART", Galerie Hegemann in Munich would like to stress the importance of and value of street art as a form of communication with society. The starting point of this exhibition is based on the assumption that all street artists, in the nature of this kind of art, work outside the art scene, as this reaches an audience that does not visit art specific locations like galleries or museums. This way, artists are picking up the reactions of the viewers and are using them in their art works, which creates a constant flow of communication with the public. With this in mind, Gallery Hegemann has selected four well-known street artists, BISERAMA, BTOY, EL BOCHO and VAN RAY, to present on May 15, when the opening is scheduled with the presence of artists. All four have been present for years in the streets with their
distinctive characters and social messages, and above all great artworks.
The exhibition runs until July 5.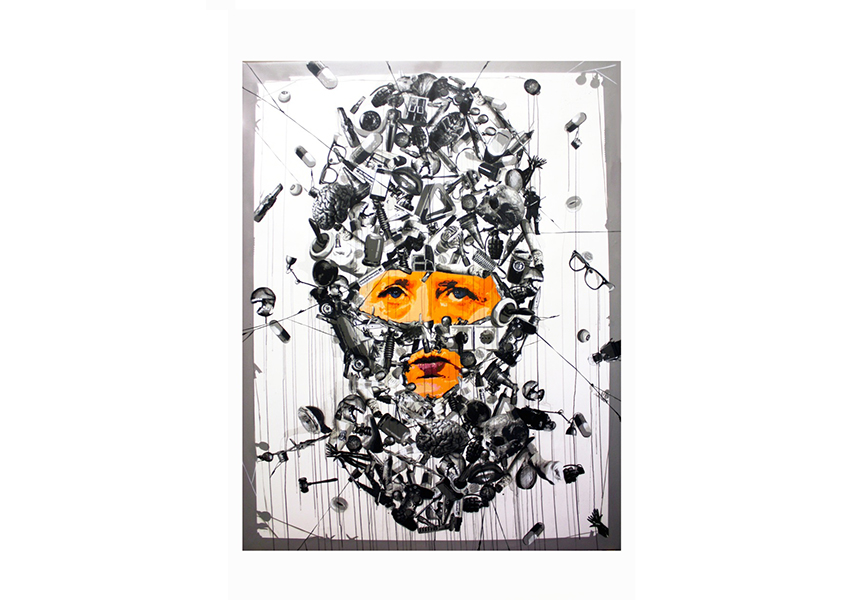 Dialogue
We interpret graffiti and street art in many ways: as a way to create awareness of socio-political issues, a reaction to injustice, an expression of reclaiming public spaces, or an attempt to beautify the urban environment. While graffiti operates within a closed community, street art is directed to anyone to interact, react, and discuss. Either way, both forms of expression have dialogue at its core.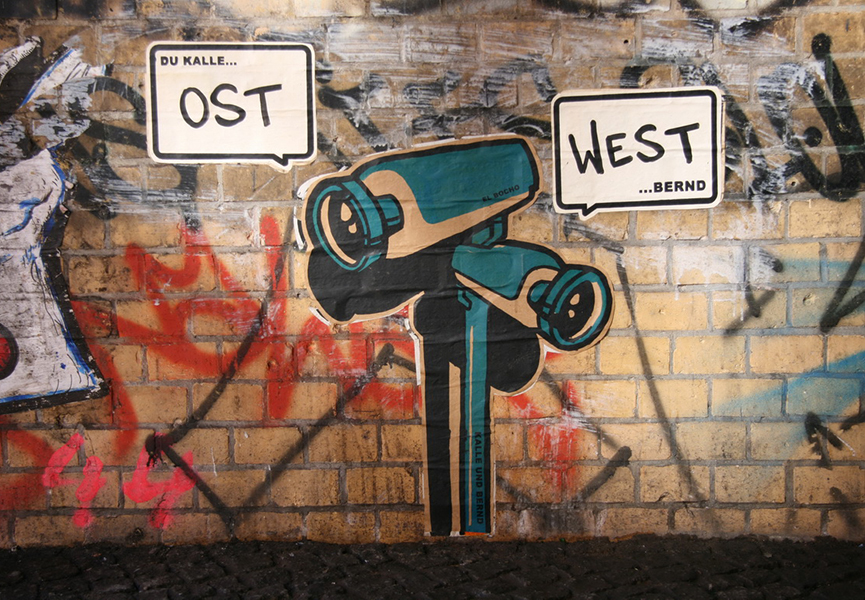 VAN RAY
German street art artist VAN RAY grew up under the influence of the Parisian "Pochoir Movement" during the Eighties. Based on the premise that art is a form of expression of social criticism in public, Van Ray began to express his own view of the Western society with the help of graffiti. Later on, Van Ray broadened his artistic methods using stencils, stickers, paste-ups and sculptures. Nowadays Van Ray's work reflect a fusion of street art, pop art and qualified nonsense, retaining the basic elements of his distinctive artistic style without losing sight of his intended social criticism. His recent work makes use of various techniques (aerosol paint, acrylic paint, collage and décollage) on iron sheets, wooden slats or retro vending machines.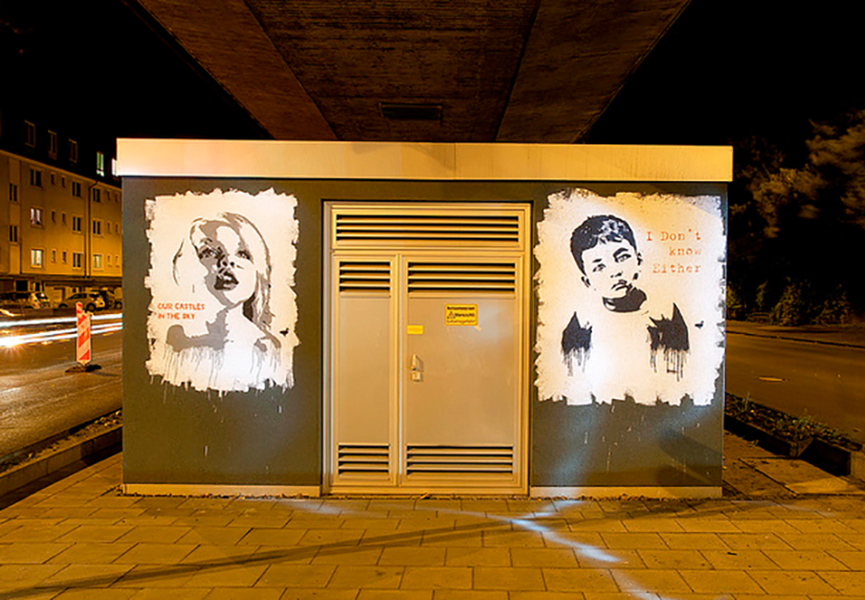 EL BOCHO
EL BOCHO is one of Berlin's most well known street artists. He started as a graffiti writer and today he mostly works with paste-ups. EL Bocho has created a number of now widely-known characters that were introduced to the street of Berlin. His major character is Little Lucy, inspired by TV-series called: "Little Lucy – Fear of the Streets" from what was Czechoslovakia, which was running on TV in the 70s. His next characters are called "Citizens". These are portraits, mostly women, which are saying romantic things.  EL Bocho also created two famous chatting CCTV cameras called "Kalle & Bernd" and not so famous character called "Poor Hanna".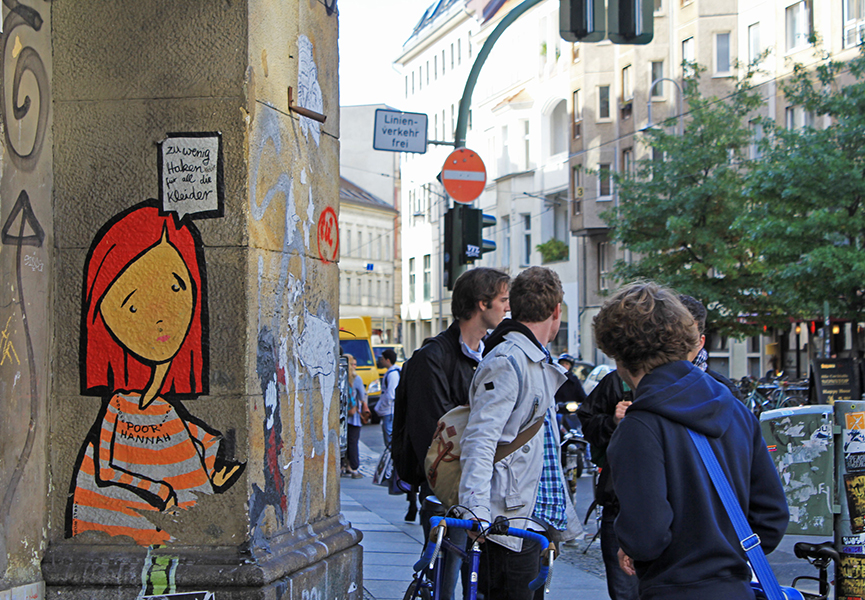 BTOY
BTOY is a multi-faceted artist who loves to improvise with a variety of art mediums. She began to paint in the streets as opposed to any art studios often making collaborative paintings of different styles together with her friends on the streets. Her street art stencils often portray the importance of women. Most of BTOY's women are female icons from the 1950's, depicted through powerful brush strokes combined with very acute stencil lines.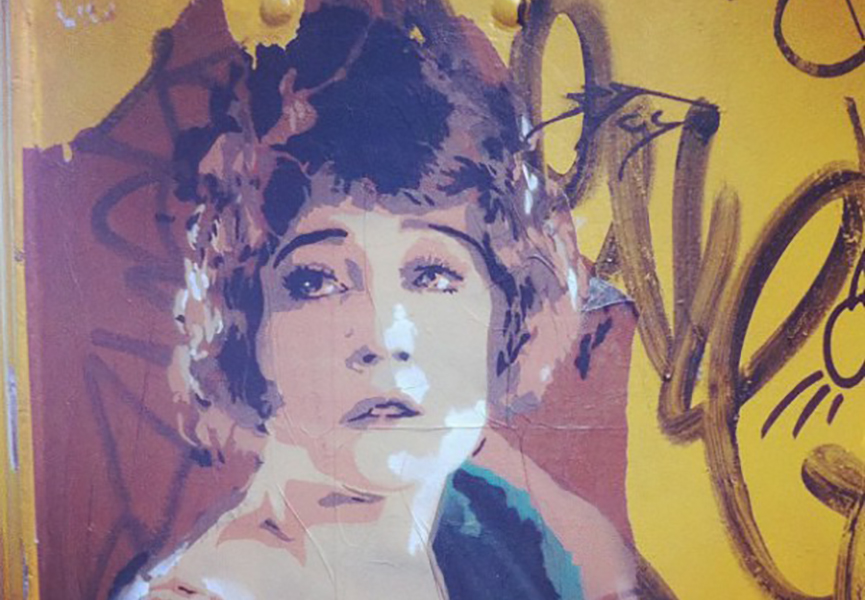 BISEREAMA
BISERAMA's work pervades the most different areas in the contemporary art, from big wall productions about the classical painting up to the experimentation with and from sculptures/designer toys or installations. Biserama plays with ambiguity, masquerade, status, extravagance, and identity. The biggest part of his artistic activity consists of abstract sculptures that merge physical found objects and handmade ones in the form of so-called underground toys. What's more, Biserama incorporates his underground toys into the graffiti pieces he creates, this way including part of physical world into his art.