EGS, AEON and NUG Installation and Group Show at Fluorescent Smogg !
Three prominent street artists join forces to create an array of works dedicated to the amazing world of graffiti. EGS, AEON and NUG collaborated on the creation of a large scale installation that will be displayed at Fluorescent Smogg gallery in Barcelona. But that's not the only result of their cooperation! The artists also contributed to EGS AEON NUG street art book and produced a limited collection of original prints that will be available for purchase on the opening night of the exhibition.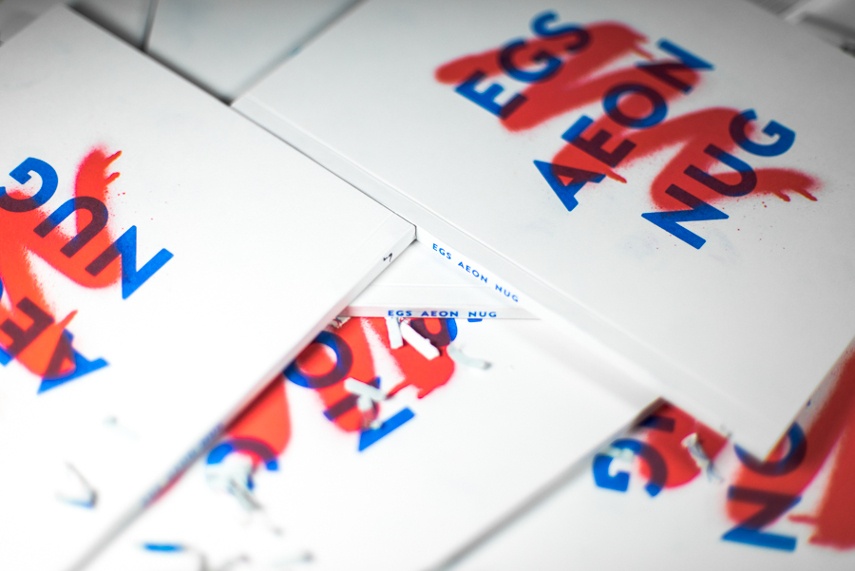 Inkblot Style by EGS
The Finnish graffiti scene pioneer EGS, is one of the very few artists that can rightfully claim to be truly global. During his several decades long career, the artist has decorated walls in more than forty countries and collaborated with numerous international artists. These travels and collaborations have equipped him with the profound knowledge about the regional particularities, folklore and culture. His trademark "inkblot style" represents an exploration of the calligraphic essence of graffiti. The artist uses almost exclusively silver and black to shape his recognizable letters without "camouflaging them with other colors". In his fine art imagery, the artist takes on a different approach often employing Indian ink applied with a syringe.
A Video of EGS, AEON and NUG at WorkThe Art of AEON and NUG
Australian artist AEON is known for combining traditional graffiti styles with his long haired "bogan" characters. His small scale works are marked by the fusion of his street style and objects noticed on his frequent journeys. Three of his pieces were added to the collection of the National Gallery of Australia, which catapulted his career and sparked numerous exhibitions, magazine features and collaborations. Swedish artist NUG is notorious for his monochromatic tags, spreader all over Stockholm's subway stations. The artist employs a variety of media and surfaces to capture the energy of traditional graffiti while simultaneously adding his own recognizable high speed style to his works.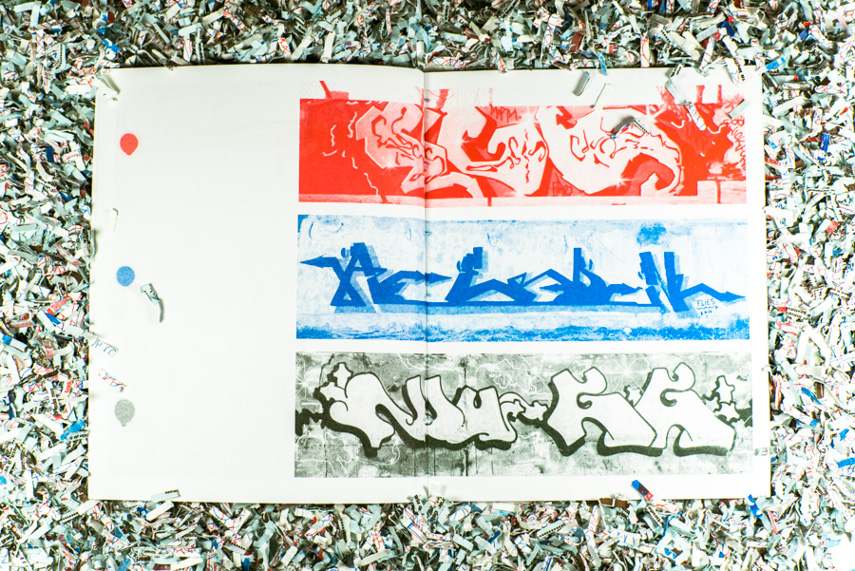 Group Show at Fluorescent Smogg Gallery
A group show featuring collaborative works of EGS, AEON and NUG will open on Saturday, September 12th. The event, organized by Fluorescent Smogg gallery in Barcelona, will include an installation and limited editions of both EGS AEON NUG book and prints. EGS AEON NUG risograph-printed book, spans over 72 pages and the gallery has issued fifty copies of the publication. The book is loaded with illustrations showcasing innovative techniques and unique styles of its creators. Every copy is a collector item, numbered and individually signed by all three artists. Both EGS AEON NUG book copies and prints will be up for sale on the opening night of the exhibition. If you can't make to Barcelona in time for the launch don't panic! Both items can be purchased through Fluorescent Smogg official website, starting from 7pm GMT on September 12th, 2015.
If you like reading about street art, you're going to love My Widewalls, so sign up for FREE and read new stories every day!
Featured images : EGS AEON NUG Book Cover and Content Images courtesy of Fluorescent Smogg gallery