Best of the Worst - Talking Transitions with Hanksy
Hanksy is an anonymous artist and parodist based in New York City. As the moniker implies, he is best recognized for making humorous, pun-themed work related to popular culture icons and putting those images out on the street; for instance, in the work that inspired his artist moniker, Hanksy combined the body of the famed Banksy rat with a cartoon face of actor Tom Hanks. This image was pasted on the side of a building in Little Italy. Originally created to get a few laughs from his friends, it quickly went viral on social media and encouraged the NY transplant to develop his street moniker and expand his portfolio of popular culture mash-ups.
Since 2011, Hanksy has created hundreds of images and he continues to paste on the streets. In addition to his famous Dump Trump image, Hanksy has expanded in several interactive installations and space takeovers to engage his audience in innovative and participatory ways.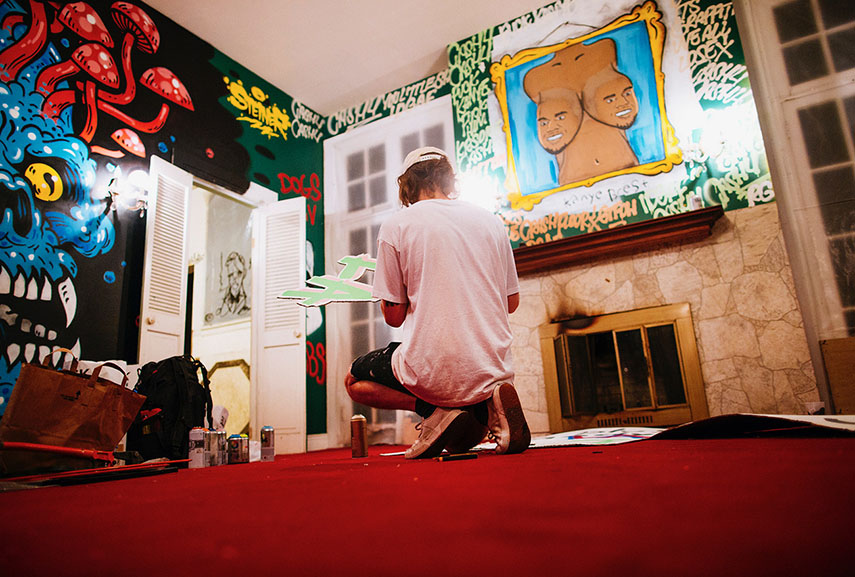 Becoming Hanksy
Widewalls: What's your background and when did you first become interested in art?
Hanksy: Beyond childhood afternoons spent replicating morning Looney Tunes, I never had a real background in art. I dreamt of being a cartoonist for Disney, then the mouse went full digital, then I put down my pencil. And while I never stepped foot in art school, I did spend a decade of my life throwing creative shit against a wall with my fingers crossed something would stick. It wasn't until I moved to NYC in my mid-twenties that something finally did. The city is so vibrant and full of visual stimulation, I felt the need to add to it.
Widewalls: Where do you get ideas for your art?
Hanksy: I grew up on the internet and a lot of my time, for better or worse, is still spent digging around on there. The majority of my previous work was a solid combination of pop culture and silly internet jokes. Basically eye-roll inducing art that made myself laugh. Often times there exist subtle hints with more serious tones, like when I'm walking the streets and fine discarded trash items. Drawing or writing a little joke on a landfill-bound toilet or broken appliance draws attention to someone's discarded items and a second life is born. Crazy how someone can take 1,000 bathrooms breaks on a piece of porcelain and I come along with a marker and it goes viral. Modern life is weird.
Widewalls: How is your personality reflected in your work?
Hanksy: Hanksy has always been an offshoot of my everyday personality. I could never live in a world that was 100% pun and lols, but my humor definitely drifts along the dad joke river. But a good chunk of my work and success is based in production. I'm still a wide-eyed kid from the Midwest and I love to make things as big and as crazy as I can. From my Surplus Candy series to my Dump Trump campaign, I'd like to see how far I can take the little street joke I haphazardly made five years ago.
Widewalls: What's your role as an artist in the society?
Hanksy: This is something I've wrestled with for the last few years. Whether it's art or love or my life in general, I've never taken things too serious. Draw a picture, get the likes. Put on an event, got some press. This may sound cliché, but traveling throughout the country during the primaries to various political rallies changed me a bit. I've always been the funny art dude, the guy who drew funny pictures that went viral. But it's 2017 and it's my opinion that if possible, art should say something. I've always believed that art had the power to spark change and to address issues that don't necessarily always have a voice. I just never thought I was in the position to do so. I've since changed my tune a bit.
Hanksy – Best of the Worst
Becoming Adam Lucas
Widewalls: Now you have transitioned from Hanksy to Adam Lucas your real name. How is your art changing?
Hanksy: I used to paint cartoons with bright imagery and stupid jokes because that's what I like. Moving forward, I still plan on using bright bold colors and including lame humor, but while my new work is still very topical, it isn't quite as fleeting as before. I hope that below the appealing surface, one is able to pick up on more serious themes and tones.
I mean, I grew up listening to and playing in punk rock bands. I sported a silly mohawk that made me look like Foghorn Leghorn. While I cut the mohawk long ago, I still enjoy listening to punk rock. You can never 100% quit things you once loved. They're ingrained.
Widewalls: What are you working on right now?
Hanksy: After roughly two years of self-imprisonment in my studio, I've got a nice run of projects about to get underway. I'm lucky enough to have three solid NYC-exhibitions happening in the next few months. Both my art and others. I'm still very interested in hyper-transitory events and I'm looking forward to getting back to what I enjoy. I'm so fortunate to do what I do.
Widewalls: What's your favorite thing ever created?
Hanksy: Usually when one does street work, they put it up and are done with it. But my studio was just around the block from the Trump mural which for a good year plus had become a pseudo tourist destination. It even had its own Wikipedia page. I think that piece, as silly as it was, really connected with people. It was simple and to the point without being overly obscene. And since i initially began making art to put a smile on people's faces, it was great to see the public interact with the mural.
Widewalls: What is the biggest challenge you face as an artist?
Hanksy: Being comfortable with my art enough to actually call it art.
Written by Julia JM.
All images courtesy Hanksy.
Follow These Galleries
San Francisco, United States