Shooters
His early daring film Kids from 1995 won him global recognition, as the unique cinematographic piece that portrayed the New York youth from another angle, while revealing all the terrible facts unknown to the oblivious adults, the outsiders and geeks. His more recent movie Spring Breakers form 2012 follows the film noir trails, while involving its characters, four first-year college girls, in a controversial and unexpected chain of events. Both of the films are written and shot mixing the real and the imagined, with free camera. Edited sharply, they allure and excite the viewer and keep him on his toes until the very end. Harmony Korine's movies are known and loved widely, leaving his painterly work in the shadow of the moving images. Gagosian New York is opening an exhibition of Harmony Korine's paintings named Shooters, hitting our visual realm with a novel series of distinctive artwork. The exhibition is opening on May 12, and it will remain on view until June 21, 2014.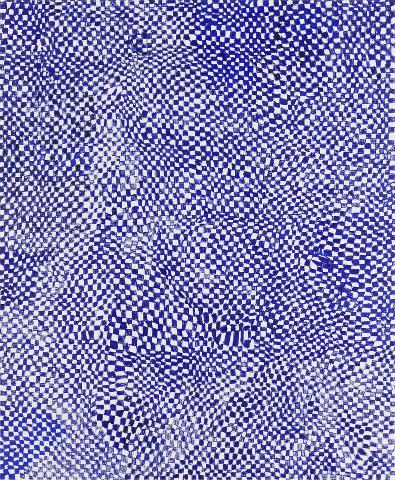 Shooters
Unconventional as expected, Korine uses mops instead of brushes and household paint instead of any painting coloring tool along with masking tape. His paintings are abstract, roughly continuous works, which reflect the sounds and pictures from his movies.
His Starburst painting series was created by sticking the masking tape to the unprepared canvas, over which color is added with a mop. Then, the tape is removed, while interesting starry shapes of unpainted white in between the haze of blue, yellow and red remain. Bursting, energetic and radiant, final compositions are enchanting in their projected spontaneity and spirit.
The Loop painting series evokes the creative process of a filmmaker. Harmony Korine selected a group of young people, disguised them as elderly people and took their photos in urban environment. He placed the photographs on canvas in peculiar progressive order, evoking the earlier motion-capture, disaster or folk painting experiments bt Muybridge, Warhol or naive artists of the American South. Additional artwork, some of which have been painted over through the years, feature spooky characters with claws, among the scattered letter forms. The overall effect of Korine's artwork is a great energetic impact, an unexpected impulse of life gotten after viewing his deliberately odd and random paintings.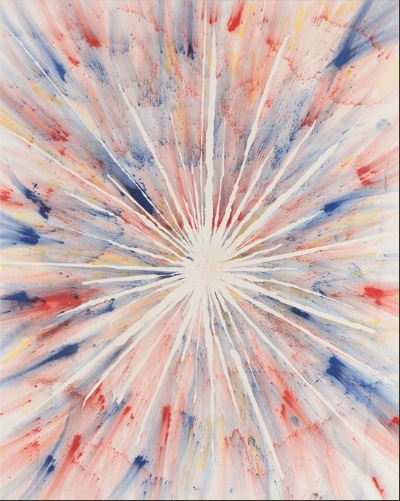 Harmony Korine
Harmony Korine was born in California in 1973. He is generally known in relation to the world of film, but his creativity encompasses domains of literature, music and fine art as well.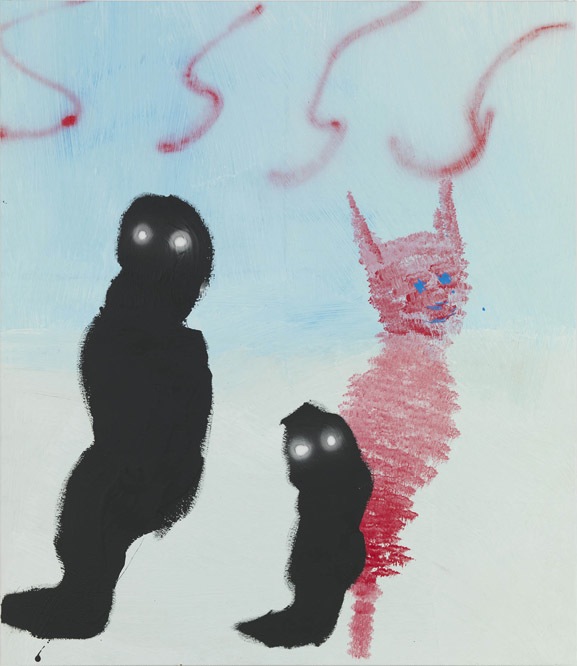 His work in the visual arts includes both photography and painting. His photographic series were released in relation to gallery exhibitions. In 1998 his photo shoot series with Macaulay Culkin was shown in Tokyo, and in 2002, a series produced in cooperation with Christopher Wool was released under the name Pass the Bitch Chicken. Pigxote series was published in 2009 with the Vanderbilt University Fine Arts Gallery, while the show following it was addressing his unusual and innovative creative process. He exhibited in Paris in 2003 at agnes b Galerie du jour, in 2010 he collaborated on a book with Bill Saylor in New York, and in 2011, Korine worked with the brand Supreme making design for two skateboard decks. Being a prolific and highly creative artist, Harmony Korine continues to work on his own artistic projects and to realize fruitful collaborations with other artists from all spheres.