The Latest Haven Gallery Group Exhibition Delves into Mythos
The Haven Gallery group exhibition entitled Mythos brings together an impressive list of artists who work on the common theme of myths and mystical beings. The list includes names such as Ingrid Tusell, Vince Natale, Mahlimae, Jim Pavelec, Camilla d'Errico, Kristin Shiraef, Rob Rey, Mandy Tsung, Scott Radke, Amy Katherine Minchew, Tom Bagshaw, Shane Pierce, Stephanie Law, Daniel Williams, Brin Levinson, Tom Babbey, Rebecca Yanovskaya, Laurie Lee Brom, Mall, Rachael Bridge, Erika Sanada, Michael C. Hayes, Dariusz Zawadzki, Adam Burke, Nadezda, June Leeloo, Andi Soto, Naoto Hattori, Marc Scheff Brendon Flynn, Joseph Weinreb, Loretta Lizzio, and Omar Rayyan.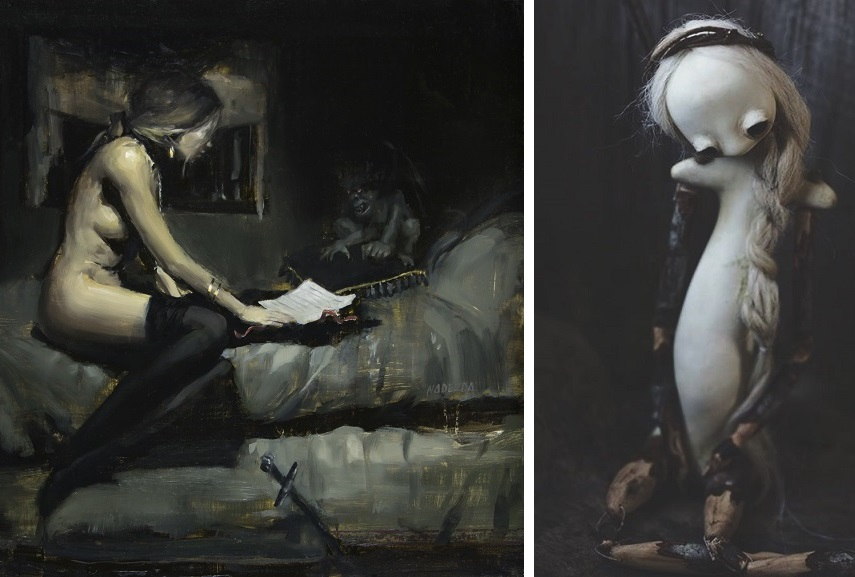 Myths that Endure in Art
Storytelling is an ancient practice that brought communities together, creating cohesion between different groups of people. The stories that were narrated often transmuted general beliefs, systems of values, and apprehensions each group felt and experienced, into narratives that usually included mythical beings and imaginary worlds. Such beings continued their existence throughout the centuries, and appeared under different names in various folk traditions. Along with oral narratives, visual representations of these mythical beings and stories make a significant contribution to art history, showing the continuous fascination with myths even in the Christian Middle Ages and the Age of Reason.
Enticing, full of action, tragedy, or hope, these stories continue their rein over our imagination even in contemporary times. The Mythos group exhibition at Haven Gallery is an excerpt from contemporary art's reflection on such themes. It brings this fascinating world of mystical beings closer to us once again.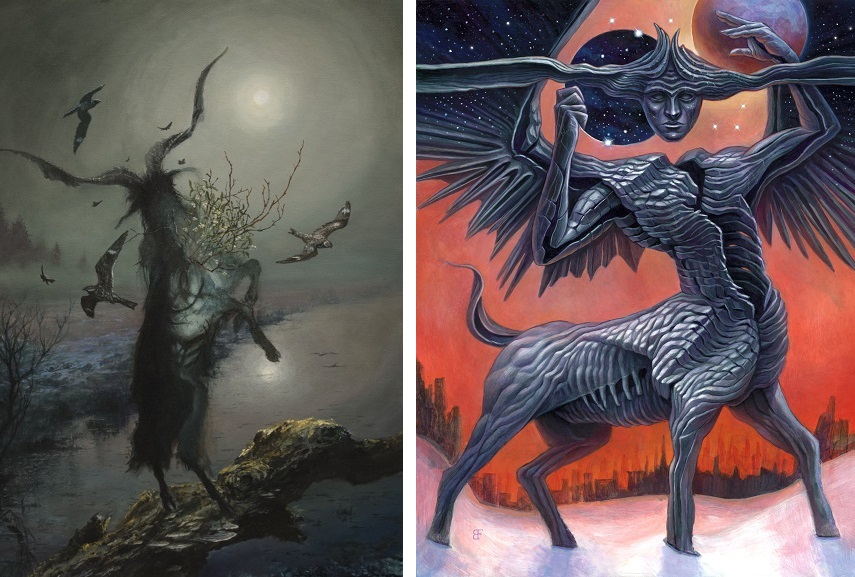 Embracing the Eternal Role of Storytelling
The intricate webs of storytelling in Mythos are filled with creatures and beings that, at first glance, are difficult to attribute to particular traditions. Some of them are completely imagined by their creators, while others, like Nadezda's Salamander, belong both to the world of myths, but also to the world of nature. Some of them provoke unease, as uncanny but also a slightly terrifying effect is brought on by the eerie semblance to a human form, like in works by Mahlimae. Other creatives, such as Adam Burke and Brendon Flynn, create their mythical beings with a stricter adherence to established iconography, but nonetheless give them a touch of personal vision through the styles they apply.
The images created by the selected artists enter the storytelling world of the ancient traditions that continuously transforms and reinvents itself over the centuries. The stories these creatives embrace are not necessarily the ancient ones, there are beings and creatures begotten in contemporary times, but they nonetheless enter the world of mystical and uncanny, that marks our oral traditions, arts, music, and even law.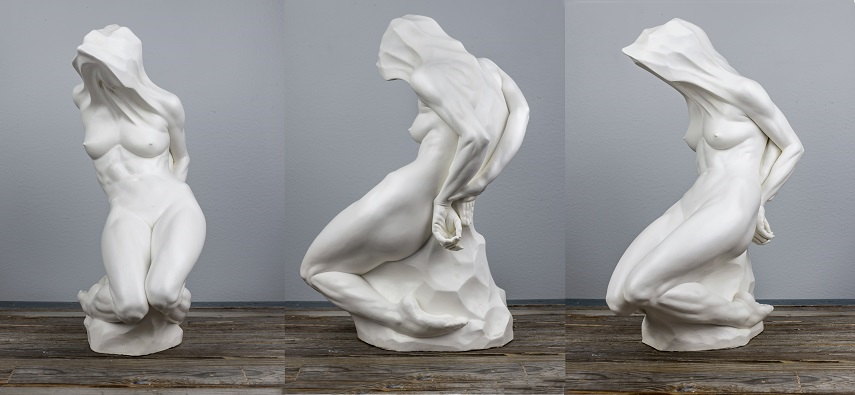 Mythos – The Haven Gallery Group Exhibition
Mythos, a group exhibition showcasing works inspired by myths and mystical beings opens at Haven Gallery, 155 Main St., The Carriage House Square, Suite 4, in Northport, NY, on April 8th, and will be on view through May 7th, 2017. The opening reception will be held on Saturday, April 6th, from 6-8pm.
Featured images: Nadezda – Salamander, detail; Dariusz Zawadzki;  Rebecca Yanovskaya – Bluebeards Bride, Chapter 2; Laurie Brom; Scott Radke. All images courtesy of Haven Gallery.
Follow These Galleries
Northport, United States

San Francisco, United States

Los Angeles, United States