Past Future Perfect
The first thing that comes to mind after spotting a mural by Hellbent is – patchwork! This technique is usually burdened with the value of something old and outdated, but this Brooklyn based street artist has succeeded in interpreting it in a completely new way, in the most unexpected medium. Maxwell Colette Gallery announced an exhibition of paintings by Hellbent, or J. Mikal Davis as is his real name, showcasing the latest creations by the artist in his signature style. This will be an inaugural presentation of the New Yorker's work in Chicago, entitled Past Future Perfect. Insinuating a play on words in the title, the exhibit is expected to be a clever play of patterns, colors, classical, modern and abstract, scheduled to open on April 18. All the Chicago's urban art lovers and visitors will be able to view Past Future Perfect show
until June 7, 2014 at Maxwell Colette space.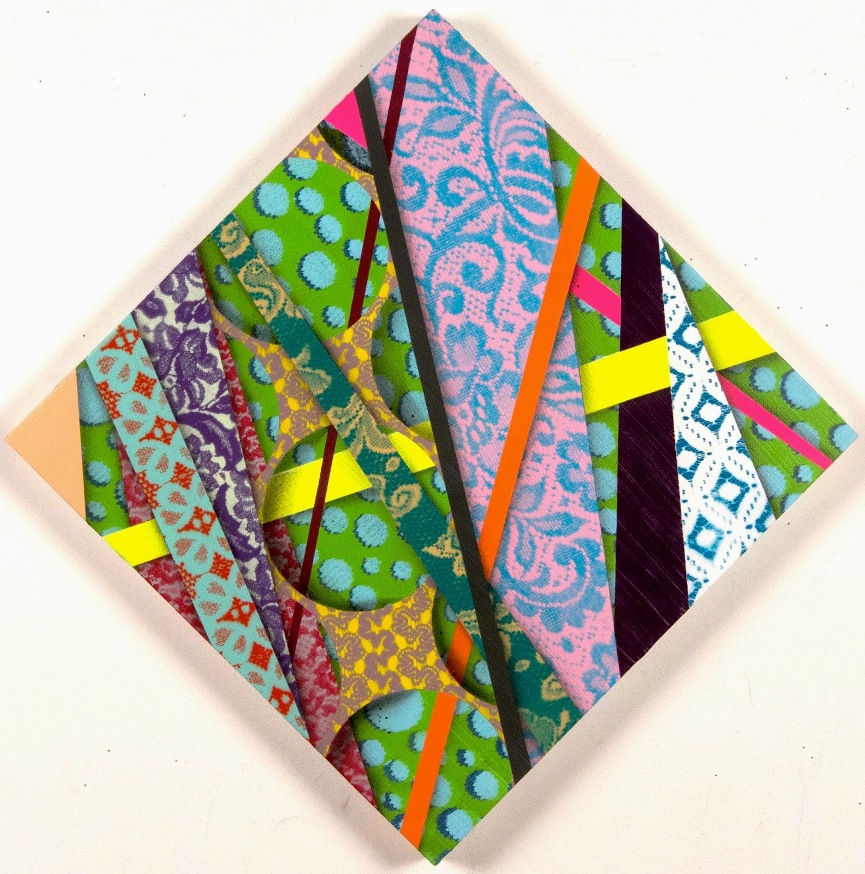 Past Future Perfect
Paintings created for the Past Future Perfect show continue the series started in the artist's Mix Tape body of work. They are characterized by spray painted abstract elements juxtaposed to meticulously stenciled antique patterns, drenched in vivid color. The overlapping appears as random, while the final outcome discloses a well contemplated composition. Their straight lines art achieved through the use of tape, which Hellbent sprays over during the creative process. It creates clear boundaries for colored and pattern fields, dividing the canvas into geometric portions. All of the large scale works Hellbent creates in a rather traditional way, by conceiving an idea realized in a small sketch with strips of his principal aid – tape. These sketches are interesting testimonies of the evolution of his concept, called "demos" by the artist, they are frequently exhibited alongside finished artwork. Hence the name of the series – Mix Tape, for which a second reference comes in the title of each particular piece, as they are all named after songs the artist listened while creating.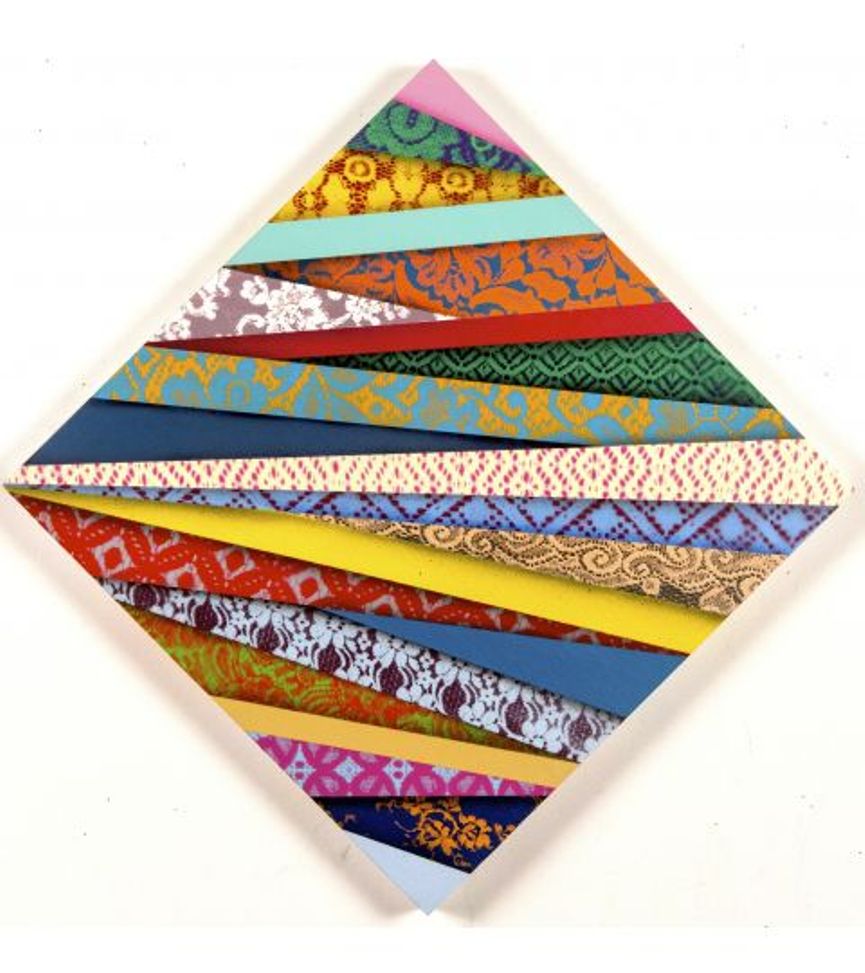 Novelties in Mix Tape
As a progressive step in Hellbent's work, these paintings incorporate a new element – a depth providing shadows that follow the planes of color or pattern, giving the piece an added dimension. An interesting effect of three dimensionality is especially enhanced when the backdrop of the piece remains white, serving as a distant base of the interplay with chromatic strips. When the white background is missing, the paintings exude a richness in color, layers and detail revealing a horror vacui trait. The artist perceives his new works as a marriage between modern abstract painting traditions and the contemporary music that constantly influences him. He indeed continues the historic method, but enriches it with novel aesthetics and chromatism, using pictorial elements characteristic of contemporary culture.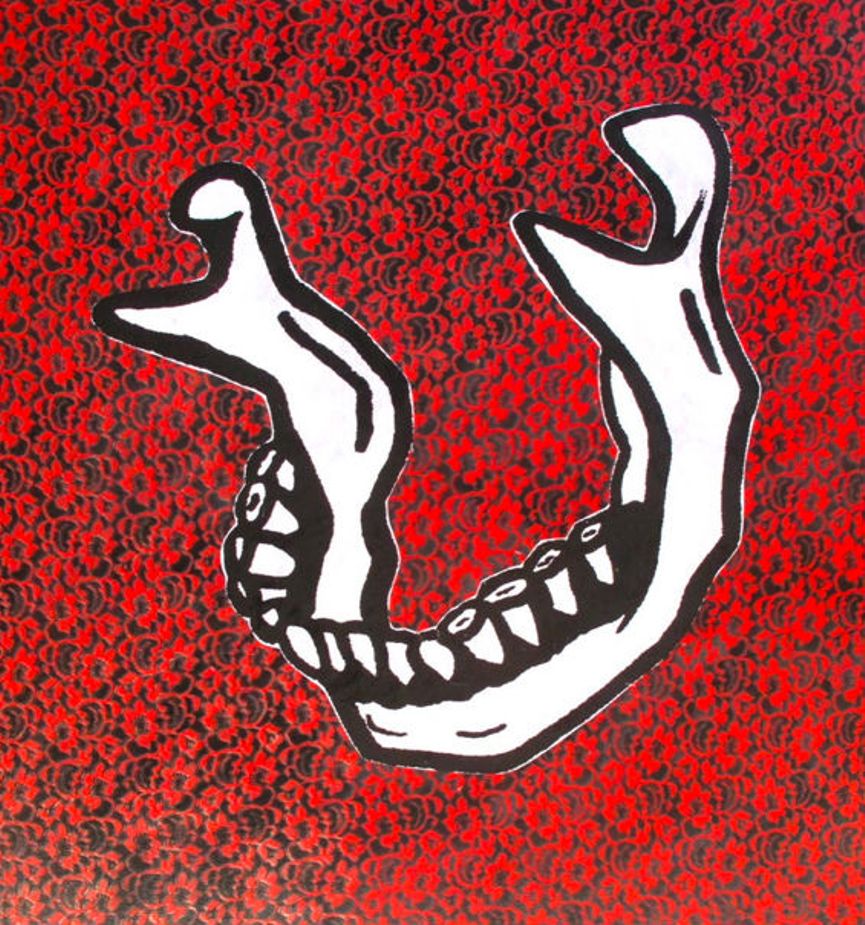 J. Mikal Davis a.k.a. Hellbent
J. Mikal Davis or Hellbent as he is known in the streets started his street art adventure pasting provocative slogans in the Southern USA. Admirer and follower of punk culture, he assumed the moniker Hellbent in 2005, in honor of Richard Hell, the important punk figure. His colorful and appealing patterned murals can be found throughout the country, but in some European cities as well and he attracted a lot of attention through depictions of stylized jaws over romantic, vintage-looking background. He exhibited in New York, LA and Atlanta, while he continues creating in the studio and in the street alike.