Hell'O Collective Bring their Dystopia to the US for the First Time!
An artistic duo from Belgium, Hell'O Collective created a universe inhabited by a surrealistic bestiary, mysterious animals, hybrid characters, architecture and badass geometry. Seemingly naïve from a distance, the creatures in their ultimately sophisticated drawings are imbued with a significant amount of symbolism.
Forging a uniform and homogeneous identity, the artists have established strict aesthetic codes based on mastering the line and graphic leitmotiv. Playing with duality and satire, they constantly bounce back and forth between the attraction and repulsion of a paradoxically structured chaos.
Now, Hello'O Collective will have a debut US solo exhibition at the First Amendment Gallery. Titled Dystopia, the show will include new paintings, drawings, installations and exterior murals.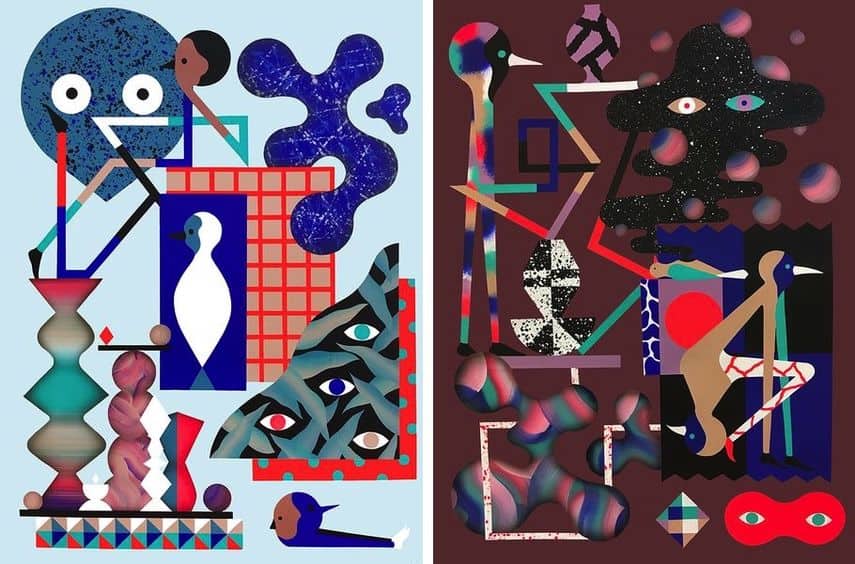 The Unique Graphic Vocabulary
Composed of Jerôme Meynen and Antoine Detaille, Hell'O Collective initially used exterior walls as their canvas, quickly substituting graffiti letters and spray paint with paper, ink and paint, subsequently moving on to sculpture and installation.
It is within the walls of their studio that the uniform identity of the duo was forged. Their rather complex and ambiguous graphic vocabulary fuses various references such as fairy tales, fables, medieval folklore and allegories, ancient and contemporary mythology, vanities, esoterism, techno music, the Memphis Design group, the 17th-century engraving, or Surrealism, continuing to expand it in the course of their creative output.
Employing a creative approach characterized by extreme conventional freedom and meticulous execution, they customize many recurrent elements which they combine into new characters or incorporate into unusual settings.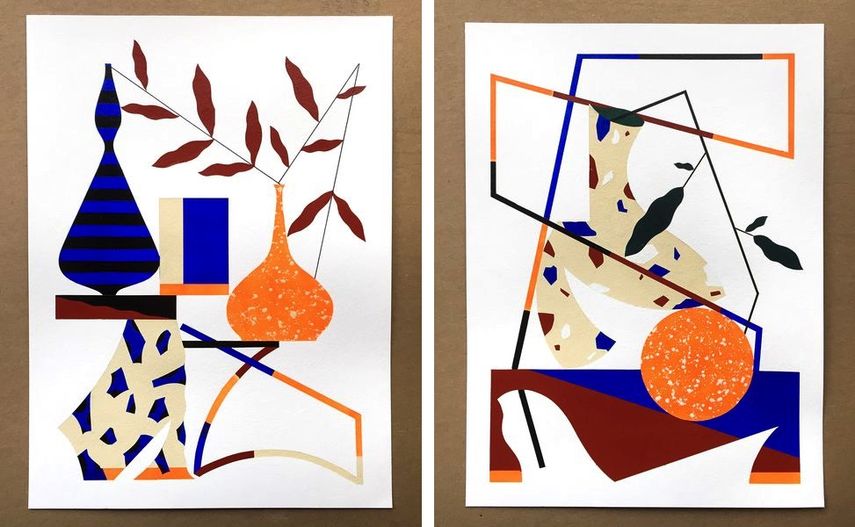 The Highly Structured Chaos
Sometimes grotesque yet always poetic, their fertile world is a strange and fantastic bestiary, populated with enigmatic animals and vaguely human-looking, asexual creatures with shapes and symbols drawn from various iconographies. Death, hope, failure, optimism, frivolity, animalism, cruelty, constraint and the desire to control are the most frequently addressed themes in their works.
Using small narrative scenes, which are sometimes juxtaposed, they create compositions that carry a certain meaning or are simply absurd. Employing their unique sense of humor and mockery, and combining metaphysical reflection and pure nonsense, they encourage the viewers to interpret these works freely.
Both joyful and macabre, amusing and frightening, cutesy and brooding, morbid and seductive, absurd and meaningful, their pieces dissolve into chaos that is paradoxically highly structured.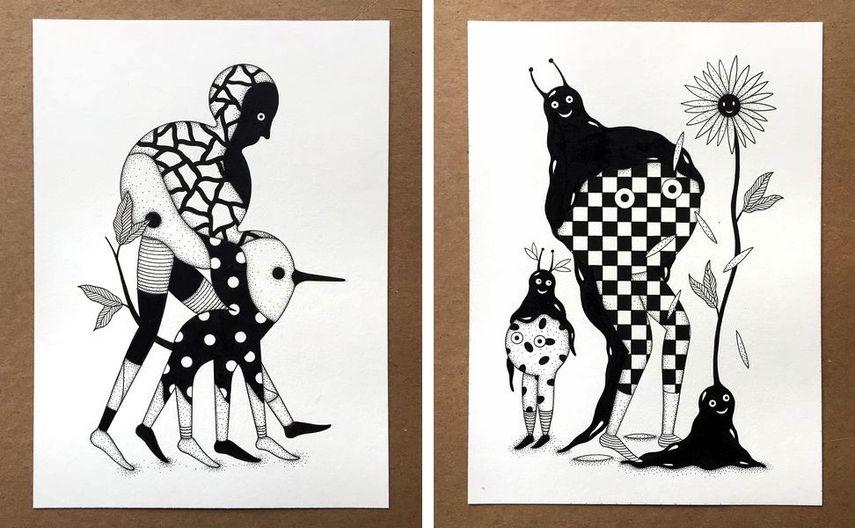 Hell'O Collective Art Exhibition at the First Amendment Gallery
Despite their colorful and happy look, Hell'O collective's creations are in fact caustic commentaries on the adult world, human nature and society. Their latest exhibition will take you on a journey through an imaginary universe occupied by figures that manage to grab our attention and gain our affection despite their unusual appearance.
The exhibition Dystopia will be on view at First Amendment Gallery in San Francisco from November 2nd until November 20th, 2017. The opening reception will be held on Thursday, November 2nd, at 7 p.m.
Featured images: Hell'O Collective Studio. All images courtesy of First Amendment Gallery.
Follow These Galleries
San Francisco, United States