Artist of the Week - Hendrik Beikirch aka ECB
Nowadays, when our public spaces seem to be flooded with unrealistically good-looking models, retouched posters and photographs that impose idealized perceptions of beauty, it is truly a refreshing experience to see the portraits that tend to capture the essence of human beings beyond the world of manufactured physical attractiveness. German artist Hendrik Beikirch, also known by his moniker ECB, rejected these dominant standards of beauty long ago, favoring the distinct individual features that make humans so unique and versatile. Hendrik Beikirch's artistic engagements started with graffiti in the nineties but soon after evolved to include large mural projects and a line of studio works on canvas and paper. Wherever he chooses to work, portraiture and fascination with human subjects remain a constant in his art. As we speak, his new works are on view in Zurich.
Honest Portraiture of Hendrik Beikirch
Intimate, honest, and relatable. These are some of the words that can best describe the qualities of Hendrik Beikirch's portraits. Done only in limited black and white palette, his portraits emanate the sense of individuality and authenticity, while keeping the universal features. The lines of wrinkles, distinctive facial expressions, traces of the lived experiences, they all converge in Beikirch's portraits, making them the true visual studies of humanity. Although he sometimes chooses to distort the imagery by elongating the portrayed faces or by compressing them, Hendrik Beikirch tends to stay true to photorealism and meticulous attention to details. Beikirch's work fluctuates between public and private, individual and societal, particular and universal. His monochromatic characters, anonymous persons that capture our attention with the power of their personality, encourage us to imagine their personal histories and contemplate our own. Although unknown to us, these faces radiate a range of familiar emotions that makes them so relatable and identifiable.
Tracing Morocco
Hendrik Beikirch draws the inspiration for his subjects from brief encounters with individuals from across the globe. He sketches people he meets, observes and shares conversation with, during his frequent travels. In the latest line of work, presented at the Kolly Gallery in Zurich, Switzerland, Beikirch documents the culture and atmosphere of Morocco by painting its people. With striking precision Beikirch draws his melancholic characters. As we can expect, new works are rich in detail and the artist once again shows how masterfully he can translate human expressions into a two-dimensional medium. Each of his characters has a different story to tell and we are left to interpret the perplexity of their emotions, feelings, dreams and hopes for the future, solely from the outlines of their faces. Honest, genuine and warm these portraits unveil the deep and intense sense of humanity, rarely seen in our superficial world. Beikirch's portraiture is a precious gift to the beholders, so take a moment to appreciate and enjoy his work.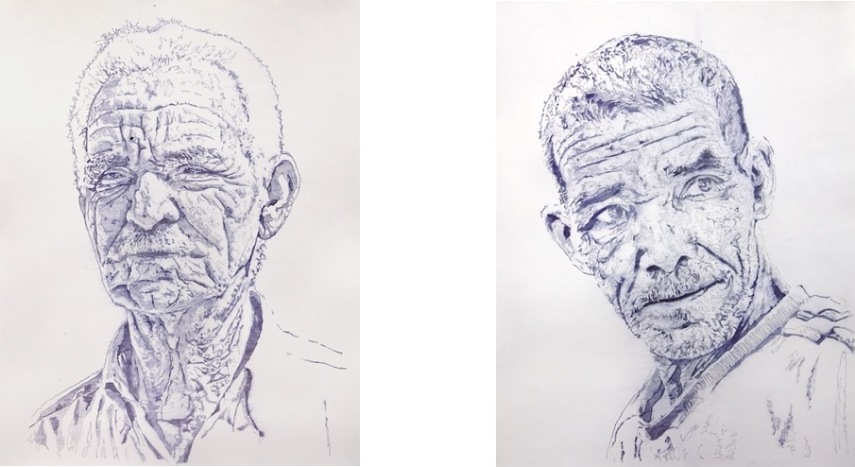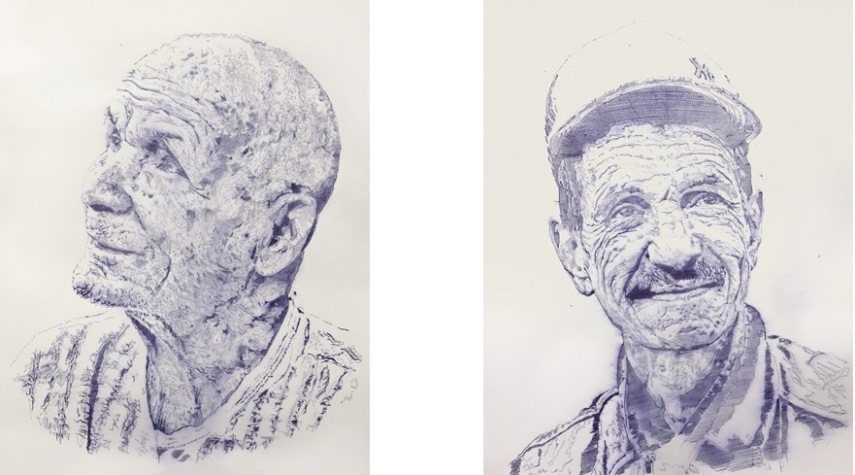 Featured images: Hendrik Beikirch in studio ©Robert Winter; Hendrik Beikirch – Mohamed Bouhir, 2015. Photo Hans Lukasse; Hendrik Beikirch – Mural in Rochester, USA, 2014. Courtesy of Kolly Gallery; Hendrik Beikirch – Mural in Ferropolis. Courtesy of the artist; Hendrik Beikirch – Smiaa, Toulouse.France, 2015. Courtesy of Kolly Gallery; Hendrik Beikirch -Mural in Heidelberg. Photo credit Thilo Ross