Herakut Revisits Profound Human Exchange Through Santa Miseria Exhibition in Rome
Galleria Varsi from Rome, Italy, presents Santa Miseria, the solo exhibition by the German duo Herakut. The exhibition of Herakut will be a collection of different images and thoughts that have marked and made unique the artists' encounters with different individuals and their communities. If you are familiar with Herakut's work, you'll know that these images and thoughts had been collected from different places around the globe. You might find them a bit dark or melancholic, but as the duo says: It's about the contrast. We create a darker stage for brighter thoughts.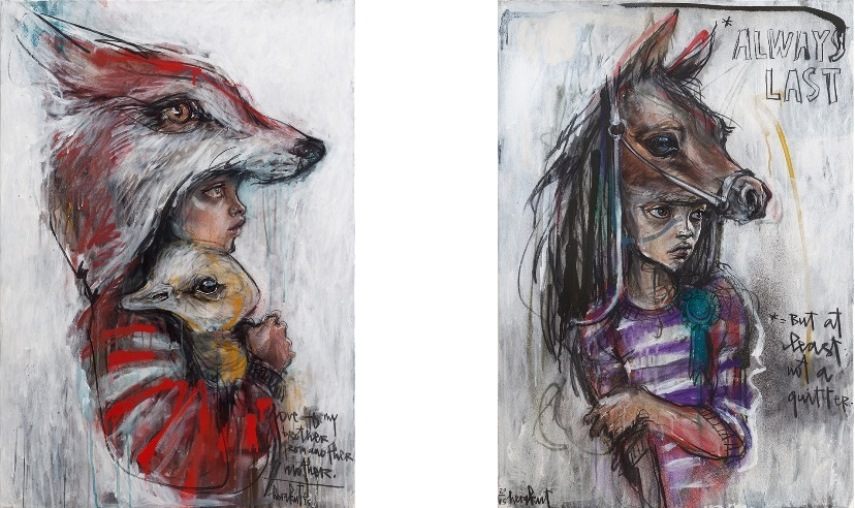 The Style and Technique of Herakut
Herakut is a Schmalkalden-based art duo – a symbiosis of the aliases Hera and Akut, painters and graffiti artists. Hera and Akut have joined their creative forces in 2004 when they started working together under the name Herakut. Hera (Jasmin Siddiqui) was born in 1981 in Frankfurt, Germany. She entered the graffiti scene in 2000, while she has a straight and classic art education with taking lessons from various artists. Akut (Falk Lehmann), was born in 1977 in Schmalkalden, Germany, and he entered the graffiti scene in 1991 (check out our latest street update). Akut's photorealistic details blend in with Hera's more gestural strokes in canvases that articulate stories of triumph and discomfort. Pieces are enriched by the presence of texts, which allow viewers to immediately enter the narrative. Their artworks are present in the major cities around the world, from Toronto to Kathmandu, from San Francisco to Melbourne. The duo conducted several quite successful global art projects, with impressive works where the individual approaches by each artist perfectly merge into one single piece. One of the main motifs in Herakut's work is social and political themes – and people who find themselves under social constrain and fractures. Finally, Herakut's social involvement has made them known and appreciated at the widest international level.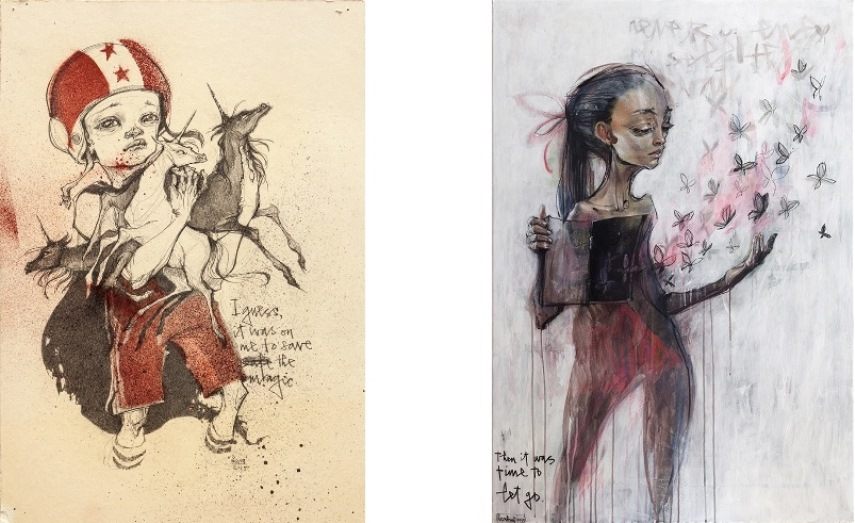 The Exhibition of Herakut at Galleria Varsi
The exhibition of Herakut at Galleria Varsi is entitled Santa Miseria (don't forget to take a look at our list of galleries in Rome you should visit). Herakut have travelled the world and have been entrusted with many personal stories, which have penetrated the artists' spirit, generating the magic that animates their entire creative process. Each individual is portrayed with the exact gaze and breath of the instant in which they narrate their experiences to the artists. This powerful moment of interaction gives viewers the chance to feel the strength of those who in life have learned to move on, to overcome their difficulties and to start living again.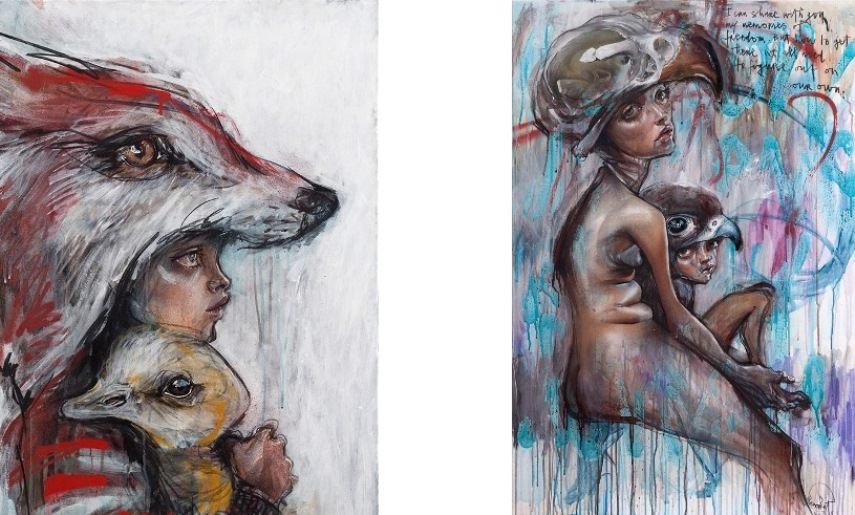 Santa Miseria
Santa Miseria exhibition is curated by Marta Gargiulo and Massimo Scrocca. Since Herakut's work addresses dynamics of current events that affect the world, the show will generate a much needed critical spirit that we often underestimate. The exhibition of Herakut, entitled Santa Miseria will be on view from September 17 until November 5, 2015, at Galleria Varsi in Rome.
To be informed about upcoming exhibitions, sign up for My Widewalls! It's free of charge!
Featured Images:
Herakut – Then it was time to let  go, detail, 2015
Herakut – I Can Share With You My  Memories Of Freedom, detail, 2015
All Images courtesy of Galleria Varsi.