Hernan Bas Painting Exhibition Opening at Lehmann Maupin New York
You had an opportunity to see the booth of Lehmann Maupin at the ADAA Art Show 2016 in New York, where the Gallery focused on new paintings by Hernan Bas. If you missed this art fair, be sure to visit Art Basel Hong Kong 2016 (in late March), or Frieze New York (in May) where this gallery will participate as an exhibitor. However, it's not all about art fairs, but about great exhibitions as well, and when it comes to Lehmann Maupin New York, there is always something exciting happening at this famous art space (if you are an urban art lover, this place you should definitely visit when you are in New York). This time, the Gallery is organizing the Hernan Bas exhibition that is entitled Bright Young Things.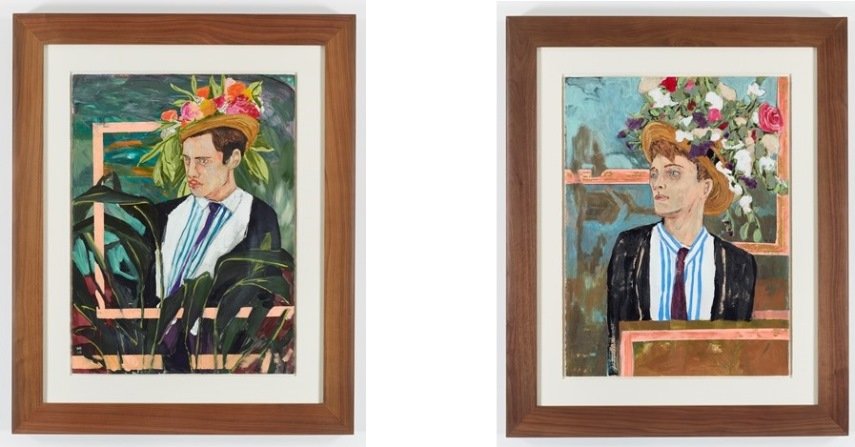 Romantic, Melancholic and Old World Imagery – The Art of Hernan Bas
Born in 1978 in Miami, Florida, Hernan Bas' work has been exhibited in numerous solo exhibitions around the world, including the installation TIME, Hernan Bas: a queer and curious cabinet at the Bass Museum of Art, Miami (2013); a retrospective exhibition at the Kunstverein Hannover, Germany (2012); and a major presentation at the Rubell Family Collection, Miami (2007), which subsequently traveled to the Brooklyn Museum of Art (2008). In 2014, Rizzoli published a monograph on the artist, the most comprehensive book of his work to date. Bas is probably best known for his works inspired by literary sources. Based in Detroit, his work indulges in the production of romantic, melancholic and old world imagery, and makes reference to Wilde, Huysmans and other writers of the Aesthetic and Decadent period in literature. During the exhibition at Lehmann Maupin, visitors will have an opportunity to see the latest pieces by Bas. Ranging in scale from small, intimate works on paper to large canvases in muted colors with pops of pastel hues, this body of work focuses on general scenes of leisure: the day-to-day of society life, debauched nights, and intimate exchanges between imagined players.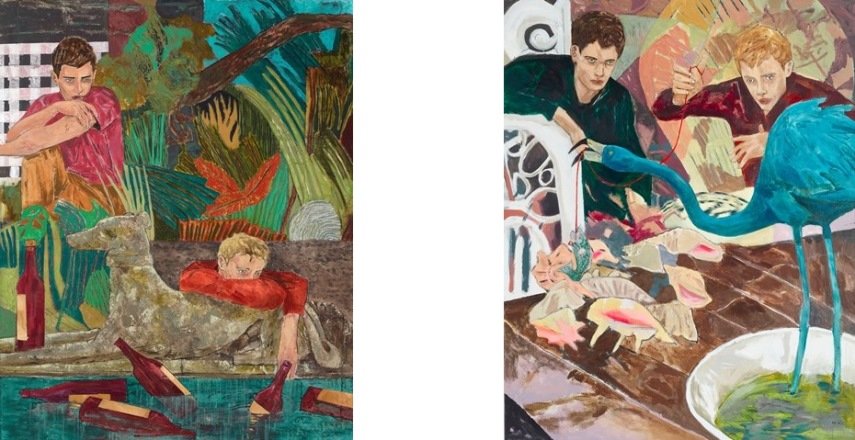 Bright Young Things
Dubbed "bright young people" or "bright young things" by the media that sensationalized their antics and lavish lifestyle, and later in books such as Bright Young People: The Lost Generation of London's Jazz Age by D.J. Taylor, the high society group was extensively documented by photographer Cecil Beaton, whose images were a primary influence of Bas' works. For the artist, who has long examined queer male themes found throughout modern history in his work, the characters and settings exemplify the recent past when queerness became a bourgeois privilege- accepted as charming effect rather than criminal act – for a class of young men coming of age following the loss of an older, more "masculine" generation in the war. Bas distorts the conventional pictorial field by compressing the foreground and background, and by altering the perceived depth of the spaces in which his figures exist. The paintings are a blend of figuration and abstraction that incorporate classical genres including landscape and portraiture, and, for the first time, nod to early 20th century American still lifes and Art Deco motifs. Bas is equally prodigious in his experimentation with various techniques and materials – such as airbrush, wood block, acrylic, gold leaf, and house paint – as he is with his reference points. Although well-read on these subjects, Bas prefers to focus on enduring myths as well as his own internalized interpretations, rather than the factual components. The resulting works in Bright Young Things depict a decade-long span where eccentricities were not repressed but rather celebrated, however superficially, for their entertainment value.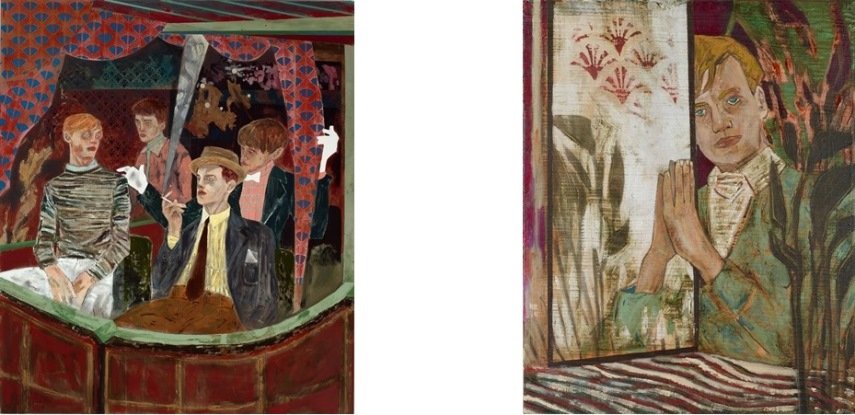 Hernan Bas Exhibition at Lehmann Maupin
Bright Young Things is the artist's fourth solo exhibition with the gallery, featuring new paintings on canvas and paper. Bas draws from a pool of references found in art, poetry, religion, mythology, film, and literature. In this recent series, he turns his attention specifically to 1920s London, and a group of young, bohemian aristocrats that emerged post-World War I. The exhibition will be on view from March 10 until April 23, 2016, at Lehmann Maupin in New York City. The artist will be present for the opening reception at the gallery on Thursday, March 10 from 6-8 pm.
Featured Images: Hernan Bas – The Fourth of June (Eton), 2016. Courtesy the artist and New York and Hong Kong. Photo: Max Yawney; Hernan Bas –  The haunters of first nights, detail, 2016. Courtesy the artist and Lehmann Maupin, New York and Hong Kong. Photo: Daniel Portnoy. All Images courtesy of Lehmann Maupin.