Two Major Shows of Hiroshi Sugimoto Photography in Paris and London
When it comes to most photographs, one of its most important elements is time. They require it, capture it, and preserve it, just like they do with another significant aspect: memory. The two could be considered most palpable in the work of Hiroshi Sugimoto, whose visions and technique continue to be reflected through impeccable visual results. Known for his photographs, the Japanese artist also works with sculpture, installation and most recently architecture, and some of it will now be on display across two venues in two big cities; courtesy of Marian Goodman Gallery his most famous series of images will be the subjects of their spaces in London and Paris this fall.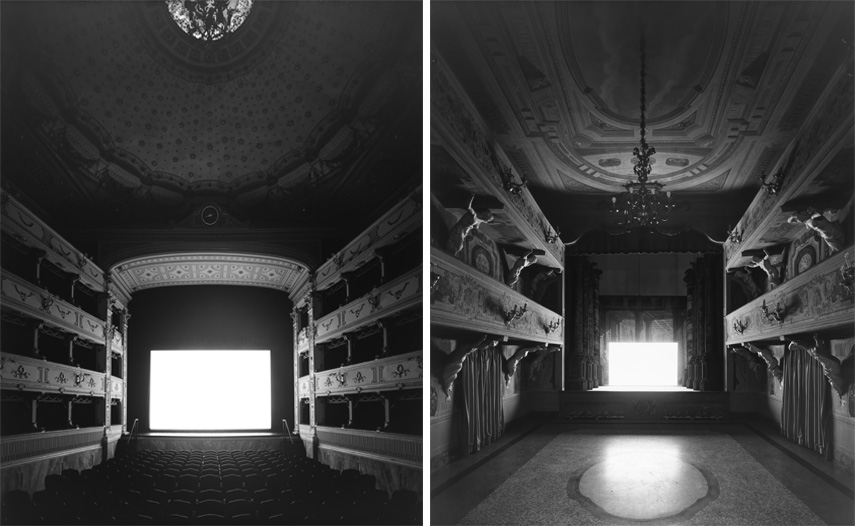 Snow White
Hiroshi Sugimoto is certainly most recognized for his mesmerizing Theaters, and the London branch of Marian Goodman Gallery will now present Snow White, a selection of works from the series. The works, which depict mostly abandoned and drive-in theaters in Europe and America, began as an experiment in 1978, when the artist used long exposures to capture thousands of moving images onto a single frame of film. Thus, the final picture contains a gleaming, pure white screen surrounded by darkness or barely visible surroundings of the theater which it belongs to. For this occasion, Hiroshi Sugimoto will also reveal the titles of the many movies he captures in the series, for the first time ever.
Also on view are the Abandoned Theaters, former grand halls of music and film which have fallen to decay. Sugimoto began photographing the most recent locations in 2014, starting with several Italian Opera Houses, such as the Palladio-designed Teatro Olimpico in Vicenza and the Teatro all'Antica in Sabbioneta.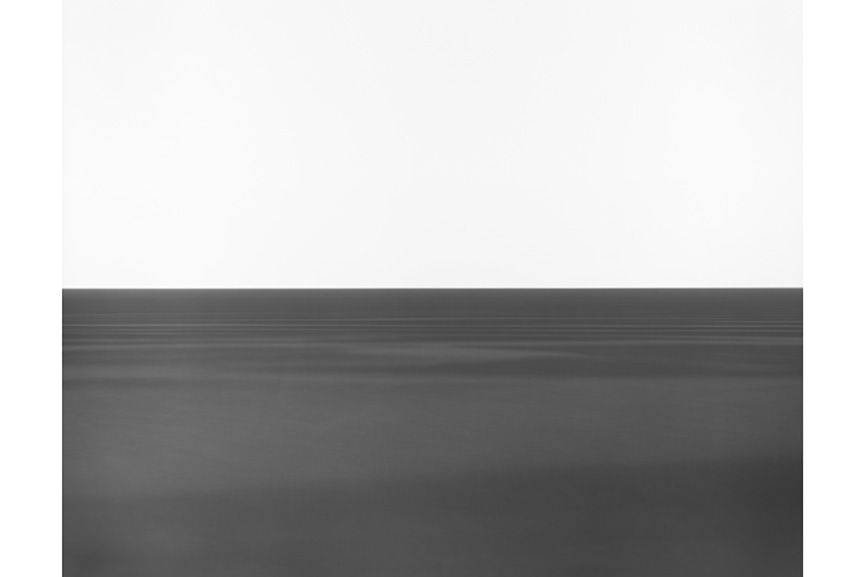 Surface Tension
At Marian Goodman Paris, on the other hand, there will be Surface Tension, a collection of images from Hiroshi Sugimoto's Seascapes series taken from the 1980s until today. Here, each surface of the seas portrayed is unique, characterized by the weather, atmosphere and the illumination of the sun or the moon, and tells their story of the past and the present. What connects all these images, however, is the perfectly balanced composition between the lower half, where the sea is, and the upper half, occupied by the sky.
Aside from the photographs, the Parisian public can also see Hiroshi Sugimoto's Five Elements, a series of five sculptural works which take the form from a traditional pagoda. Each shape has a representational meaning, referring to the Buddhist cosmological doctrine of Five Universals – the square is the earth, the globe is water, the pyramid is fire, the semi-globe is air, while a teardrop is emptiness. Staying true to his seascapes, the artist embedded one in each piece.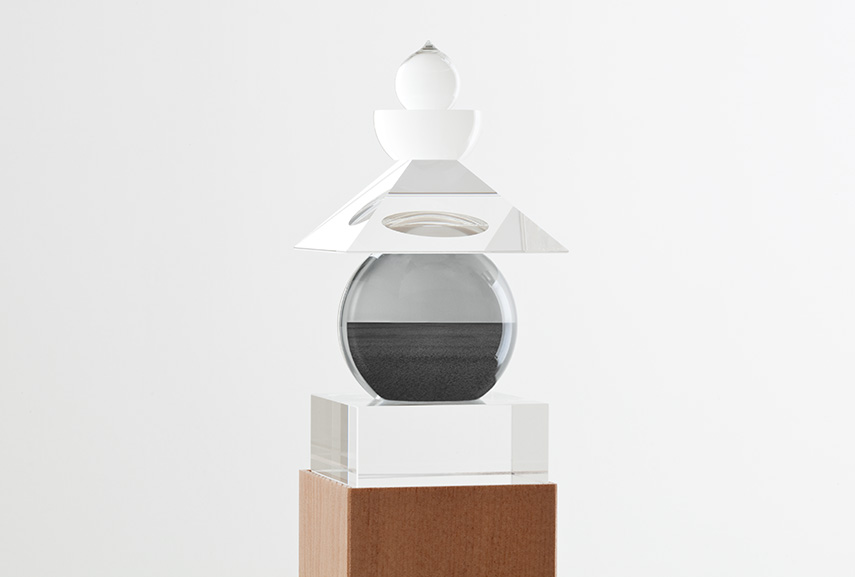 Hiroshi Sugimoto at Marian Goodman Gallery
Snow White opens at Marian Goodman Gallery in London on October 26th with the opening reception between 6 till 8 pm. A new limited edition book, of the same title and published by Damiani, will be launched at Librairie Marian Goodman, Paris, on the 28th of October from 5.30 to 6 pm, before the opening reception at the gallery. The artist will be present. In Paris, Surface Tensions will be on view from October 28th, with the reception from 6 to 8 pm as well. Both exhibitions will remain on display until December 22nd, 2017.
Featured images: Hiroshi Sugimoto – Paramount Theater, Newark, 2015. Gelatin silver print, Neg. #36.002. Image: 47 x 58 3/4 in. (119.4 x 149.2 cm), Frame: 60 11/16 x 71 3/4 in. (154.2 x 182.2 cm). Edition of 5 (20220); Salle 37, Palais de Tokyo, Paris, 2013. Gelatin silver print, Neg. #279. Image: 47 x 58 3/4 in. (119.4 x 149.2 cm), Frame: 60 11/16 x 71 3/4 in. (154.2 x 182.2 cm). Edition of 5 (20218); N. Pacific Ocean, Ohkurosaki, 2013. Gelatin silver print, Neg. #582. Image: 47 x 58 3/4 in. (119.4 x 149.2 cm), Frame: 60 11/16 x 71 3/4 in. (154.2 x 182.2 cm). Edition of 5 (20192); Kegon Waterfall, 1976. Gelatin silver print, Neg. #00.001. Image: 47 x 58 3/4 in. (119.4 x 149.2 cm), Frame: 60 11/16 x 71 3/4 in. (154.2 x 182.2 cm). Edition of 5 (20200). © Hiroshi Sugimoto, Courtesy Marian Goodman Gallery.