Here is somewhere else
A solo show of Danish artist HuskMitNavn opens today for the fourth time at Charlotte Fogh Gallery. The exhibition is titled Here is somewhere else and includes his latest drawings and paintings. This versatile Copenhagen based artist, whose alias in Danish means RememberMyName, will present this time the glimpses of everyday life, all those important moments that pass us without us really detecting them. Here is somewhere else revolves around the daily life of intense but forgetting moments and reminds us that they form a significant part of our lives. The exhibition will be open until March 15th.

Danish Modernist
HuskMitNavn's easily recognizable stroke and subtle humor has placed him among the most significant and groundbreaking artists both in Denmark and internationally. His style has evolved over the years from graffiti´s large expanses of color and distinctive contour-drawing to a unique picturesque style that combines graffiti techniques with more classic styles, reminiscent of the Danish modernist masters of Wilhelm Lundstrom, Heerup and Edward Weie. HuskMitNavns works resonate with immediate messages and a well-developed sense of the large and small dramas that play out in the ordinary daily life.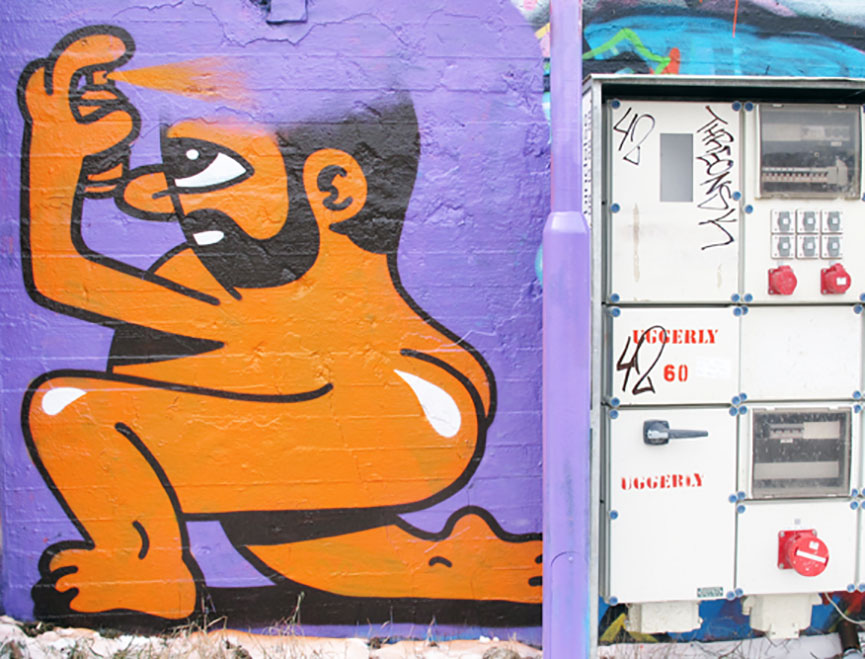 Street Artists
As a street artist, HuskMitNavn has expressed himself in different ways, through tagging, façade paintings and stickers. He is known both in Denmark and internationally for his satirical cartoons and his distinctive brushstroke. He was obsessed with drawing from an early age but it wasn't until 1993 when he picked up a spray can. Graffiti then led him to many other things. He works in many different mediums such as mural, painting, illustration, sculpture, prints and drawings.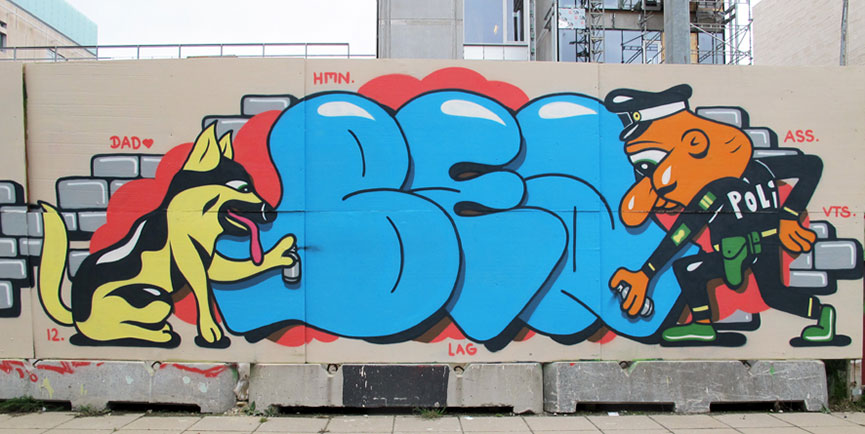 Globetrotter
HuskMitNavn has exhibited his art in both Danish and international galleries and prestigious museums over the last 15 years. Recent exhibitions include Ruttkowski 68 Gallery in Cologne, HuskMitNavns tenth anniversary exhibition 'From workshop to work' at the Art Museum KØS , 'Smack' the Storm P. Museum, 'Nudes' at Guerrero Gallery in San Francisco, 'Beef or Chicken' at The Hole in New York and New Nordic Architecture at the Louisiana Museum of Modern Art.