Mass Contemplation
Urban art gallery Maxwell Colette is presenting a show by the Chicago based artist and illustrator Ian Ferguson a.k.a. Hydeon this month. The exhibition will be the inaugural one at Maxwell Colette for the artist, featuring new series of work in India ink. Entitled Mass Contemplation, the show opens for public on the evening of June 20 and it will run through July 31, 2014.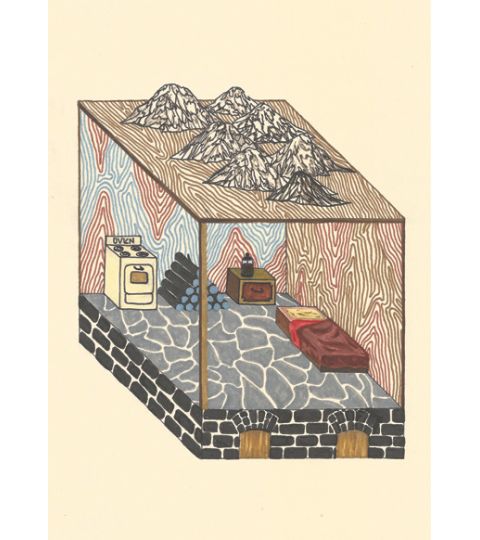 Mass Contemplation Exhibition
Mass Contemplation series of artwork will present all new india ink drawings on paper and an installation created for the occasion and the site specifically titled Terra Firma Shelter. The installation will recreate one of the small shelters the artist frequently depicts in his work in a human-size scale. Because of the scale, position and three-dimensionality, the installation will impose itself among other pieces on view, while it will be build on the visual basics of a ship in a bottle swallowed by an "old west ghost town". By depicting simple shelters, the artist is reminding us of the simplest ways of living, leaving a minimal imprint on nature possible by diminishing our necessary means to the sheer fundamentals.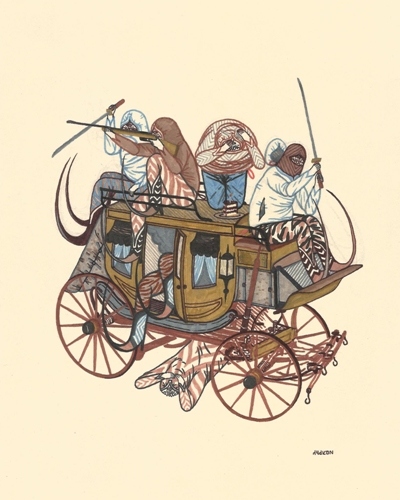 Simultaneously with Mass Contemplation exhibit, Maxwell Colette gallery will issue the first self-published book of Ian Ferguson named Early Morning Contemplation Over Coffee. The art book will present reproductions of india ink drawings on view at the show and it will come in a signed and numbered limited edition. Hydeon art books will be available exclusively through the Maxwell Colette gallery.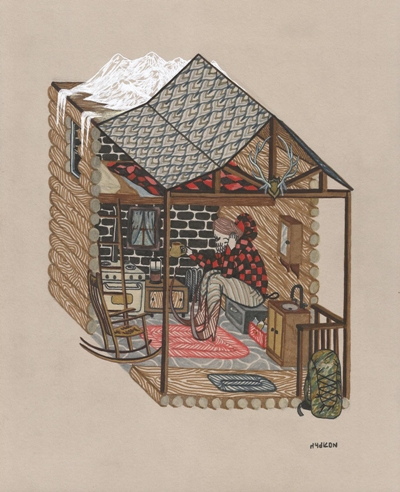 Miniature Metaphors
Mostly executed in india ink, but with other media as well, artwork of Ian Ferguson fuses street art with fine art, graphic design with surreal contemporary painting. It's highly metaphorical and evocative, devised to instigate the thinking and action. Hydeon creates out of reaction to the global practice of exploiting the planet by what he perceives as oversized lifestyles, by bringing forward pictures of minimized existence. His world features miniature houses, pointy boots, hobo shelters and mountains, where tiny, invented beings called "herms" reside. Heavily drenched into a pool of sentimental reminiscence, Hydeon's artwork is also characterized by a defined and powerful connection with natural world.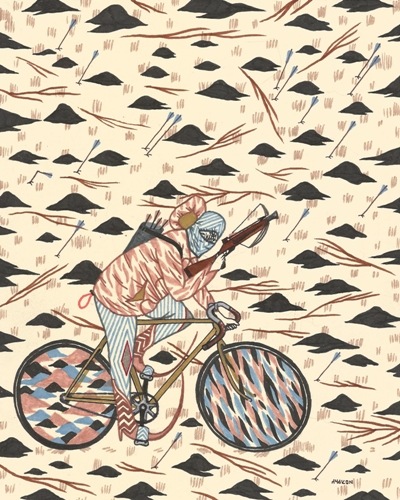 Hydeon
Hydeon or Ian Ferguson is a visual artist based in Chicago. His oeuvre is dominantly inspired by his personal living experiences and his surroundings. Hydeon was born in California, and he graduated in Graphic Design from AIC school in San Diego in 2006. In 2010 he moved to Chicago where he founded BARO Records. His artwork was published in numerous magazines such as Hi Fructose, Op, Time Out Chicago and many others. In 2012 he was picked out as the Featured Artist for Chicago Cultural Society for Chicago Artists Month. 2013 brought hism the Red Bull Canvas Cooler Award and a feature with Red Bull Curates at SCOPE fair in Miami. Among his latest endeavors is the shoe design work for Converse, released at Nordstrom in March 2014.