Hza Bazant Interview - Uncovering the Bizarre Nature of Our World
Hza Bažant took some time to partake in this dialogue with us, discussing his influences, background, recent projects and work. The Prague-based artist has recently presented his epic saga of screen printed illustrations under the name of Nusle at Urban Spree Gallery. With its inception back in 2009, up until today the book is comprised of 34 images which form a surreal world that draw the viewer in. With Mirek as the main character, the viewer is taken on a journey through the surreal scenes of a city where so many things are going on that it will take you more than one trip to catch them all.
Take a Surreal Trip With Nusle
The talented artist is also a member of the Echt Street Puppets Czech theatre company which designs giant mechanical mobile puppets which are used in presentations in public spaces. Hza Bažant has a true passion for puppetry, and he is a Puppet Doctor, currently he is teaching puppetry at the Academy of Performing Arts in Prague. His 3-4 meters high puppets have roamed through the streets of various cities, art fairs and festivals in Europe.
Reflecting upon the recent release of Nusle in Berlin, Hza Bažant reveals to us some of his interpretations and feelings about this majestic piece of work, which apparently, is just the beginning of the saga that continues…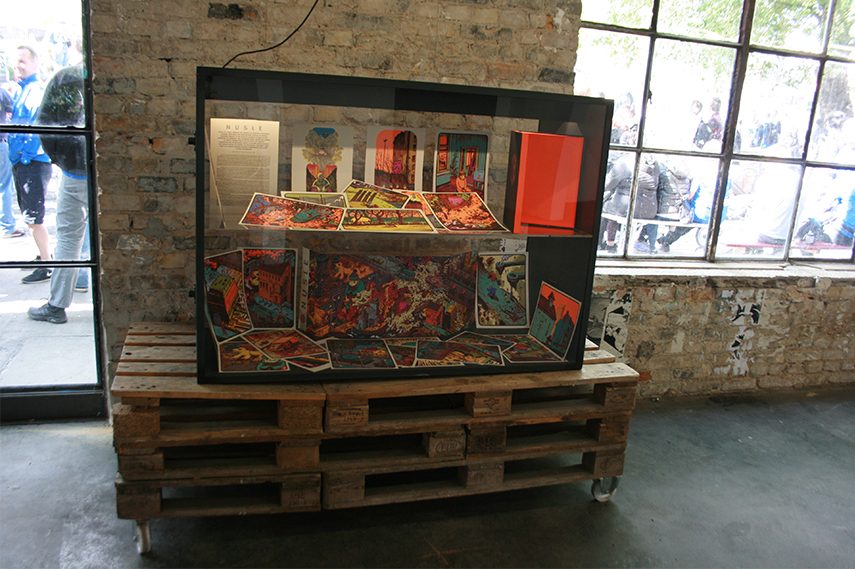 Widewalls: First of all, how would you describe yourself and your work to someone who has just been introduced to your art?
HZA: I'm the visual artist. Mostly I'm interested in uncovering the bizarre nature of our world. I'm drawing that, carving that, printing that, designing that. I'm doing comics about that, I released four albums so far one is stranger than another. I'm a stage-designer. I'm creating the weird worlds at the stage. I'm also a Doctor of puppetry. I'm creating and producing obscure giant puppets from 2.5 to 4.5 meters high and we're traveling with our Echt Street Puppets troupe around the world to do the workshops and the street performances. I live with my girlfriend and our two kids in Prague.
Widewalls: Since you were born in Czechoslovakia in 1979, how have the geo-political changes of the country's situation influenced you and your art?
HZA: For a long time I've seen Me and my generation as a bit slow. In 1989, when the regime fell I was old enough to understand but too young to take something from that. Since the revolution we lived in a grey system where the most of the people closed themselves in the inner circles – families, friends, beer, gardening, model making whatever. Dual life. I was lucky that my family is quite big so I was growing up for some time in kind of a greenhouse. In the wild 90's, when I was entering the adult world, I was just staring at all the things which were starting to come from west. We had no information, just kind of rumors. Now you can do click, click, click and you can find out everything about any subject, order it on e-bay. In Czech Republic there is a huge tradition of DIY solutions. It is usual that the lack of resources is sustained by the creativity. Things which you want or need, and you can't buy in the shop, you have to make by yourself. I also started with screen printing with cycle Made by Myself. And till now I do all the stuff from screens to frames by my elf. I'm just used to do so.
Widewalls: You are known as a "puppet master", and since 2010 you have been teaching at the Department of Alternative and Puppet Theater in Prague, could you explain to our readers this passion for puppetry and theater?
HZA: I like the creating of new worlds, the language of symbols, stylization. All these things are in puppets. And also I'm fascinated by creation of things which can move, breathe, interact with their surroundings. Creating new species. The puppets are also kind of weird, morbid and decadent, that's what I like. Since my childhood I had a very strong interest in puppets. That strong that I studied stage-design at high school and then at the university, where I'm teaching stage-design right now. This I see as a very interesting discipline where the same as in the comics you can use the juxtaposition. You putting the text next to the picture and you creating some messages, which can be far out from the text and the picture itself. And in theatre it's happening right here and right now! You can smell it, you can feel it. That's why I'm interested in street theatre. Here you can bring the poetry into the real everyday world.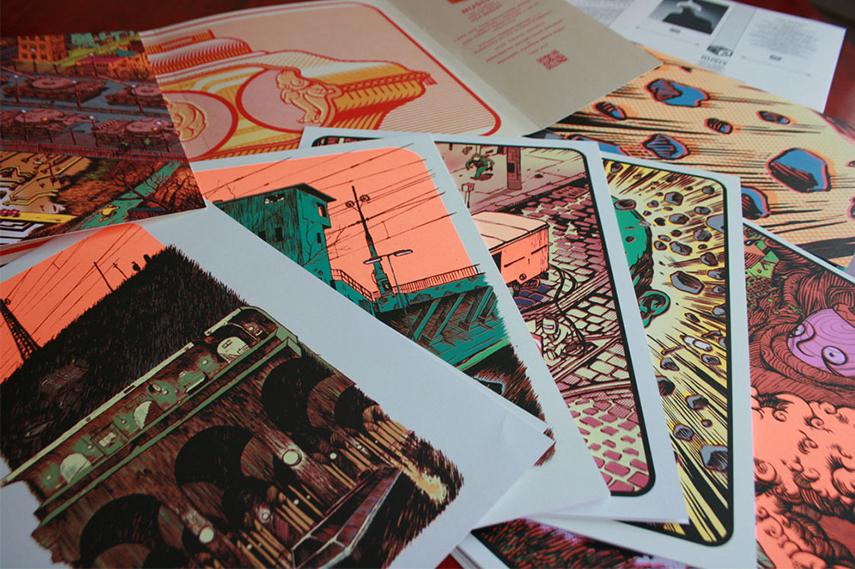 Widewalls: Your new series of screen printed illustrations Nusle is based upon an impressive graphic saga, which started back in 2009, what was the creative process behind this immense project?
HZA: In 2008 I moved to the district Nusle in Prague. It's the valley in Prague with the stream Botič, with bridge which is crossing the valley (biggest in central Europe) and with very bad reputation. I started to do single graphics which were inspired by some locations there. After some time how the cycle was developing, the story was starting to reveal. I was just following and pushing here or pulling there sometimes. The concept is about small hints which are uncovering the mystery, but just a little bit. I want it all about the edge not to tell too much to spoil the viewer's imagination but still not to let them to get lost. Also the pages in the book are not tied together, they don't even have numbers so the order of the pages and the final story can be recreated by the reader.
Widewalls: What made you take this minimal approach to the large scale print series? And how does it feel, compared to the big format?
HZA: The size was limiting of course but the really big issue was the colors. In prints I change colors for each print and the changing of the mood in the same pictures I find very interesting. In the book I had to choose one color combination and also I couldn't combine neon orange with metallic, because the color is orange or silver. Also the process is completely different In studio, with cans I'm completely connected with the picture, I can feel the colors, the material, it's physical. In front of the computer I can just expect how the result's gonna look like. You never know. And you have just one shot, because finally in print every change is really expensive.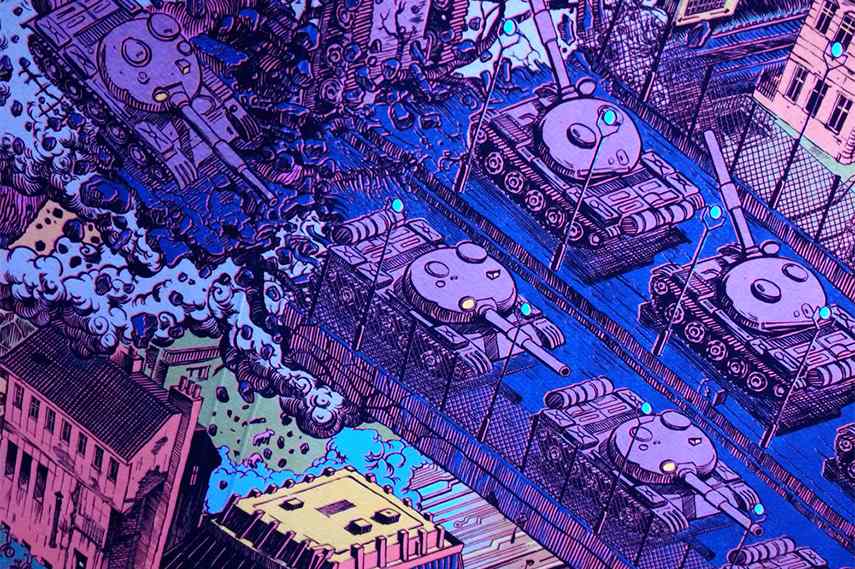 Widewalls: Exactly how influential are Prague and Czech culture in general on your art? Is there something in your work that would go unnoticed by a person who is not so familiar with the atmosphere of Prague and Czech culture?
HZA: The Prague and central European culture are very determining for my work and for myself as well, there for sure could be some links which can be confusing for a foreigner. But it's still talking to them.
Widewalls: Since you're trying to tell a story using only images, associations, symbols and common features, without any words, this gives the viewer a lot of freedom for interpretation. Do you ever feel like your work is sometimes misinterpreted, or that the audience is missing the messages you wish to convey?
HZA: Not at all, one of my goals is to create the world in observer's mind, so I have to let them interpret free hands. My messages are mostly in feelings and impressions, the exact interpretation of my story is not so important for me. I want the readers to partly create the final story so I have to give up some missing messages to get the new ones.
Widewalls: Who is Mirek?
HZA: Mirek can be you, me or anyone else. His name is inspired by a character from comics from 30's about a boys club Rychlé šípy. Everyone in Czech Republic knows these stories . Mirek Dušín was the leader, personification of good character. Honest, committed, helpful and with a very strong mind, but he was ruling the boys with a steady hand. In Nusle, Mirek is alone. And all four friends of his are coming back from underworld to take him with them.
Widewalls: Now that the epic saga of Nusle is completed, what will be your future endeavors?
HZA: The saga is never complete. The book was just first landmark. I love to get into the middle of the story where you can sense the side stories on every step. I love to follow the side alleys, to find out more. This was just a beginning.
Sign up for free to My Widewalls, and browse through our other interviews with artists from all over the world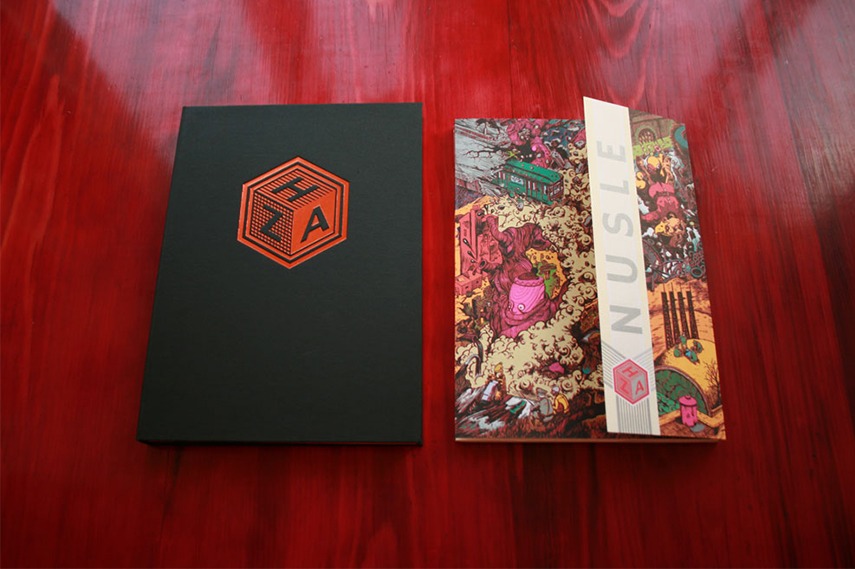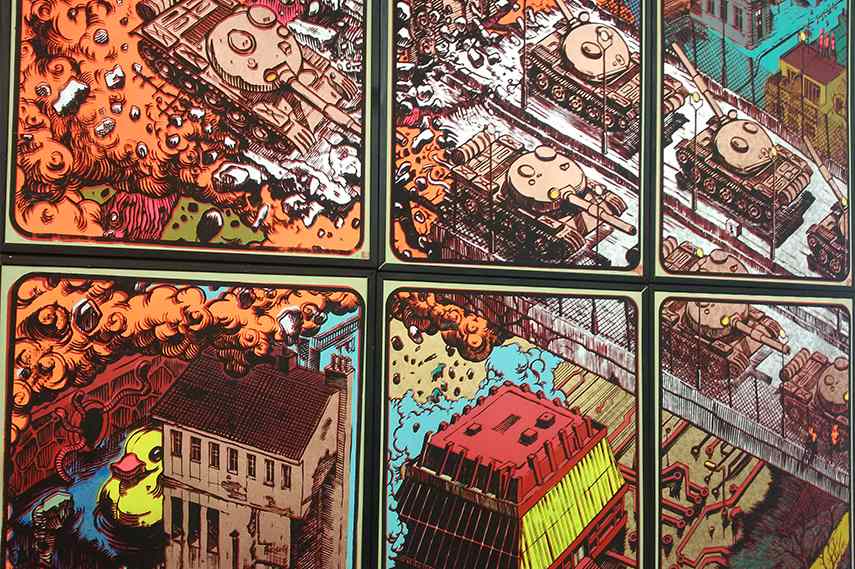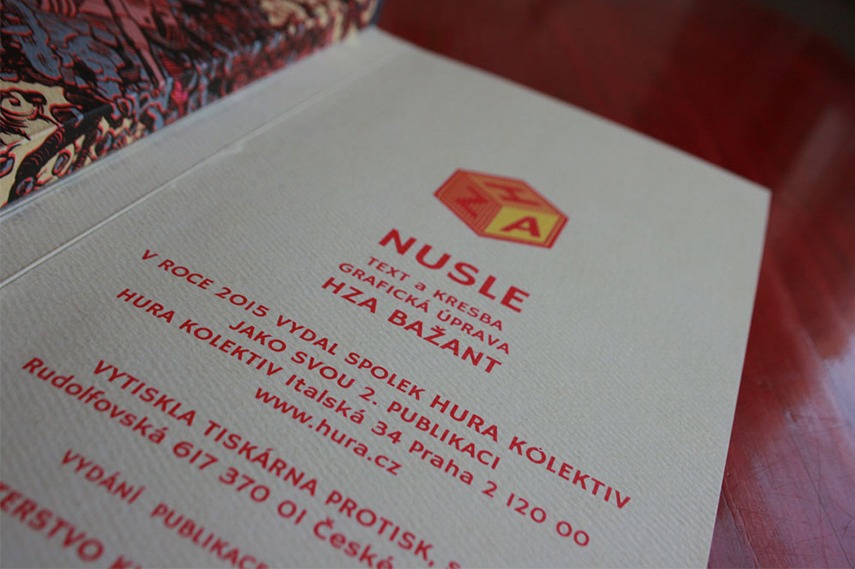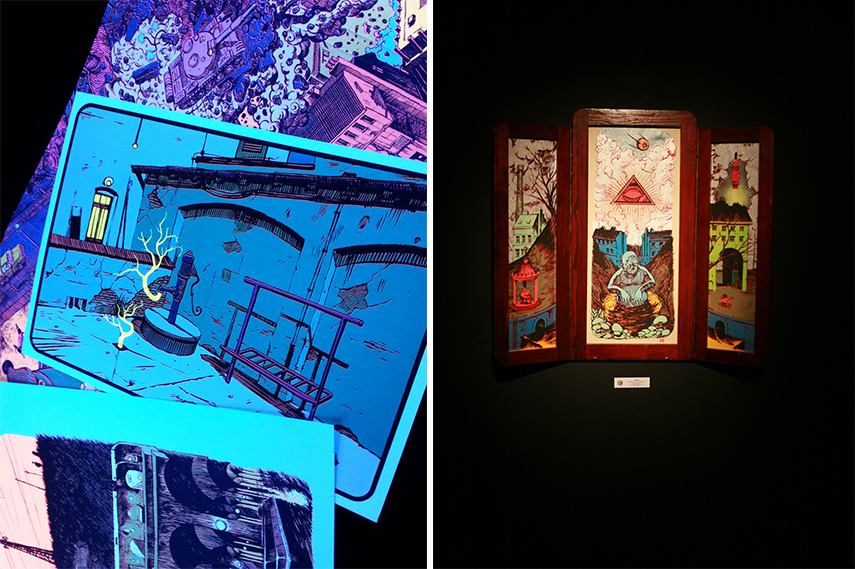 All images courtesy of the artist