AN EYE FOR AN EYE
Well-known photographer and conceptual artist JR produced an ephemeral work at Idem, the legendary fine-art printing studio in Montparnasse, Paris. He has created a monumental eye of famous Picasso on Idem's litho stones for the inauguration ceremony of their new large lithographic press.

Idem Paris…
This historical place located at Rue du Monparnasse 49, where good old craftsmen guide artists to do wonders with the lithographic stones, was originally built by the printer Emile Dufrenoy in 1880, as a space to install his lithographic presses. Since then, lithographic presses were seen passing the works of Matisse, Picasso, Miro, Dubuffet, Braque, Chagall, Giacometti, Léger, Cocteau, Calder … Today, a long list of contemporary artists who come to work in this workshop includes JR, David Lynch, Sophie Calle, Prune Nourry, Carole Benzaquen and many others. Work printed at Idem may be found in museums, international exhibitions and in public and private collections.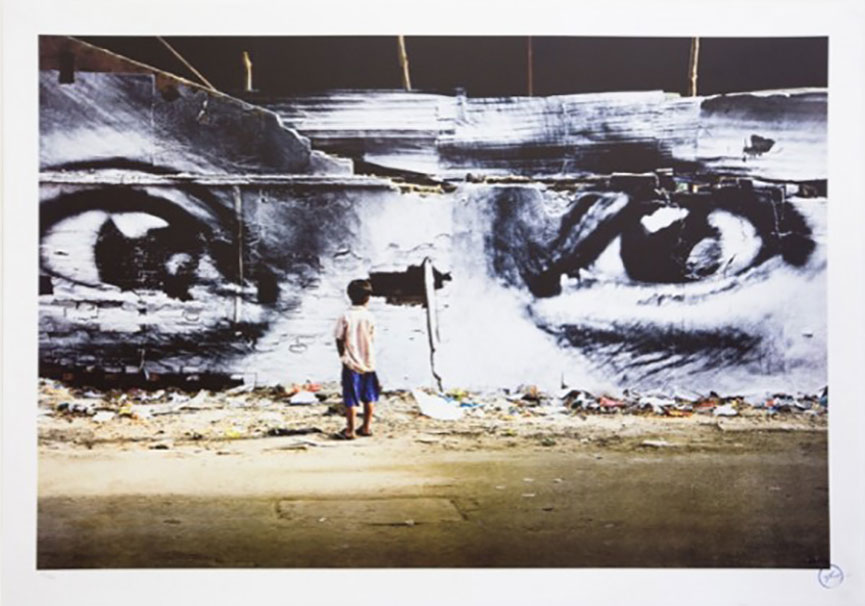 #18 – JR – A BEHIND THE SCENES MOMENT AT IDEM PARIS
Check also "How lithographs are made" via JR-ART.NET.
Eyes Have One Language
Let's remember those women's eyes printed in black-and-white that emerged mysteriously in the summer of 2008 starring from the Rio de Janeiro's oldest favela Morro da Providência? A number of those women were related to the men who had lost their lives in the previous killings in Brazil. Through their eyes, JR literally opened the eyes of the public and gave a face the Morro da Providência. An eye is one of JR's best-known motifs. We can say that his work quotes verses of the seventeenth-century British poet George Herbert who once wrote that the eyes have one language everywhere.  This work belongs to a series titled "Women Are Heroes" and is preceded by another striking project in 2007 called "Face2Face" and labeled as the biggest illegal exhibition ever. What JR did was to set huge portraits of Israelis and Palestinians face to face in eight Palestinian and Israeli cities on both sides of the Separation wall. And then, in 2011, he received the Ted Prize, which offered him the opportunity to make a wish to change the world and he became famous in every corner of the world. He launched "The Inside Out Project", an international ongoing participatory art project, for which he didn't take a single picture. Instead, he encouraged people to take their own portraits, which he then prints, large scale and returns to them so they can paste them wherever they wish.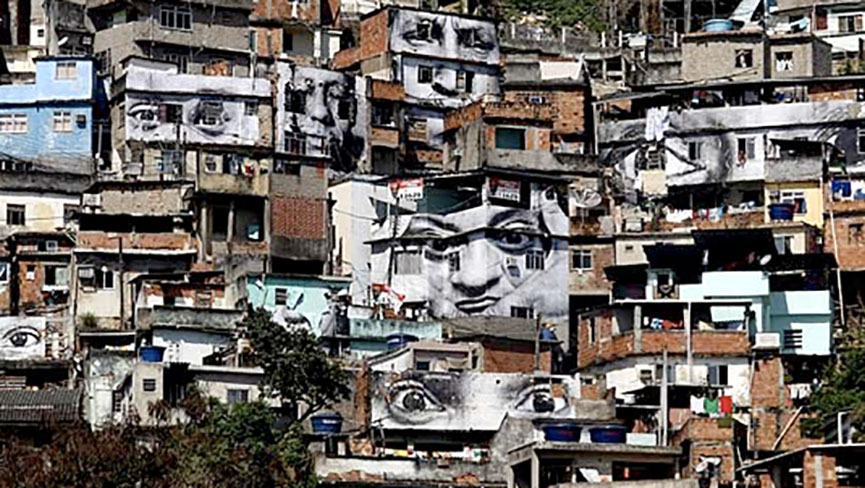 Larger-Than-Life
JR's work is striking, breathtaking, often politically provocative but most of all it is life-affirming. His subjects have larger-than-life status, turning personal identity into public art while at the same time JR strives to blur the distinction between artist, subject, and spectator. JR mixes art and act, raising questions about freedom and identity. By working at such a scale, JR has captured the attention of various art dealers and museums that now buy his photographs for tens of thousands of dollars.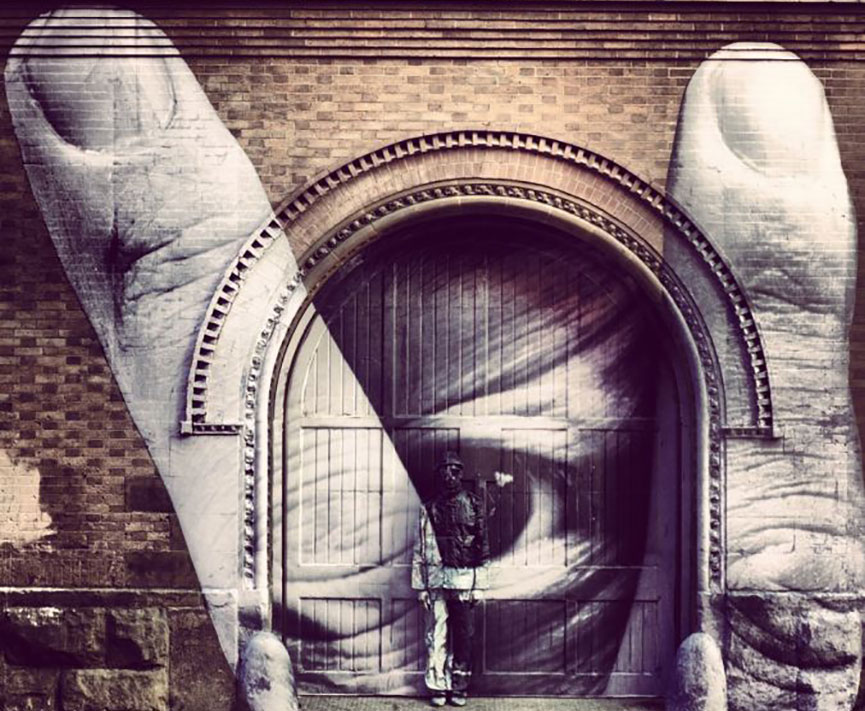 Picasso's Eyes
And again in front of us is one's eye. This time it's Picasso's. French novelist and filmmaker Jean Cocteau thought that Picasso had "terrible eyes that pierced like gimlets". JR has created a monumental Picasso's eye as a reminder that this famous artist did some of his most important lithograph at Idem. With this work he also paid tribute to this incredible place of creativity where JR himself also does his prints. As his portraits dominate over street environment, so the Picasso's eye overlooked entire inauguration ceremony last fall at Idem.
Just for the record, JR recently created a large-scale art installation for the New York City Ballet. Seen from above, the installation forms a giant eye.