At Galerie Francis Noel, a Duo Show of Indie 184 and Theo Lopez Art
Taking tribal and spiritual influences, Théo Lopez art is an elaborate poetry in the terms of matter, line and color. On the other hand, Indie 184 art is characterized by raptures of color and textures juxtaposed with personal messages. The work of these two young artists will be joined in an exhibition titled New York / Paris at Galerie Francis Noël. The featured series of painting by Lopez will detail his research and transition from figuration to abstraction. Indie 184 will present her latest series titled Eleuthera, a part of a visual journey about the artist's life during the past year where she focused on a personal and spiritual emancipation. As the artist explains, each piece in the series "is a declaration of independence representing a subtle alchemy towards the rediscovery of oneself."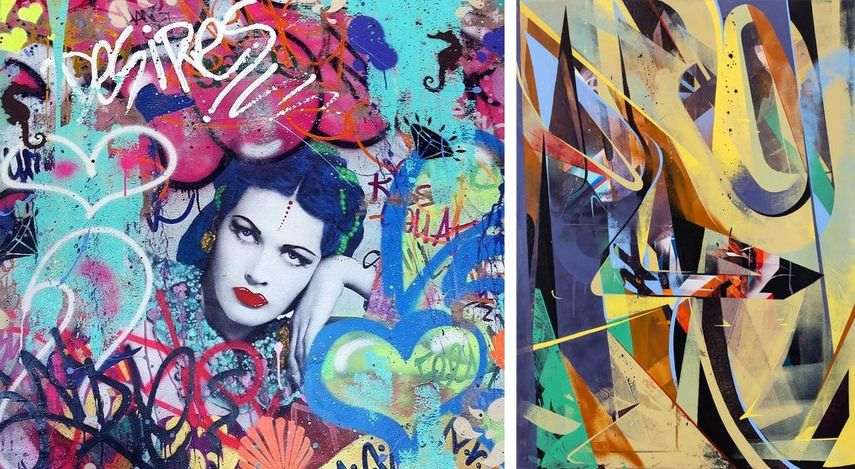 Théo Lopez Art
In recent years, the artist Théo Lopez took a decisive pictorial turn, extending his vision beyond his original aspirations. Sharing his singular universe through a sharp eye, his research is now guided by a need to return to the foundations, the very essence of his line. Making experimentation an integral part of his creative process, his practice oscillates constantly between reflection and spontaneity. His pieces are formed of curved random writing and gestures that are subsequently structured with straight lines and geometric shapes. Thus, the artist approaches painting as a sculptor, playing with the random and finding inspiration in the accidental.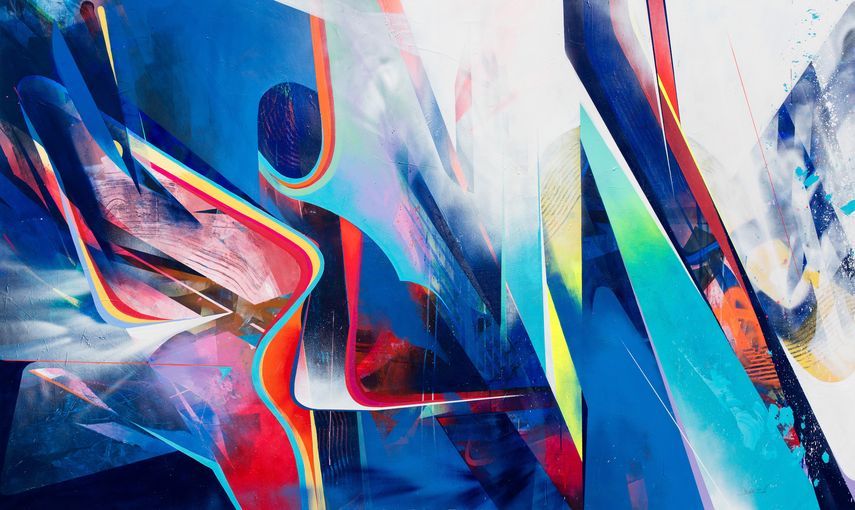 Indie 184 Art
Born in New York, Indie 184 has been active in the graffiti culture for over a decade and a half. The artist is best known for her simple yet playful feminine graffiti style infused with exuberant bold colors bursting with hearts, stars and bubbles. Influenced by Abstract Expressionism and Pop Art, her canvases fuse color and textures with her original graffiti and street art, imagery and designs. Her work is organized in layers of papers, paint, stencils and photographs, creating intense and emotional compositions, often centered around female icons.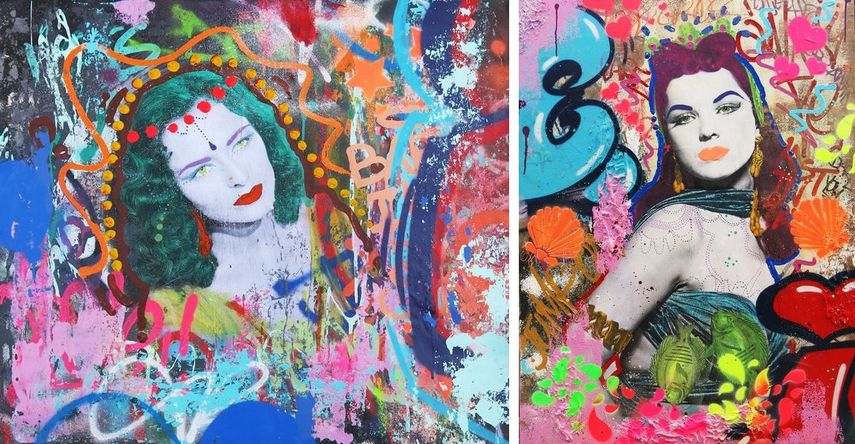 The Duo Exhibition at Galerie Francis Noël
Founded in 1983, Galerie Francis Noël placed its focus on Art After the War and Art Décoratif. In 2015, the gallery opened its second venue in Belgium dedicated to Contemporary Art and Urban Art. The gallery promotes both established international artists and the young emerging ones. The exhibition New York / Paris will be on view at Galerie Francis Noël in Liège, Belgium from April 13th until May 13th, 2017.. The opening reception will be held on April 13th, from 6.30 p.m. Both artists will be present.
Featured images: Indie 184 – Baby I'm a Star (detail); Theo Lopez – Manufacture, 2016 (detail). All images courtesy of Galerie Francis Noel.
Follow These Galleries
Li, Belgium

Mermaid Beach QLD, Australia

Chicago, United States