Interesni Kazki Break-Up - Waone and Aec Set Out on Their Own Paths and We Wish Them Luck!
When a door closes, a window opens. This is something that Ukranian artists Aleksei Bordusov Aec and Vladimir Manzhos Waone can now attest to, as we start calling them the former members of the brilliant Interesni Kazki duo. For more than twelve years, the two talented muralists from Kiev created interesting fairytales across the planet, in probably any place imaginable, deeply infused with the place they are painted in. But Waone and Aec are now ready to part ways toward two individual, yet exciting futures, as their joint legacy of a magic surrealist world lives on.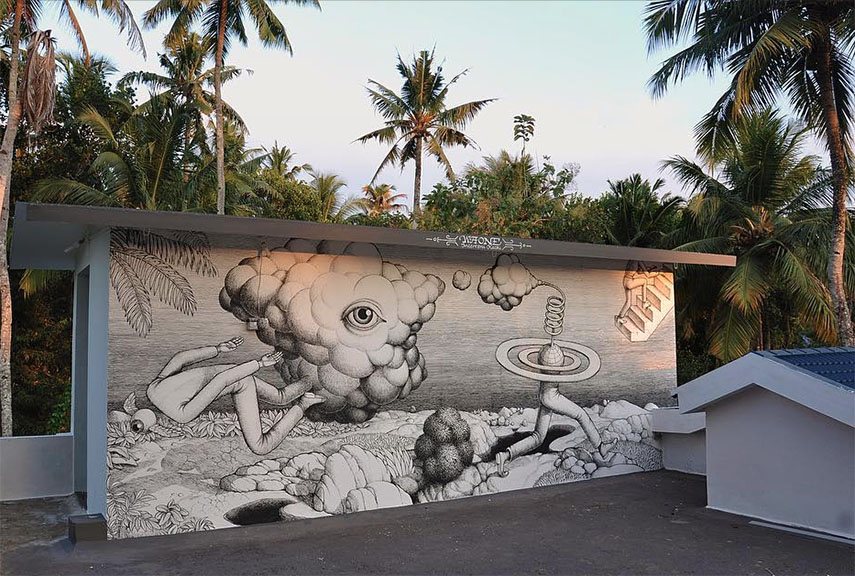 Interesni Kazki Break-Up – The End of a Fairytale
To answer the question in our recent interview with Interesni Kazki, in regard to how the duo came to be in the first place, Aec said: "When we started painting together sixteen years ago it happened randomly. We were involved in graffiti culture and that mutual interest was the thing that united us." Looking at their work, we feel this strong connection of theirs, the way they supplement and influence each other while having the same vision of what art is and should be. But the truth is that Waone and Aec were always artists of their own, who just happen to understand each other well and are able to work together under the umbrella of a similar style – one that inspired by mythology, religion, history, mysticism, even socio-political stances of Ukraine, as well as the rest of the world. Their massive, elaborate murals told so many stories, each asking for an interpretation and provoking imagination through distinct, refined artistic styles.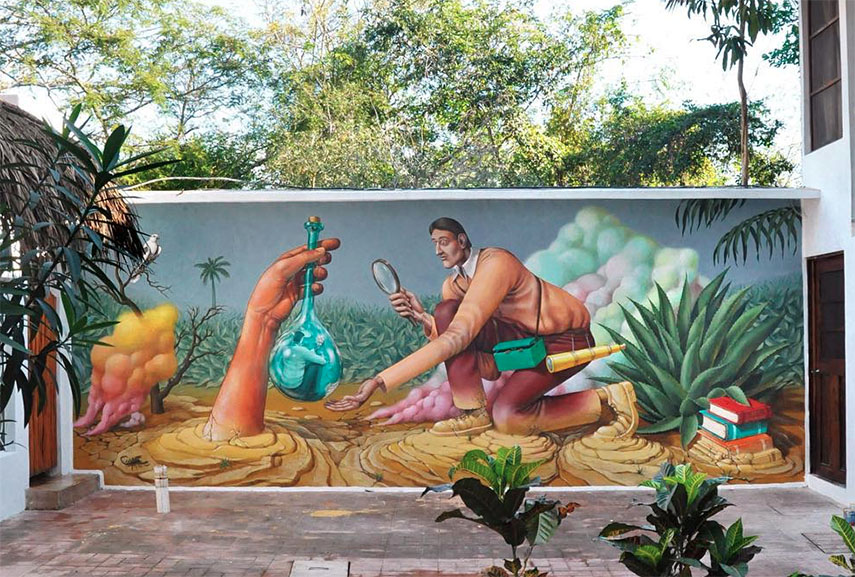 Aec and Waone – A New Beginning
The truth is that those who know Waone and Aec as independent artists are able to tell the difference between their visions and approaches. Vladimir Manzhos aka Waone, for instance, recently created his first wall painted entirely in black and white, although we've come across his intricate monochromatic drawings many times. Made on a wall in a small South Indian town of Varkala, the mural is titled Matter: Changing States, and it expresses Waone's concern about the climate change and its impact on humans. Black and white is also the direction that Waone will take as his own creative individual, although he promised not to forget colourful murals either.
In the meantime, Aleksei Bordusov aka Aec will go on to make vibrant, intriguing artworks filled with color, often accompanied by black and white drawings of his own. Some of his most recent works include watercolor on paper works, as well as ink imagery, always faithful to his surrealist style. As mysterious as ever, neither Aec or Waone like to talk about their future plans, as they try to "live for today, not forget yesterday and be ready for tomorrow." In any case, we wish them luck in their exciting endeavours to come, as we continue to follow their inspiring artwork around the globe!
What does the future hold for Aec and Waone? Share your thoughts on our Facebook page!
Featured images in slider: Interesni Kazki artworks featured in their exhibition at Jonathan LeVine Gallery, courtesy the artists.
Follow These Galleries
Miami, United States

Jersey City, United States