Interesni Kazki to Show New Fantasy Worlds at Jonathan LeVine Gallery This January
When Dali met street art – that's how one could describe the work of Interesni Kazki, a Ukranian artist duo made up of Aleksei Bordusov aka AEC and Vladimir Manzhos aka Waone. With this in mind, it's no wonder their name translates to Interesting Fairytales, because their artworks are exactly that – surreal worlds full of paradox, dreams, improbable scenarios that make us wonder and dwell. The duo will now have their first ever solo exhibition at New York's Jonathan LeVine Gallery, entitled Sacred Gravitation and presenting their brand new body of work to the US public, inspired by history, folklore, religion, and mythology of their country and beyond.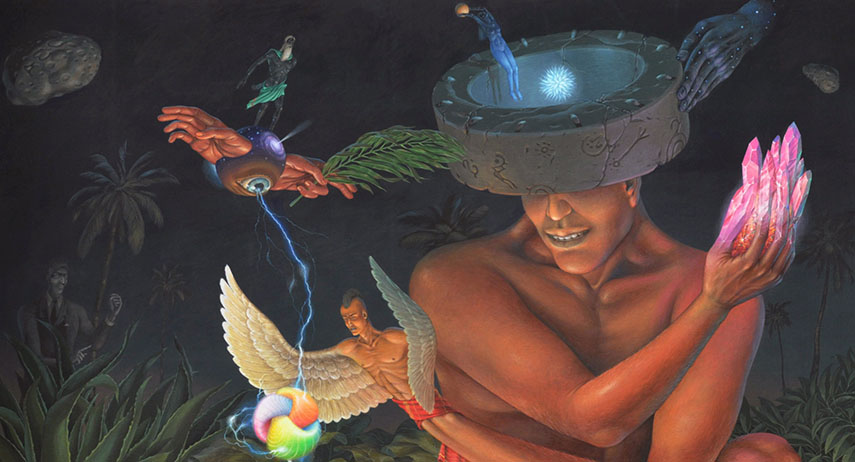 AEC and Waone in the World of Interesting Fairytales
To say that Interesni Kazki are nothing less of the most important muralists in Ukraine and post-Soviet countries in general would definitely not be an understatement. The two artists met back in 1999, at a graffiti and street art gathering of the Ingenious Kids grew. Between then and 2005, the duo was focused on style writing, which then transformed into the creation of exquisite figurative compositions we know today, under the influence of artistic styles of their fellow street artists around the world. After their first solo exhibition in France, their works began gracing the cities in many countries on a global scale, and today they're the proudest representatives of Eastern Europe urban art culture and one of the most talented duos in general. Interesni Kazki artists, AEC and Waone, work individually while complementing each other's art at the same time, creating pieces of outstanding quality and an intriguing content, to say the least.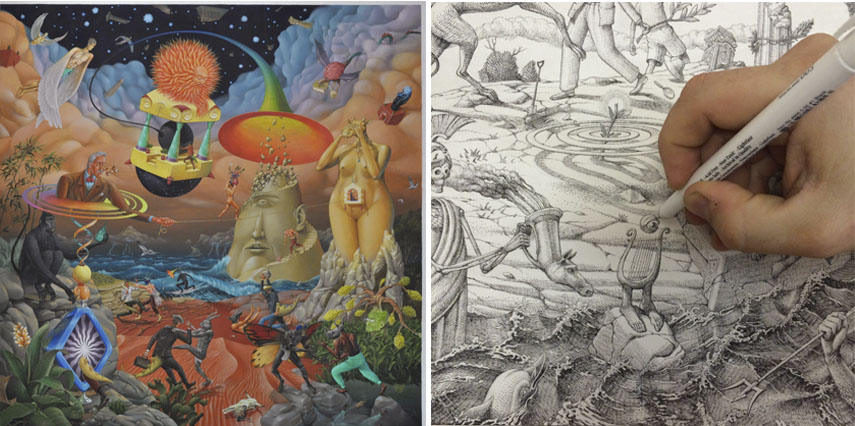 Sacred Gravitation
The art of Interesni Kazki is obviously deeply connected with the Ukranian culture and tradition. It often interprets concepts of religion, biblical stories and mythology, but also science and the notions of fiction and fantasy. Thus the name of their exhibition – Sacred Gravitation, as the two forces oppose and complement each other every step of the way. In a highly figurative manner, Interesni Kazki take us to many dream-like planets, where the physical and the spiritual become one, yet exist separately, just like the artists themselves. The show will put on view their intricately detailed drawings and paintings of curious narratives which offer plenty of interpretations.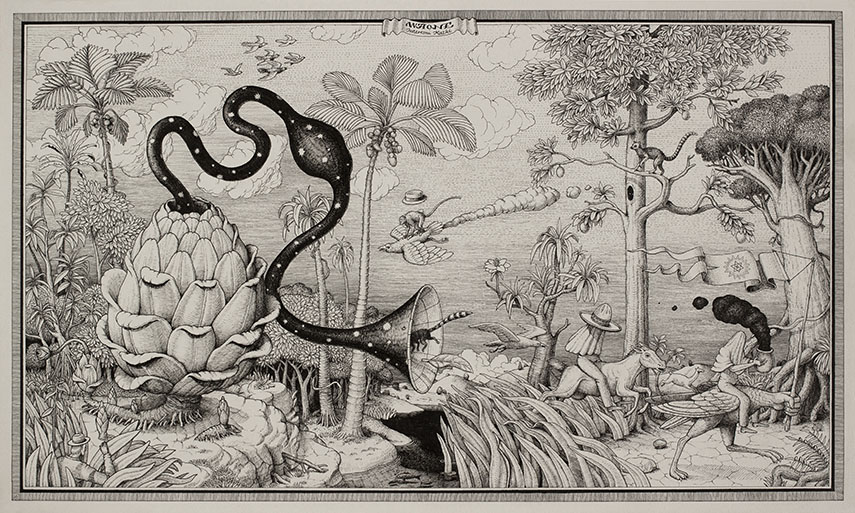 Interesni Kazki Exhibition at Jonathan LeVine
The elaborated fairytales of Interesni Kazki represent large-scale murals that are, simply put, mind-blowing when seen in person; their particular aesthetics, remarkable skills and the most curious of topics trigger our imagination and engage our attention for a long time before we realise we have to go back to the real world. And once we do, the sensation, at least for me, is like the one after reading a great book. Sacred Gravitation, an exhibition of works by Interesni Kazki, will be on view from January 9th through February 6th 2016 at Jonathan LeVine Gallery on 529 West 20th Street in New York City, USA. The opening reception is scheduled for January 9th, from 6pm to 8pm.
Featured images in slider: Waone – Trick; Waone, Spark of Life, detail; Waone, Plantae Carnivora, detail; AEC, Stealing of the Sacred Laurel. All images courtesy of Jonathan LeVine Gallery.
Follow These Galleries
Jersey City, United States

Miami, United States