Interesni Kazki Interview - Interesting Fairy Tales of Our World
They are an artist duo who work both individually and together. And in either case, their art is surreal. Quite literally. Aleksei Bordusov and Vladimir Manzhos, much better known as AEC and Waone respectively, represent one of the most important muralists in their homeland of Ukraine, but also the world. Jointly, they form Interesni Kazki, a two-person artist collective whose name translates to "interesting fairy tales" and it perfectly reflects on what one should expect to see in their artworks. After working exclusively with letters and graffiti, they decided it was time to create entire worlds of just characters, surrounded by fantasy scenery, symbolism, dreams, but also national folklore, mythology, history. I can safely say that their art is never boring, and so detailed that it could engage your attention for many hours.
When Interesni Kazki are not working outdoors, creating giant sublime murals worldwide, they have exhibitions. Their latest show is hosted by New York's Jonathan LeVine Gallery, where the artists are presenting their brand new body of work of elaborated drawings and paintings. This is where we also had an opportunity to talk to Interesni Kazki, about the pieces within the Sacred Gravitation exhibition, but also their history, inspiration, views of our society today and ambitions for the future. Make sure you scroll down and enjoy our interesting conversation with Interesni Kazki!
On their Beginning and Working as a Duo
Widewalls: You met some sixteen years ago at the now infamous graffiti and street art gathering. How did you realize that you can work together, and quite successfully too? 
Aec: When we started painting together sixteen years ago it happened randomly.  We were involved in graffiti culture and that mutual interest was the thing that united us.
Waone: We actually didn't realize right away that we should work together, it just happened. Fate brought us together. We had almost the same ideas, the same view on art and we wanted to do the same thing.
Widewalls: What would you say is the secret of working in a couple? How do your individual artistic styles inspire the other member?  
W: There isn't a secret, you just work. I consider Aec to be a great artist and his work inspires me every day.
A: Even now it's a mystery to me how we combine our ideas and styles in duo. We supplement and improve each others ideas. Sometimes I see my ideas appear in Vladimir's work and they are developed in a much more interesting way. I do the same, I guess. We don't do it intentionally, it's subconsciously. We have worked together for such a long time, often buy the same books when searching for inspiration and are inspired by the same artists. I guess this is the reason why we have similar styles. But it also only seems that our works are very similar. People who know us well can easily tell the difference.
On Graffiti and Inspiration
Widewalls: Why was graffiti the form which interested you the most when you first started making art? What did your transition to muralism looked like?  
W: When we started making art, graffiti was new and an exciting thing to do in such a boring city like Post-Soviet Kiev. It inspired us and we couldn't stay away. So we started painting graffiti and got further involved in that world. Then we saw a magazine about graffiti that was happening in Brazil and realized that graffiti didn't need letters, so we decided to paint a mural only with characters. It was a great experiment for us and we decided to develop in this direction. A few years later Interesni Kazki was born.
A: Sixteen years ago graffiti was something I associated with freedom – and by that I mean illegal graffiti, like painting on trains and making pieces in the city at night. It was the way to make a protest against the systems of society. In time I have understood that there are other ways I can protest and improve my ideas, specifically by making images and painted stories which have a meaning and message. That realization fostered a shift from graffiti subculture to mural painting.
Widewalls: Your works, I can safely say, are almost everywhere in the world at this point. In them, you incorporate a lot of the culture you get surrounded with. What happens when you arrive at a certain location? How do you "pick up" the things you would paint later on?
A: Before we travel to a new place I try to discover as much as I can on the internet or in books. Then when we arrive we visit local books and speak with the local people trying to find interesting stories.  Usually the culture, history or nature of a place gives inspiration.
W: It's a mystic process. The spirit of a local place or local cultural egregore transitions into forms on canvases and walls through shapes, colors and forms. We consider ourselves a tool in this process.
Widewalls: Are there any topics, cultures that you'd like to explore in the future, and that you haven't tackled already?
W: There are a lot of topics and cultures we'd like to explore. More Eastern countries, especially Japan. All the topics we work with can be more deeply explored. This process is endless. One lifetime is not enough to cover all topics we want as deeply as possible.
A: The world is huge and has so many different cultures to discover. I agree that there is not enough time in one life to discover it all. Sometimes not even enough time to explore only one country and its culture. For example, India has such a deep and ancient history and culture. I could go back again and again and still learn something new.
On Sacred Gravitation
Widewalls: What do your recent artworks related to the political crisis in Ukraine want to transmit to its people? As usual, they contain a lot of symbolism and elements related to your country. What is the message behind them?  
W: The recent political crisis in Ukraine is a grievous topic and nobody outside Ukraine wants to be involved or empathize with Ukrainians. It's really not the best scope for action in art. We just did a couple of murals dedicated to events in Ukraine. Also I am the co-organizer of the biggest mural project ever in the world, which is aimed to attract attention to problems like war, aggression and violence. This project will take place in Ukraine in 2016 close to the combat zone. We want to unite and direct forces of creation to solve the global issue of war, which came to our doorstep unexpectedly and has cost us thousands of lives.
A: The canvases for our current show at Jonathan LeVine Gallery are not really related to the topic of the revolution and war in Ukraine. One year ago we painted two big murals in Kiev which were dedicated to it. We did this murals totally in our own cost and it was our self-made project. My piece  was titled The Ukrainian St. George
Widewalls: How would you describe your latest body of work, coming to your first show with Jonathan LeVine Gallery?  
W: Our latest body of work currently on view at Jonathan LeVine Gallery is the culmination of all our works over last year and a half. There is inspiration from Australia, Brazil and ancient Greek myths.
A: Each piece in Sacred Gravitation has some particular story and it is not possible to unite them by one expression or concept. But in general I can say that in our pieces we use mystical, religious, mythological, historical topics… I like symbolism in general and like to create my own symbols.
Widewalls: What does the future hold for Interesni Kazki? Where will your art take you next?
W: We hope the future of Interesni Kazki is bright and encouraging. We have some projects planned for this year, but we never make our plans public.
A: We never know the future…trying to live for today, not forget yesterday and to be ready for tomorrow.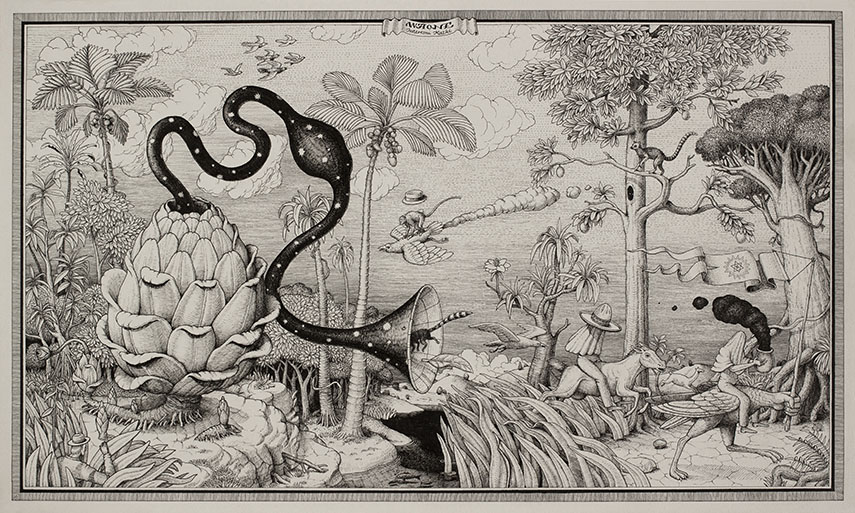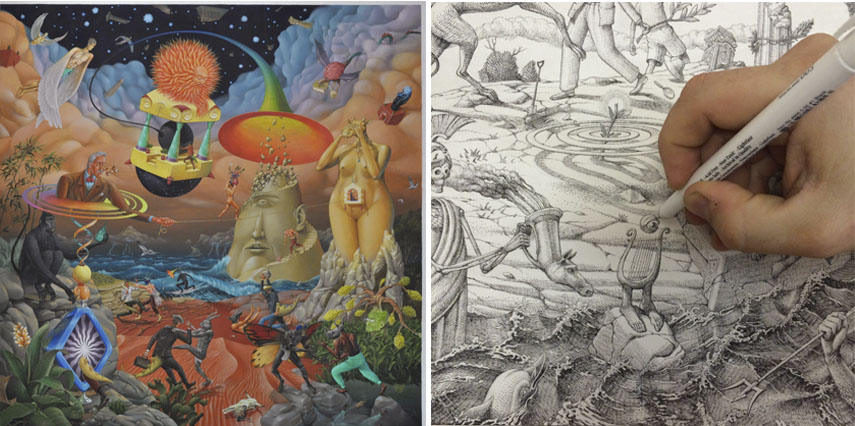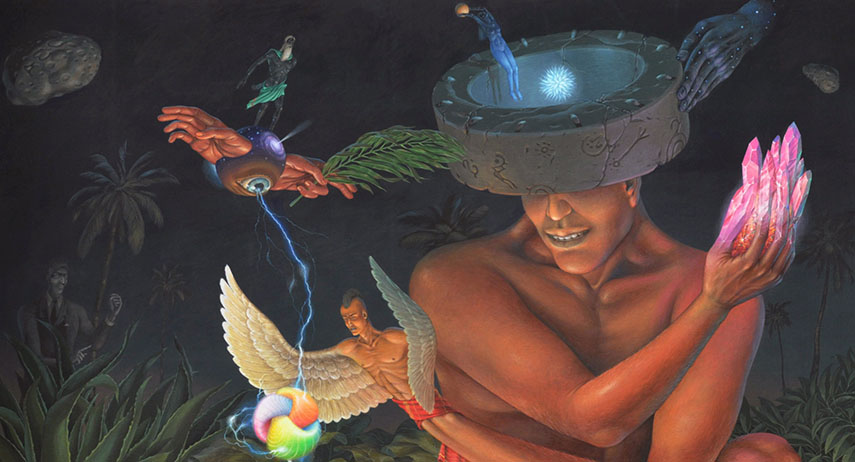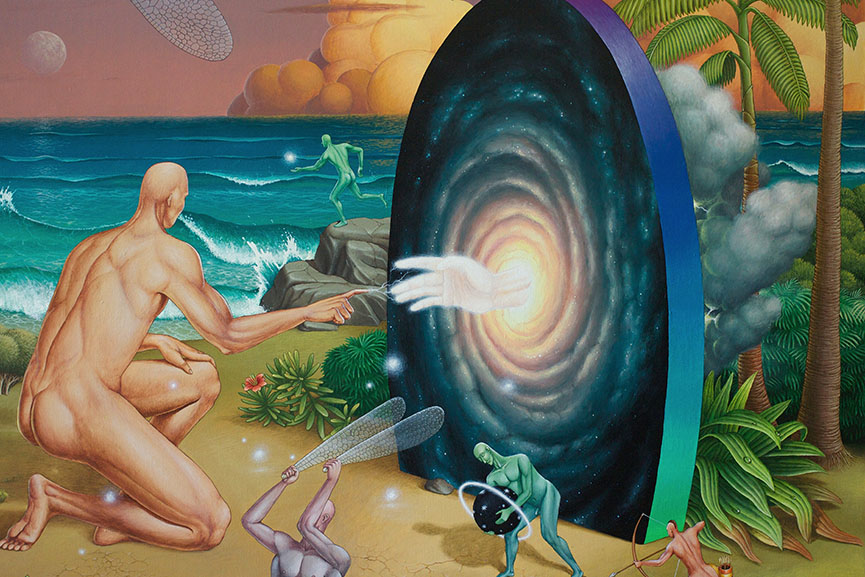 Featured images in sliders: Waone – Trick; AEC – Stealing of the Sacred Laurel; Waone, Plantae Carnivora, detail; Aec – Ukrainian St. George, 2014. All images courtesy the artists and Jonathan LeVine Gallery.
Follow These Galleries
Jersey City, United States

Miami, United States