Interview Magazine meets Shepard Fairey
Between his exhibitions '50 Shades of Black' at his own gallery space Subliminal Projects and the large exhibition with Jasper Johns at the Halsey, Shepard Fairey took the time to do a Q&A with Interview Magazine. In the interview he talks about the two exhibitions, punk rock and patriotism. The exhibition at Subliminal showcased 50 hand painted print multiples of new album cover designs and his own record collection that can be played on custom in-house record players. The second exhibition 'The Insistent Image: Recurrent Motifs in the Art of Shepard Fairey and Jasper Johns' marks Fairey's equalization with one of America's most celebrated living artists. Each artist will be exhibiting at separate gallery spaces, to avoid comparison between the two artists. Nonetheless the curators statement is apparent. Shepard Fairey is one of THE living contemporary artists in the United States. Here's what he has to say…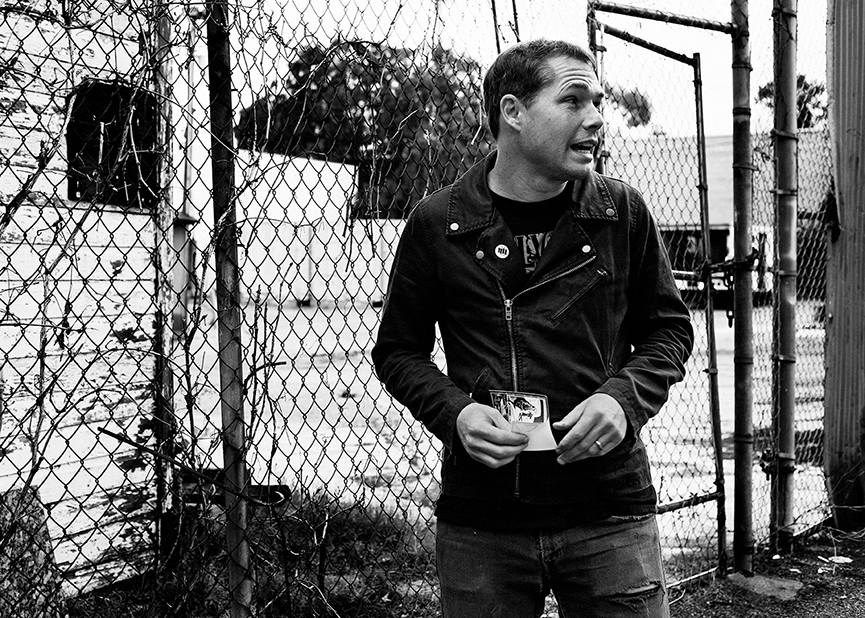 Interview (Kurt McVey): I was looking at some of the work for your upcoming show "50 Shades of Black," and I couldn't help but think of the movie poster for Fritz Lang's Metropolis. 


Shepard Fairey: Yeah, I love that image.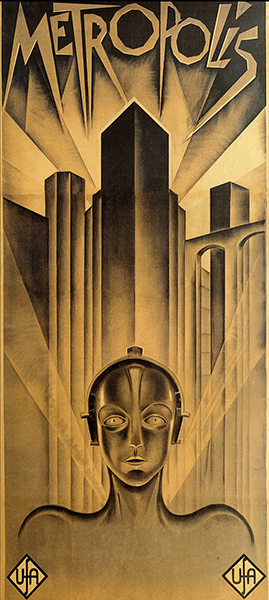 Interview: Heinz Schulz-Neudamm did the famous international version back in 1927. Apparently, one of four surviving prints was purchased for a record $1.2 million at an L.A.-based bankruptcy auction a few weeks ago. The guy who bought it [Ralph DeLuca] called it the Mona Lisa of film posters.


Fairey: I know there are a few variations on that image, and they're all cool. The correlation between that design and these record covers is multifaceted, because a lot of my favorite design influences came out of Europe and the Soviet Union in the late teens to the early '30s. You've got Russian Constructivism, Art Nouveau, Art Deco, Bauhaus—all coming out of that same period. I love music, but I'm also fascinated with its material packaging—this circle within a square. There's certain things about the symmetry of that format, the graphic devices, the ornaments—also, that's when 78-RPM records were done and they always had these one-color foil labels. Being that I'm sticking to just black and tones of cream and gold, I would say this show lends itself to that particular period of design.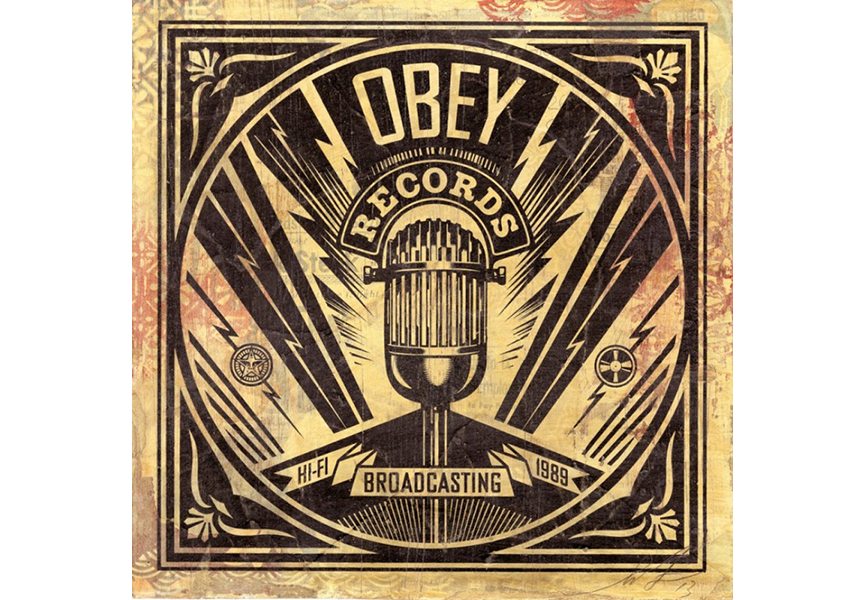 Interview: I heard you're actually going to let guests at your opening spin some records from your personal collection. 


Fairey: I have a ton of different music, and it's all broken down into categories, like punk and indie, metal, electro, funk, soul, reggae and ska. I don't have a country section because I keep Johnny Cash in the rock-'n'-roll section. [laughs]
Interview: That's where he belongs. 


Fairey: I've been collecting records since I was 12 years old. I even bought a few 45s before that. It really kicked into high gear once I got into punk rock at about 14. I still have my original copy of Never Mind the Bollocks, Here's the Sex Pistols, the first Dead Kennedys record, The Circle Jerks' Golden Shower of Hits, and Black Flag's Damaged. I have their Six Pack EP signed by Henry [Rollins] and Chuck [Dukowski], which people can pull out and listen to. Later on, I got into The Beastie Boys, Run-D.M.C. and Public Enemy. I have their It Takes a Nation of Millions [to Hold Us Back] album signed by Chuck D.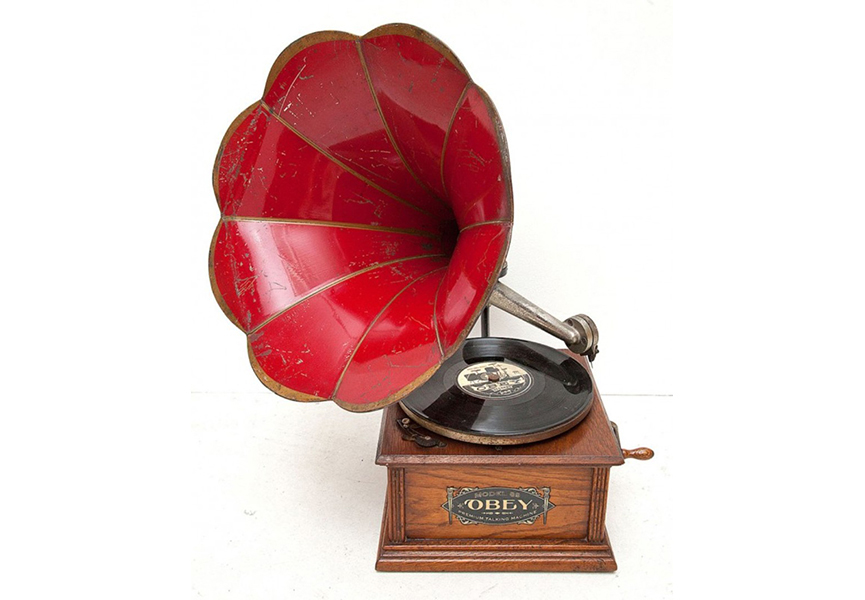 Interview: I know that you're a big "Rise Above" fan. That's one of my favorite Black Flag tracks in that it seems to make Henry Rollins go particularly berserk. 

Fairey: I did an art show called "Rise Above" back in 2006. I also did an iteration of this concept in London for "Sound & Vision" back in 2012, and people were freaking out that I had all my rare, signed records strewn about—and I should mention, not a single one was stolen, and I'm grateful for that. As a street artist, I'm used to sharing my stuff with the public. It's a communal experience. I've learned not to be so precious, but rather to enjoy the process.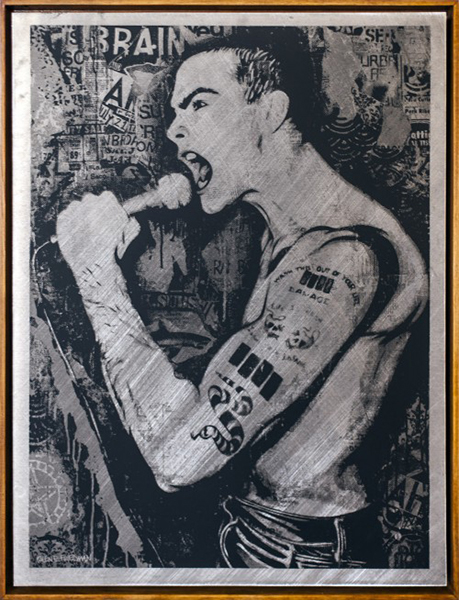 Interview: Are you keeping up with the punk scene in L.A.?


Fairey: I really like this new band comprised of guys who've been around for a while. They're called Off. It's Keith Morris from The Circle Jerks, Dmitri [Coats] from The Burning Brides, Steven [McDonald] from Red Kross, and Mario [Rubalcaba] of Rocket from the Crypt and The Black Heart Procession. I just collaborated on a 7″ design where they asked me to do an illustration—it was a Boy Scout saluting a dollar sign—and then they made a song based on that design called "Learn to Obey." It was a lot of fun, partly because the song was great, but mostly because the first punk show I ever saw was The Circle Jerks back in '86.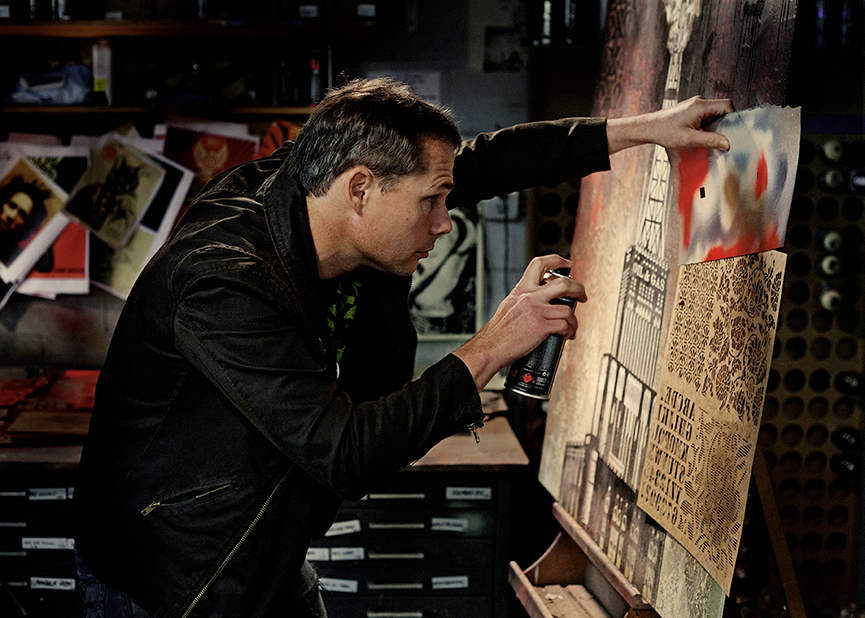 Interview: Where was that?


Fairey: A high school gymnasium in Summerville, South Carolina. [laughs] I grew up in Charleston. Just to name a few others— I really like The Shrine, anything Rob [Aston] does, whether it's The Transplants or Death March. Tim Armstrong is a good friend. I was a huge Operation Ivy fan. I also really like this band Rotting Out.
Interview: I just became familiar with Rotting Out after they played the Santos Party House in New York. Their lead singer, Walter Delgado has the best smile in music for a guy with no front teeth. 


Fairey: I know. [laughs] They have that great skate punk energy.
Interview: What does "punk" mean to you in 2014?


Fairey: I think "punk" should really be defined as paving your own way creatively and by defying any sort of orthodoxy or commercial pressure. You know, Blondie was punk before they became successful—before they were New Wave or pop or mainstream or whatever. They started at CBGB's just like The Heartbreakers, The Ramones, or the Talking Heads.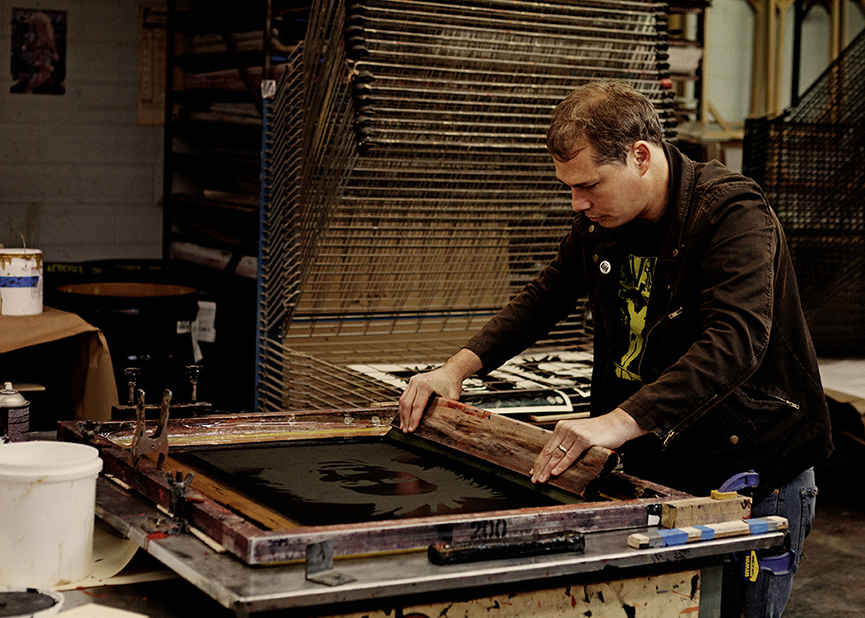 Interview: Debbie Harry recently spoke to Rick Moody for Interview where she kind of admitted that she never really fit in musically, but was accepted in that world because she shared that same punk rock attitude.


Fairey: I saw this band the other night called The Strypes. They're young guys from the U.K., and it was actually Clem Burke from Blondie who invited me to go see them. He lives in L.A. They sounded a bit like early Stones, The Damned, The Jam, Arctic Monkeys, a little of The Fratellis. They did these adrenalized covers of Bo Diddley's "Can't Judge a Book by the Cover" and "Heart of the City" by Nick Lowe. They had great taste for people that are like 19 years old. [laughs]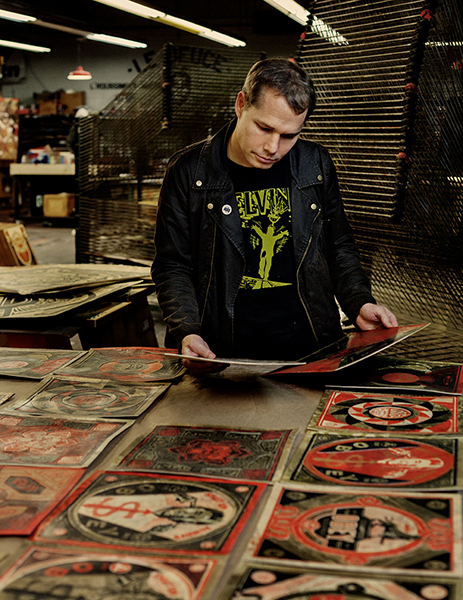 Interview: You mentioned Art Deco earlier, which I've been seeing everywhere lately, especially in fashion. You also spoke about this circle within the square paradigm. Taking these Gilded Age aesthetics into account, as well the current geo-political climate and the polarized state of the economy, I wonder, are we stuck in some parallel 100-year cycle?
Fairey: What I enjoy about the "50 Shades" show, primarily, is the format. It's completely cohesive, so there's a range of things I can do topically and graphically, from tributes to musicians like Black Sabbath to exploring pro-peace, anti-war images or the idea of empowering yourself through print production. The coolest thing about graphic design in the '20s, though it was a period of great strides, is what they did despite the technological limitations. That's kind of what this show and a lot of my early street art in New York and Boston was about—simplifying things so as to instantly cut through the clutter, the static, or the white noise. Honestly, there's nothing prophetic about the work in the music show, but the show at The Halsey [Institute of Contemporary Art], "Power & Glory," is really about how the accumulation of power in the hands of a few is giving the oligarchs so much leverage over the political process, whether it be the Koch Brothers or corporations donating to super PACs and other candidates without any transparency while the middle class shrinks away. I am really concerned that 1984 is happening, not because we're under surveillance by the NSA and afraid of Big Brother, but because we're watching Big Brother. [laughs] We're obsessed with social media and completely distracted from the more covert machinations of manipulation. So yeah, I'm addressing quite a bit of that in "Power & Glory."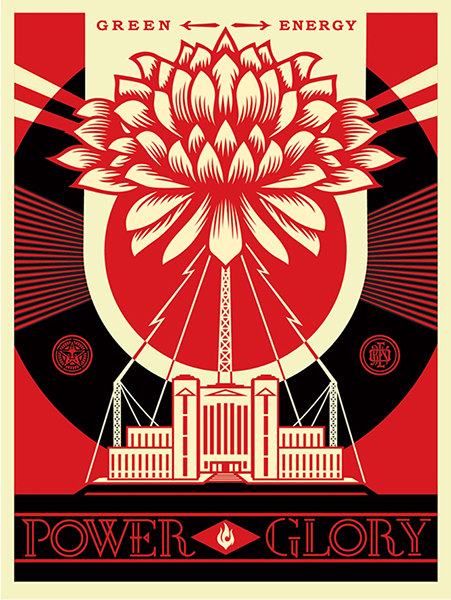 Interview: You have a piece in that show called Power and Glory, (Flag). I imagine that's an allusion to Jasper's iconic Flag (1955) piece?


Fairey: Oh yeah, absolutely. I had previously done a few takes on his "Flag" pieces, but when I found out I'd be doing this particular show with Jasper Johns, I decided to take the concept a step further by playing with the geometry and incorporating these layered symbols—things you'd see on different types of currency or stamps, for example, whether they be military, religious, or political. This allows me to be more critical of some of our ethical inconsistencies both at home and abroad.
Interview: Where do you stand on Edward Snowden?


Fairey: I just did a portrait of Snowden for STAND, the ACLU magazine, actually. That should come out soon. I think he was compelled by his conscience more than anything. He knew the moment he brought these things to light that he might not be welcome in his own country. I think he did something that we all should be grateful for. I actually sent a text message to a person I know at the White House saying, "If the idea that my safety can only be enhanced by putting other people's privacy and safety in danger, then I don't want to be more safe."
Interview: Did you get a response?


Fairey: No response.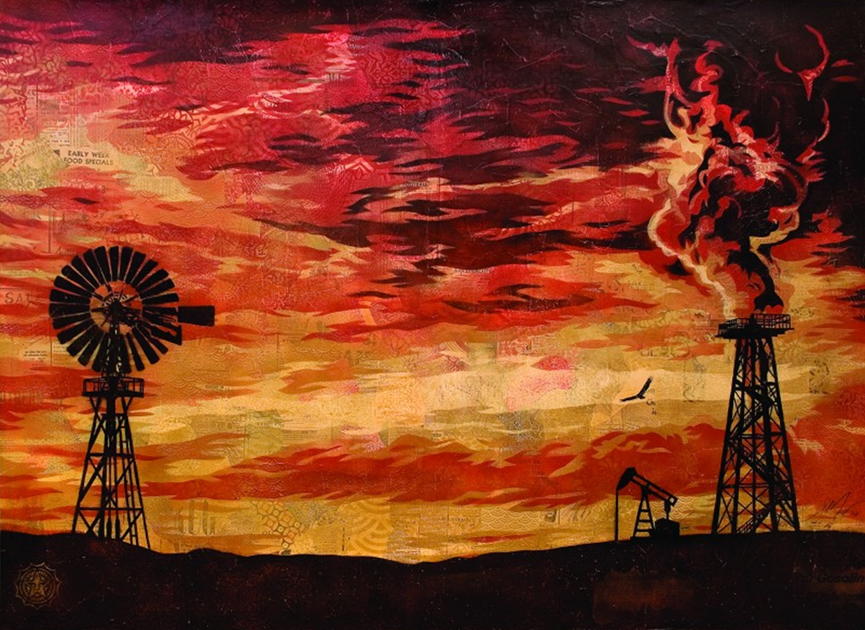 Interview: Well, at least you know they're listening. Have you met Jasper Johns in person?


Fairey: Not yet actually. I'm going to meet him on May 22 at the opening. We're both from South Carolina. Actually, his half-brother runs a barbecue stand near my parents' house, so I've met him before.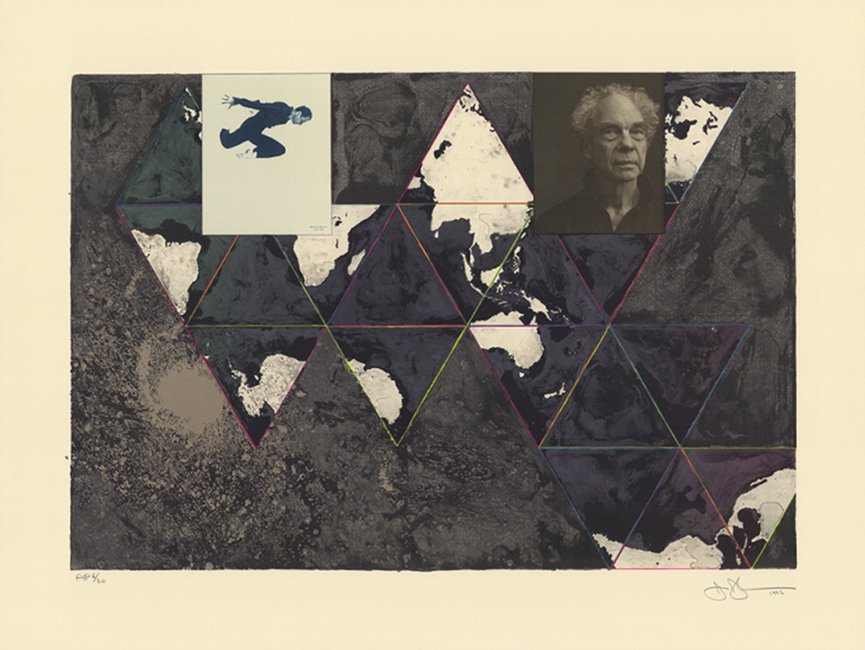 Interview: I read that Jasper Johns was awarded The Presidential Medal of Freedom in 2011 by Obama. He was the first artist since Alexander Calder in 1977. I know you received that amazingly gracious personal letter from Obama, which is a great honor in its own right, but I wonder if Johns is going to rub his medal in your face a little; some friendly competition from an old-timer.


Fairey: [laughs] I didn't know he got that medal. That's amazing. Actually, I was asked what art pieces the Obamas should put in the White House after I did that [Hope] poster and I recommended Jasper Johns' green "Flag" (Moratorium, 1969) mostly because Obama wanted to subsidize green energy. I also recommended Barbara Kruger's "Untitled" (We Don't Need Another Hero, 1987) as a reminder to perhaps think first and act second when deciding whether or not to invade another country.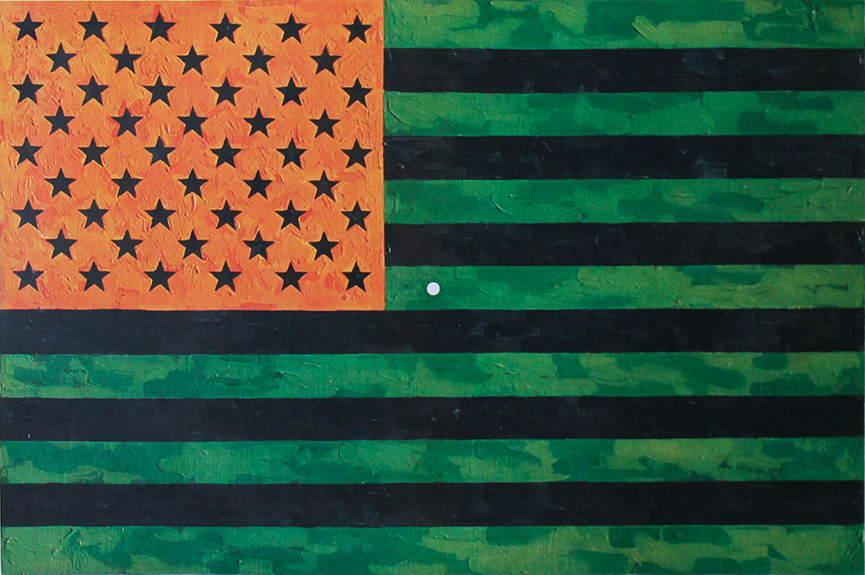 Interview: I recently spoke to this talented young artist, William Buchina, and we were talking quite a bit about Robert Rauschenberg. 


Fairey: Rauschenberg is one of my all time favorites.
Interview: I didn't realize the extent to which he and Jasper Johns were romantically and professionally intertwined. They went on quite the journey together.


Fairey: They were studio mates in New York when Leo Castelli went to their studio to see Rauschenberg's work, but he wasn't there, so he looked at Jasper Johns' work instead. The rest, of course, is history.
Interview: Such an amazing story, really. 


Fairey: After his death a few years ago, The Rauschenberg Foundation asked me to be the first guest artist to come on and do a project for New York's Coalition for the Homeless. That was cool, mostly because the only thing I wanted when I graduated art school was Rauschenberg's book Art and Life, which was $70 even way back in 1992. [laughs]
Interview: I know the Obama image in the "Hope" poster was based on a photograph taken in 2006 that initially had the future President sitting next to George Clooney. 


Fairey: That's right. Clooney was giving a speech about the genocide in Darfur. Obama was there just as a supporter. Clooney was by far the expert on the matter.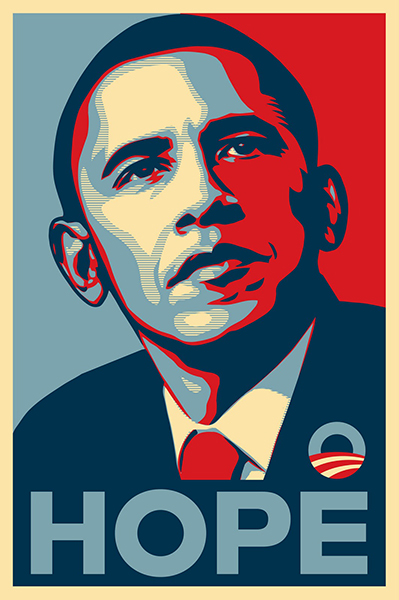 Interview: In hindsight, do you regret not going with Clooney for the poster? 


Fairey: [laughs] I know that in 2012 when Obama was up for reelection, he was at a fundraiser at Clooney's place and said something like, "That was the first time George had ever been edited out of a picture."
Interview: [laughs] Not bad. If you had to put another word on the bottom of that Obama poster and turn it in tomorrow, what would it be?
Fairey: I've said this before: Drones. There's a lot of ways that Obama has disappointed me, though I do think that he's been sabotaged from the right and that our whole country has become insanely reactionary, but the drones thing; that's our terrorism. Just imagine if the shoe was on the other foot. Americans would lose their fucking minds. I consider myself a patriot, but I can't fathom anyone that really has a conscience being down with that program. I want to be proud of this country, but when aspects of our policy don't align with my ethics, I want to protest them and try to change them. Being complicit because it's the home team is nationalism, not patriotism.