Interview with Éric Lacan
It is with great anticipation that we look toward the opening of a new exhibition of Éric Lacan in collaboration with the Openspace Gallery in Paris. Less than two months are left until the opening of Lacan's second solo exhibition with the gallery. Titled "All Monsters are Human", the exhibition is expected to attract a lot of visitors and media attention. Widewalls has already covered the announcement of the exhibition. Furthermore, thanks to the Openspace Gallery we had the honor to talk with Éric Lacan about his upcoming show, his art, inspiration, and future plans.
But before we hear what the artist has to say about everything, we draw your attention that the event "All Monsters are Human" is conceived in two parts, so called "immersion" at Bastille Design Center and exhibition at Openspace Gallery:
IMMERSION from October 30 to November 2 at Bastille Design Center, 74 Boulevard Richard Lenoir, Paris 11e
EXHIBITION from November 4-15 at Galerie Openspace, 56, Rue Alexandre Dumas, Paris 11e.
Now, let's hear from fabulous Éric Lacan.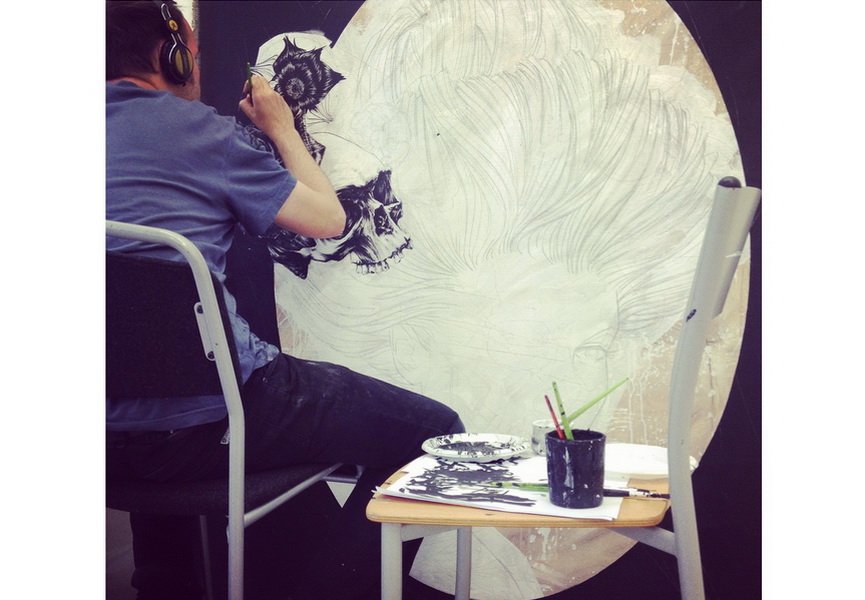 Widewalls: "All Monsters are Human" is your second solo exhibition with the Openspace Gallery. Tell us a bit about the concept of the installation and why did you choose le Bastille Design Center to be a framework for your latest pieces?
Éric Lacan: This is less an exhibition than a sort of physical immersion into the world that "I write" step by step for several years. For this, the Bastille Design Center is the ideal location; this former factory of the nineteenth century immediately plunges the viewer into a particular mood, old-fashioned, it could for example be a meeting place for secret societies. It is this potential that I will try to exploit in order to transform the visit to this jewel in a sort of ritual, of initiation… I cannot reveal more…
Widewalls:  Did you find the answers who is human and who is a monster?
Éric Lacan: The title "All Monsters are Human" can be understood in different ways, but first I would say that monsters and humans are inseparable. The first is, by definition, an individual who has an appearance or behavior that does not meet the standards set by the second. Thus, man creates the monster for the better then rejects it. It also refers to various notions of fear (of the other, of the unknown), ostracism, difference, ignorance… This title is also an allusion to the bestiary that I develop in my paintings; rats, ravens, hyenas and other threatening dogs, many animal representations in which man has projected its fears and its deviations. Yet these animals seem to me less "harmful" than those who condemn them. In short I would say that I have some "affection" for monsters.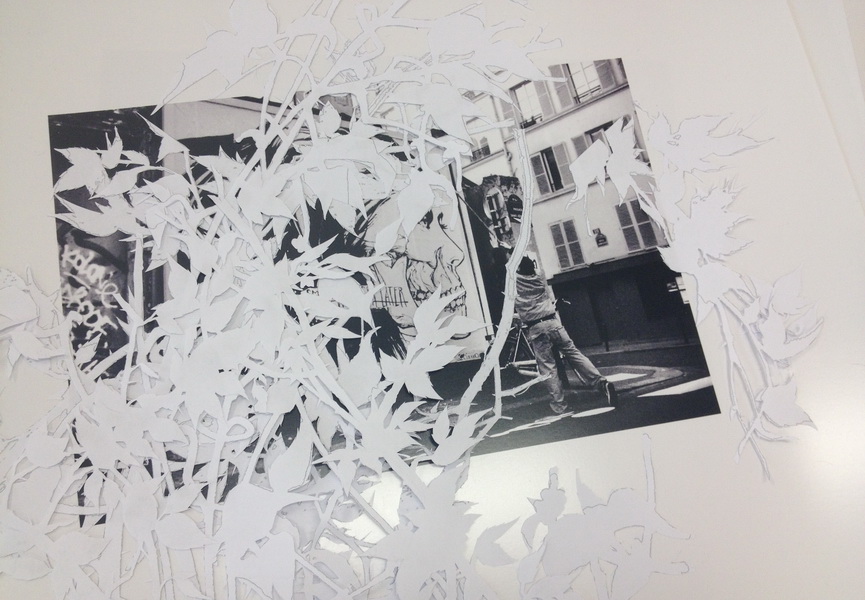 Widewalls:  Who are Lux, Bonny, Mary and Therese?
Éric Lacan: They are different titles of a series of portraits made for the exhibition, reference to Lisbon sisters, heroines of the film Virgin Suicides, powerfully romantic, which frankly had a lasting impact on me (even the soundtrack signed by Air is absolutely awesome). In these paintings the freshness, beauty and vulgarity of death come together with harmony.
Widewalls: How would you describe your style?
Éric Lacan: Dark and bright, serious and light, cynically shifted, tedious, cheerfully pessimistic, unbearably romantic and especially black and white … Life…
Widewalls: Blacks and whites are the dominant "colors" in your work? Is this just a question of aesthetics or is there some symbolism behind the choice of blacks and whites?
Éric Lacan: Black and white are "the absolute" (and moreover aren't colors), one serves the other, in the same way as I use contradictory themes in my work (combination of beauty and death, threatening beasts barred with delicate flowers …), this creates a "contrast of ideas."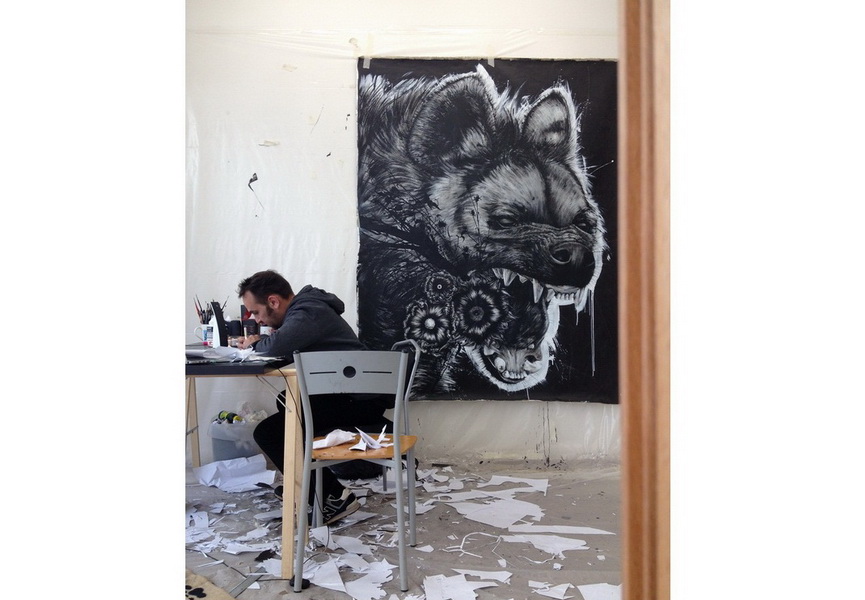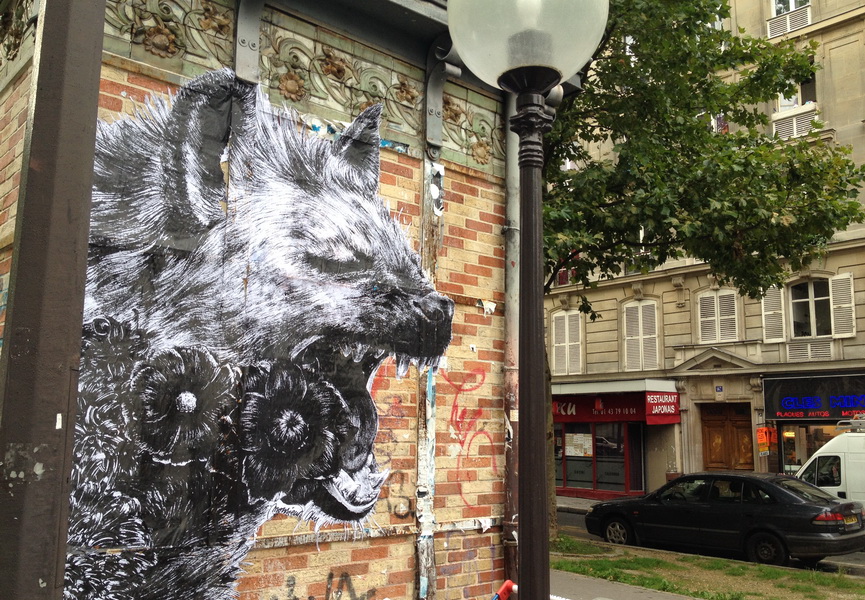 Widewalls: You have a long experience in graffiti and street art. What do you draw inspiration from? Do other artists inspire you?
Éric Lacan: Oddly enough my references are far from urban arts… These range from prints and drawings of the nineteenth century (Gustave Doré, Von Bayros, Mucha), the American illustration such as Bob Peak, Charles Dana Gibson (the first to have defined the term "standard" in the representation of female beauty)…, passing through classical painting, typography, music, etc… But if I had to name some of the current protagonists of Urban Art – or not – I would say Miss Van, Faile, Chloé Early, Anthony Micaleff…
Widewalls: Could you share with us some anecdote from the time you were active in the street?
Éric Lacan: I don't have, strictly speaking, amusing anecdotes, few falls, a lot of meetings with partygoers. It has also happened that the posters that were posted a few hours earlier were properly peeled off and vanished (with a "thank you email" from the thief the next day), or paintings that have taken me a little over twelve hours of non-stop work were covered in the evening… This is the game of the street… The ones I pasted in late August in Paris are still in place, as long as it lasts!
Widewalls: Finally, could you reveal what are your plans for future work?
Éric Lacan: I currently work on a paper cutout installation, again as part of my exhibition. It's been three years since I make paper cutouts of great finesse and several layers that I assemble by hand on top of each other before putting them in context, but this is the first time that I realize an installation in volume with this medium. After this, I am thinking to rest, travel, paint and paste some walls or the wind will carry me along with studio work… Happiness!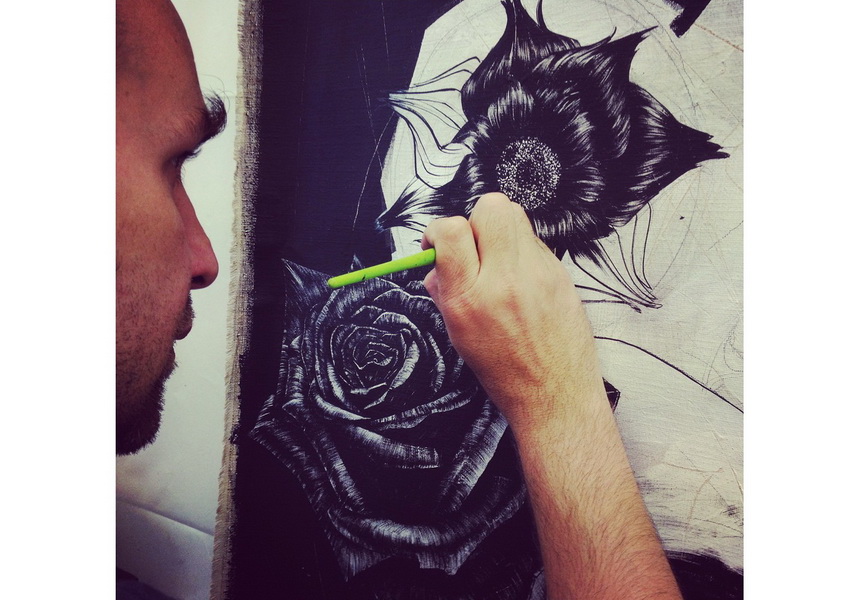 [mc4wp_form]