Interview with Ludo
One of the most recognizable street and contemporary artist nowadays goes by the name of Ludo. He was born in Paris and studied art in Milan, but I'm sure you already know this, since Ludo is someone we admire and appreciate a lot here at Widewalls. His hybrid creatures mixing nature and technology draw attention to the influence that man-made machines have on our environment. Using as many as three primary colors – black, white and his trademark fluorescent green – Ludo tackles a wonderful variety of topics and paints over surfaces like paper, canvas, building walls, billboards and even old shipwrecks in the middle of the sea. He is also involved with the mediums of sculpture and installation, and his works have traveled around the world.
While his exhibition at Magda Danysz Gallery is underway, we had the honor to talk to him about a great deal of things including, of course, his latest endeavor in Shanghai, which left a profound impression on him; a famous name he would like to collaborate with; nature as his eternal inspiration and way of expression and why he paints the way he does, as well as plans for the future and the exciting upcoming project coming up this month. For more of Ludo click here, but in the meantime, scroll down for a series of images provided by Ludo and enjoy our interesting chat!
On Being Inspired by Nature
Widewalls: How did you get inspired by nature and how did the idea of combining it with technology come to life?
Ludo: It is a complicated question as nature is my endless source of inspiration in a way that it's my language. Nature is not the final image I want to paint, it's a base for me to express my feelings and connect with the viewer. I'm trying to do a realistic painting of an existing flower but instead I create new species to deliver a specific message. It kind of started with a first piece long time ago, and then I just carried on with exploring much more seriously this mix in-between nature and human technology. It is maybe also because I studied technical drawing, perspectives and straight lines. I kind of started to go on the other extremity of organic and round shapes. Then, it became a pathological obsession to create some kind of new species. Nature is so beautiful, I mean if you see macro photos and studies of flowers, like Karl Blossfeldt's photos for example, it's just an amazing source of inspiration and again speaking about these photos, the black&white gives them almost a mechanical and cold aspect like a Cronenberg movie. The idea of beauty and chaos in nature attract me in a way; like the concepts of duality, dichotomy and almost bipolarity. I am amazed to see how nature can reveal beauty and be synonym of destruction in such a small amount of time. Technology / Nature are most of my interests, that I'm trying to follow and see the parallel evolution.
Images in slider: Ludo – Tsing-Tsing Fly, 2011-2013. Resin and Spray paint Ludo – Grapes of Wrath, 2014. Resin and Spray paint, 200x170x90cm
On the Shanghai Experience
Widewalls: Can you tell us about your experience in Shanghai? How different it was to work there in comparison to other places you've worked in?
L: Shanghai is an incredible city, a real shock graphically, visually but also sounds, colors,…everything. That's why I felt the necessity to come back often and create a series inspired by the city and more specifically about these areas in the center of Shanghai where people were seeing their houses destructed to build brand new buildings and business centers. It's a place when there is nothing on the walls so, for me, it's something I'm looking for when I go outside. I don't want the usual street art boring places, I personally need to go and search for unusual spots where you have a new connection with people.
Images in slider: Ludo – Tree of Life, 2015, Volklingen museum, Germany. Courtesy of the artist Ludo – Skull Rose, 2014, Shanghai. Courtesy Galerie Magda Danysz
On The Contemporary Art Scene
Widewalls: Is there a certain artist or artistic movement you admire and draw inspiration from?
L: Not really, I just like the artists that speak, that deliver a message. Right now I'm more and more impressed and discovering Chinese contemporary artists. Of course Ai Weiwei, I'm impressed by the art he creates (and the effort…just speaking about his exhibition at the Tate Modern), the sense of provocation of course, but the incredible installations he is making. For me these guys make art for the love and necessity to create art.
Widewalls: Is there anyone you would like to work with from the contemporary scene?
Yes, sure, as long it makes sense and if it's a natural kind of meeting. Ai Weiwei for sure is a guy I would like to spend some time with and be inspired by a mutual communication.
Images in slider: Ludo – Pop Corn, curated by the Centre Pompidou, Paris 2013 Ludo – Mission to Mars, 2014, Shanghai. Courtesy Galerie Magda Danysz
On Working with Other Mediums
Widewalls: You also worked in installation. Were there any significant differences in regard to your two-dimensional works?
L: I'm working more and more in installations and sculptures actually. You know, when you do a piece outside, it's not a flat wall but I take care about everything around like story and textures of the wall, and people of course…So installations create for me the same concept, there is an other aspect of the work that you can feel and be part of. Like a sculpture, it's awesome to walk around a whole space, check the details. And you can invite the viewer to take part of a new sensation, have him in your own world.
Images in slider: Ludo in Hong Kong. Courtesy of the artist
On Future Projects
Widewalls: Can you think of a project that holds a special place in your artistic career?
L: Maybe, one year ago, when I started to work on big sculptures involving bigger spaces, people to help, bigger organization. That's the moment I felt like I wanted to do a real step forward and I was able to succeed.
Widewalls: What are your future plans? Any new exciting project on the horizon?
L: After a real real busy 2015 start and a real real busy 2014… Right now, I'm coming to my studio to focus on new works. But the project I can't wait to have my hands on is a big book coming out mid-April done by a famous french publisher about my work. It's called Dualité (means Duality) and it will be available worldwide.
For more interviews with creatives from around the world, sign up for My Widewalls!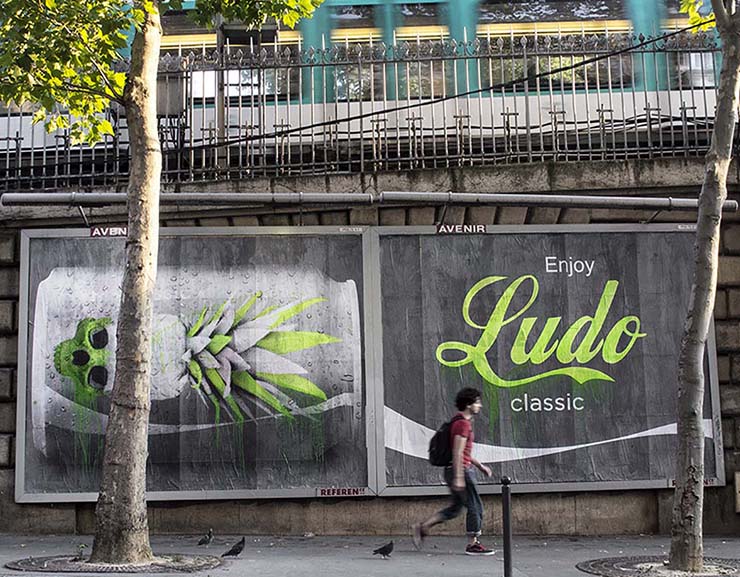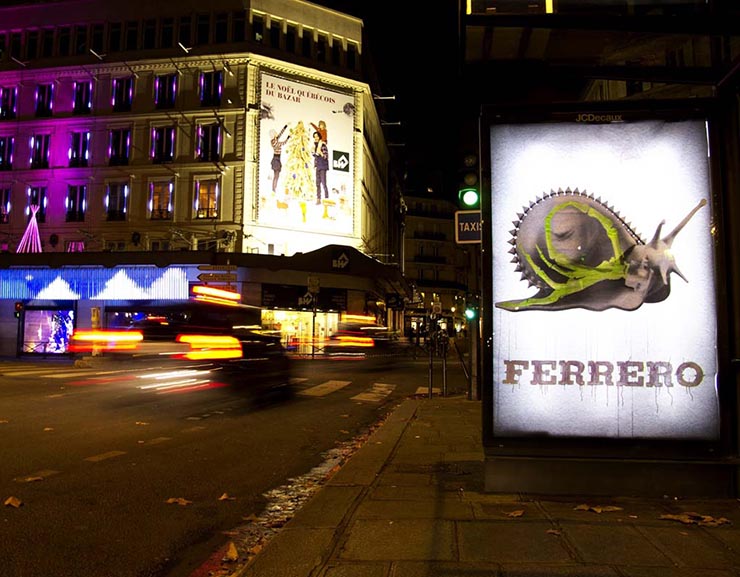 Images in slider: Ludo in Hong Kong. Courtesy of the artist Featured image in slider: Ludo – Bus Shelter, Centre de la Gravure La Louviere, 2012 Ludo – Saint-Martin, Caribbean 2014
Follow These Galleries
Paris, France

London, United Kingdom