Interview with Cologne's Urban Art Gallerist
Cologne has a singular reputation – free, culture oriented and very artistic, where modern architectural solutions interlace with medieval heritage creating a unique urban environment. In such a city, art prevails, and subversive art movements thrive. Taking pride in the rich cultural heritage, Cologne hosts a lively art market, where galleries and artists coexist in the usual symbiotic relationship.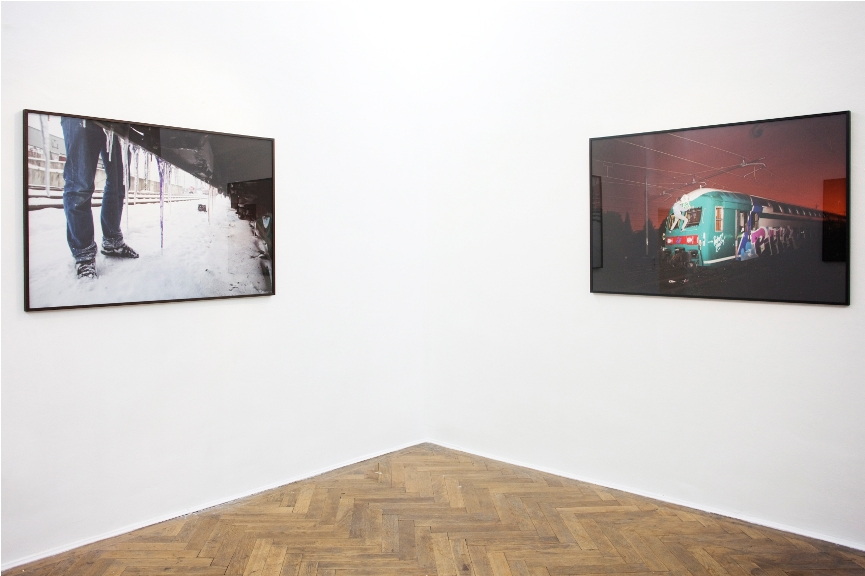 Ruttkowski 68
One of the foremost urban art gallerists in Cologne and founder of Ruttkowski 68 Gallery is Nils Müller, a graffiti aficionado, inspired photographer and supporter of the new contemporary. Since it was established, Ruttkowski 68 organized numerous exhibitions of the acclaimed German and international urban and contemporary artists, including shows by HuskMitNavn and Michael Swaney, Henrik Vibskov, Mark Jenkins and Herakut this year alone. The space is supportive of larger urban art project, showcasing results of thematic and collaborative work as in Urban Art Wine Crates project presented in August. Every step the gallery takes is directed towards highlighting the 'authenticity, quality and substance' as the exceptional creations lying at the foundation of further artistic development. In an exclusive interview Nils Müller gave to Widewalls, he talks about his beginnings in graffiti, his fascination with the movement and how he ended up in the gallery business. We touched the subject of the intriguing gallery name, as well as some more concrete tricks of the trade, as Nils talks of his first show ever and the preferences of Cologne's collectors. Over the next two pages, we present to you – Cologne's Urban Art Gallerist, Nils Müller.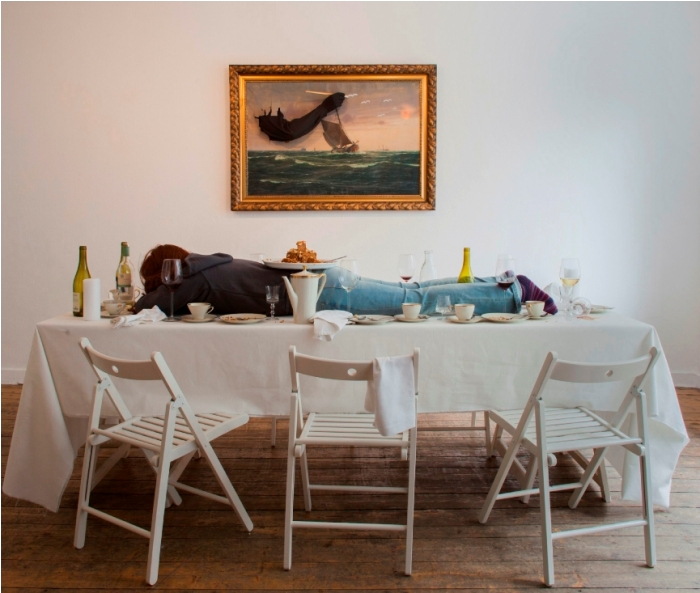 Love for Graffiti
Widewalls: When did you start your relationship with street art?
Nils Müller: I actually don't have a relationship with street art. I would rather say, I am in a relationship with graffiti. I kind of grew up around the culture. Thus, it's my basis that made me come in contact with the established art world and shapes my view of it.
Widewalls: You shifted from graffiti artist to the person holding the photo-camera. From which point in your career did you enter the world of photography?
Nils Müller: It was through graffiti, too. I began photographing graffiti pieces in order to immortalize them before they are spotted by authorities and buffed up. But it wasn't long before I started to show more than just the defacement of public structures. My photos are also about the artistry, fearlessness, and agility of the vandals themselves.
Widewalls: What about photography got to you more than graffiti?
Nils Müller: I am just fascinated by graffiti as a movement. It's about team spirit and many details that need to be attended carefully to make sure a graffiti mission is successful. And it's surely exciting to portray the anonymous train writing scene from the inside without betraying its secrets.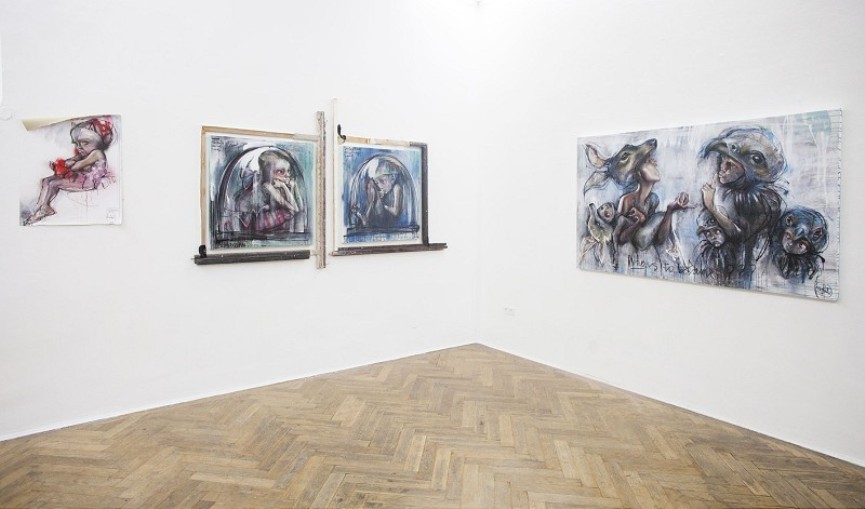 The Ruttkowski 68 Story
Widewalls: In 2010, Ruttkowski 68 Gallery opened. How did you decide to enter the art business? What was your perspective on the matter then and did it change over the past several years?
Nils Müller: I didn't happen on purpose. It was a spontaneous reaction on many unplanned happenings. Ever since, my perspective of the art world started to change with every step that broadens the scope of duties, knowledge and horizon.
Widewalls: Please, tell us a little bit more about tragically deceased Sven "Rutte" Ruttkowski, and how he inspired the gallery name. What are the gallery's activities that honor his legacy?
Nils Müller: I got to know Sven in person and was fascinated by his energy, passion and spirit that he conveyed on people in his surrounding. He also had the great talent to bring together people and thus, give rise to a new energy. And that's exactly what inspired me when pondering the appropriate usage of the space he used to live in. The result is the gallery. The name pays tribute to Sven Ruttkowski as well as the number. It's Sven Ruttkowski's year of birth.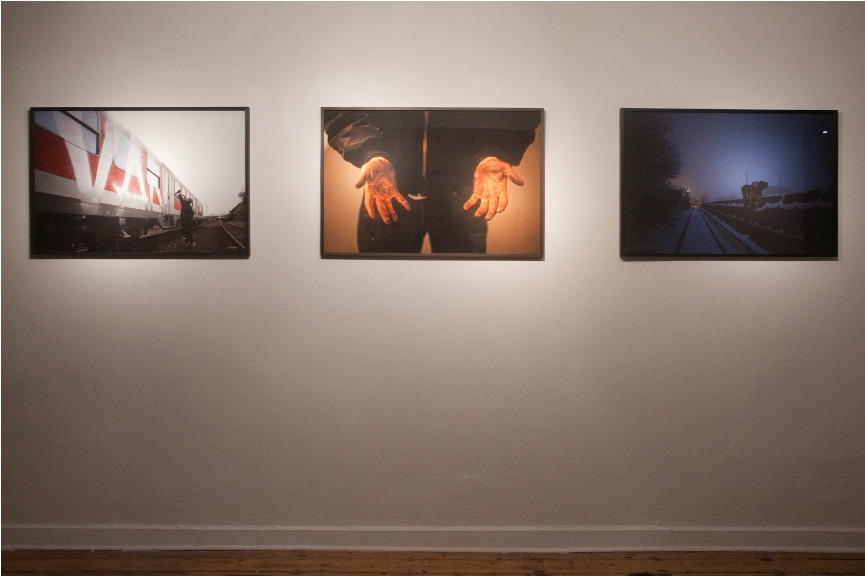 Running an Art Business
Widewalls: What was the first show you had at the gallery? How did it sell?
Nils Müller: Maria Giménez. She is a Spanish artist. And, to be honest, we didn't sell anything.
Widewalls: How would you describe the art lovers' and collectors' taste in Cologne?
Nils Müller: There is no general taste. I am glad about many different collectors with different taste. In general, I would say, that Germans are often skeptical in the beginning and like to examine carefully before accepting the artist. But as soon as accepted, they kind of pledge allegiance to him or her and us, the gallery.
Widewalls: Which of your past exhibitions would you say was particularly successful in financial terms?
Nils Müller: Well, we had many successful exhibitions, but you can, for sure, count on a show with Parra, for example. Everything from drawings on paper to works on canvas get sold out quickly. And the waiting list counts more interests each day.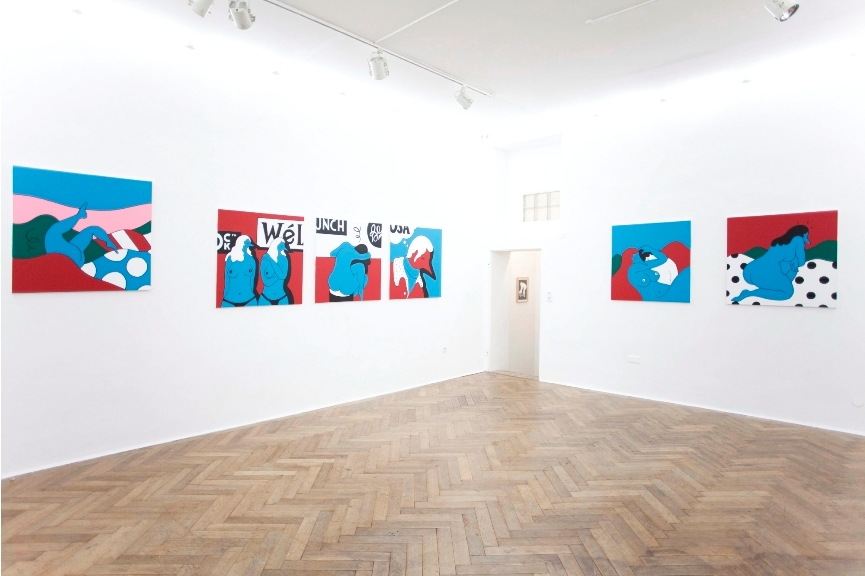 Authenticity, Quality and Substance
Widewalls: Let's return to art. When you curate your annual gallery program, what are some of the basic guidelines you tend to follow, in terms of art?
Nils Müller: Authenticity, quality and substance, respectively a basis that ensures a great development. When starting to work with new artists, it's like entering a new serious relationship. Of course, it needs to feel right, but it should be well thought out as well.
Widewalls: You just exhibited Herakut. Please, share a little more info on the exhibition.
Nils Müller: Herakut is a German artist duo made up of Jasmin Siddiqui, aka 'Hera' and Falk Lehmann, aka 'Akut.' Throughout more than ten years of collaboration, the two have merged their individual approaches influenced by graffiti and street art. The result is a unique signature style characterised by melancholy and gratification that can be seen on large, outdoor murals and intriguing indoor exhibitions. Their exhibition, Flaw Circus, presents Herakut's most conscious outlooks on the world based on the experiences they have accumulated. The works challenge the audience and offer viewers a new perspective.
Widewalls: They are working on some seriously socially engaged projects. How does that aspect relate to the show?
Nils Müller: Earlier this year, Siddiqui and Lehman completed a project in north Jordan. While the pair has always strived to explore social injustice, their work in these two countries once again showed quite plainly just how much influence street art can have in nations torn apart by war and other miseries. Because it's in places like this where a splash of colour can have the largest impact. And it's this energy that they try to harness with their work.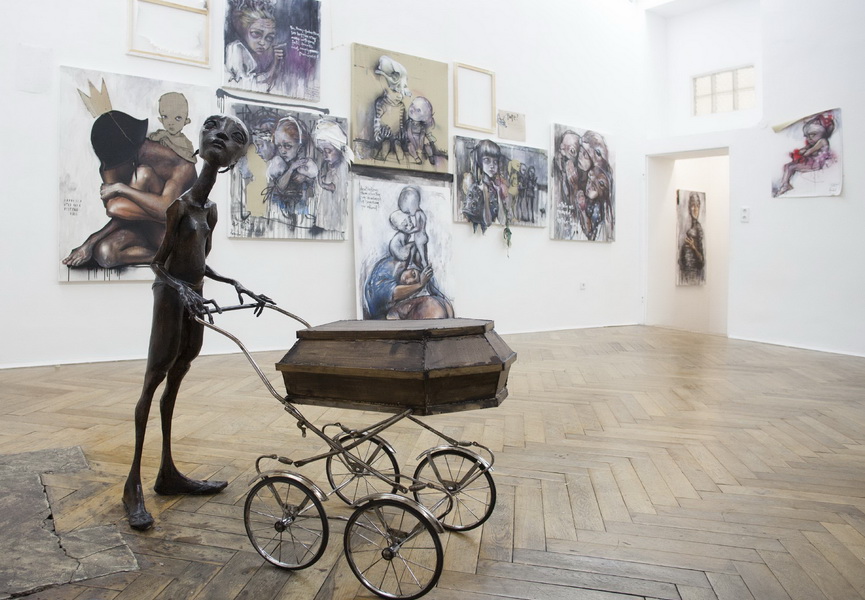 Widewalls: Finally, the list of the planned shows in the next two years is pretty impressive. What are your expectations?
Nils Müller: We look forward to follow up working with artists we are already collaborating with as well as showing new artists. In 2015, we are also moving to a new space. That means new challenges for us and every artist we are working with. Very exciting!
Widewalls: Thank you and best of luck!
Nils Müller: Thank you!
Herakut show Flaw Circus closed only a few days ago at Ruttkowski 68, and we expect the following Andrew Schoultz exhibition with excitement. Stay tuned!