Interview with Nychos
In street art, like in all art forms, there are many artists who have developed a unique artistic approach and became recognizable for a certain style that set the bar and made the movement even more versatile. It feels great to see a piece of work on the street and to know whose it is, because of the artist's impeccable consistency in keeping up the good work, brilliant skills and inexhaustible ideas. That is the case with Nychos, a remarkable Austrian street artist whose dissected animals and human bodies truly ask for a standing ovation. In a beautiful blend of anatomy and painting, the work of Nychos goes beyond sheer representation of entrails, and invites us to scratch beneath the surface of things and to simply enjoy all the vivid colors and extraordinary details of these artworks.
One other thing we also admire Nychos for is his Rabbit Eye Movement, which went from being a simple street art concept to being a full-time gallery and an art agency dedicated to the movement which had created it in first place, and a home for a network of artists working in the fields of street art and illustration. In his interview for Widewalls, Nychos talks about how it all began and its further development, as well as his inspiration, possible career course change, his legacy, his future plans and other members of street art he particularly admires.
Without further ado, scroll down for an amazing chat with Nychos, as well as a selection of some of his best work! Enjoy!
On His Beginnings and The Reason He Paints Animals
Widewalls: You are an extraordinary artist. What drew you towards painting the walls, and not some other way of creating?

Nychos: Probably spray paint by itself. The decision to paint walls just came along with the medium I guess. Creating something has always been my aim. When I was a kid for example, I wanted to become a comic artist or character designer so I spent most of the time drawing stuff. But when you get older, you are looking for more action and at the age of 17, I picked up my first spray can. Since then, I've never put it down again. Being used to black & white drawings only, the spray can turned out to be THE medium. It was way faster and I was stoked to experiment with all the colors. That's probably how I spent the first 10 years of painting: figuring out how all those colors work together and how they can be used in different ways. Also the entire magic around Graffiti was fascinating and pushed me hard. All the action, the movement, the night missions – these are things you have to deal with and which influence your art. You got to learn how to paint quick and to think less while doing it. You have to think about a concept in advance, because once you are out there, you won't have any time for sketching. When writing Graffiti or being part of the Urban Art movement there are certain evolutionary steps you have to go through. And all these steps influenced me as an artist and helped me finding my way of creating. Looking back, I'm pretty sure that I couldn't have developed my style on paper in the same way as I did on the wall. And besides all this, painting walls is just the shit. It's a fusion of working and being on holiday, at least that's how I feel about it.
Widewalls: Your topic of choice is also a curious one: dissected animals. How come? Does your work take a lot of preparation and studying of the subject?

N: My interest in animals, especially in their anatomy is probably a result of my childhood. I grew up in a family of hunters and have been confronted with all the stuff that goes along with that business since I was little. Watching my grandfather gutting the animals he had brought down before was very impressive. And you know, as a kid you are likely to absorb images like that. Of course, as every child at some point, I began to reflect things like death and asked myself the question what is going to happen to the body afterwards. That's the point where the skeleton comes in. Considering the fact that we are all creatures, who are constructed of bones has been very interesting to me and I've always seen some kind of beauty in those fragile, white things that hide inside our bodies. When taking a closer look at all this, I was super-stoked to see and also to understand how these parts of the body work together. As is generally known, hunters keep the skulls of their animals as trophies and put them on their walls. So it was easy for me to study them – I had the direct access, which was very cool. Linking these experiences with my passion of creating is something I really enjoy at the moment, even if it took me some years of being active to figure out what I wanted to do with it. And of course, if you decide to bring anatomy and skeletal motives onto a wall, canvas or paper and want the things you paint or draw to be accurate it requires a certain effort of doing research. But browsing anatomy books and visiting natural museums is something I would do anyway – even if I wouldn't necessarily need it for my work. I really love my job haha.
On Tecnhiques and Exploring Other Topics
Widewalls: How is painting enormous murals different from doing pieces on paper, or canvas? Do you prefer having bigger surface to paint on?   

N: Thinking about it, it's actually not that different. If there's something in my mind I would like to paint, I don't think about the size in the first place. Of course I'm always happy to be able to realize my sketches on a wall, but then it's basically sketching and painting bigger. One of the hardest challenges is to stick to the proportions. This is something you need to practice and you actually only learn by doing it. It's also dependent on the conditions you're working in and the available means. Questions like "Can somebody organize a cherry picker?" or "Is it possible to climb the roof of the opposite building?" always occur at some point haha – because scaffoldings are just a pain and having an overview of the whole surface is basically the most important thing when painting big. I remember how crazy it was to do the Dissection of an Easter Bunny last year in Oakland. I had to take into account all the different angles in order to keep the proportions right, because once you change your point of view, your piece changes as well. So I split the thing in three different parts and sketched it up from three different angles. That's how I dealt with it. Painting large scale murals is something you can always improve, at least that's how I feel about it. And I want to get better and better in order to be able to paint bigger and bigger. That's my plan.
Widewalls: Are there any other topics you'd like to explore in your work?

N: Definitely, my head is stuffed with things I would like to explore at some point. Actually, I'm always thinking about the next steps before even finishing the previous ones. But you know, ideas take time until they are fully developed. And to be honest: I don't want to give away too much yet. I guess you guys need to wait a little longer.
On Rabbit Eye Movement and Fond Memories
Widewalls: How did the Rabbit Eye Movement come to be? What would you want its legacy to be?

N: I started RABBIT EYE MOVEMENT 10 years ago with the aim to create a Street Art concept. So I began to spread white rabbits all over the place, which kept me busy twenty-four-seven and pushed me to go out and paint. After a while people got attentive and the white rabbit started to become an icon somehow. For me, the idea was to connect all the people out there, who are active in an Urban Art movement. And I guess it worked out, because RABBIT EYE MOVEMENT became bigger and bigger. At some point I decided to give it a home. Three years ago I opened the REM Art Space in order to create a point of reference where artists can show their stuff and people with the same interests can meet up and connect with each other. With this mission, you need to build up a team after a while to keep the movement going. That's what I did. Today, 10 years later, REM is an agency for Urban Art and illustration, we're running an Art Space that includes a Café and we're designing our own clothes. So there's a lot going on, which makes it difficult for me to define what I want its legacy to be. As I said before, I always plan in little steps, and the next step is always in my mind before I've reached the one I'm currently on. The thing I'm interested in right now is building up RABBIT EYE MOVEMENT as a brand. I've got so many designs in my head I would like to see on clothes and this way of designing is something I really enjoy at the moment. But the most important thing for me is to always push the movement – and there are definitely plenty of directions to go. I'm curious about what comes next.
Widewalls: You have traveled around the world and encountered ever so many people. Looking back, do you have any fond memory of an artwork or an event that left a special impression on you?

N: Well, that's impossible to say. All my travels in 2013, which took place for the filming of our documentary The Deepest Depths of the Burrow have been fucking amazing. It's hard to put it in words and I'm definitely not able to say what I enjoyed most because almost every experience left a special impression on me. Every journey is so different to the other one and has its special magic going on. San Francisco has blown me away differently than Detroit has done and so on. It's even harder to say when you take into account that everywhere you go, you have a completely different mission going on, another aim so to say. And if you're able to reach this aim, discover the stuff you want to see and find out the things you want to know it's just awesome – anywhere you go.
On Other Street Artists and Unexplored Ideas
Widewalls: Who would you like to collaborate with from current street art scene? Is there anyone you admire particularly?

N: There are actually a couple of people I could imagine to collaborate with but if I need to decide right now I would chose Tristan Eaton, Smithe and James Jean. All of them are artist who I reflect and admire for the stuff they are doing. Collaborating with any of them would push me in many respects because I know how fucking good they all are. I am stoked to see what Tristan developed for himself and James Jean is just insanely good in so many ways, whether it comes to his technique or the topics he's picking up. And thinking about Smithe, I see parallels in our styles and preferences, which is extremely enjoyable when working together of course. Anyway, those guys rock.
Widewalls: How do you see yourself in ten years? Is there any sphere of art and life you'd like to get your hands on, and you haven't already?

N: Haha, what a question. There are definitely some things I would like to get my hands on. But yeah, as I said before there are plenty of possibilities and there will be even more to come. I'm gonna decide more or less spontaneously which areas I want to intensify. One sphere I could imagine to develop further is the 3D printing for example. Last year I worked together with Mighty Jaxx and they made sculptures from my painting Lepus Pellis Os Omentum. I'm actually tempted to produce bigger 3D prints in very small editions. Also when it comes to animations I can see myself growing. But actually I prefer to take things as they come. So let's see what the future brings and where I'm going to be in ten years.
On His Exciting Future Plans
Widewalls: What is coming next for you? Any exciting exhibitions, projects?

N: This year has already been crazy and there are actually a lot of projects going on right now. A couple of days ago I had an absolutely amazing exhibition opening at OpenSpace Gallery in Paris. The next big show is going to be in autumn and takes place at Kolly Gallery, Zurich. By the way, I can't wait for it. Back in Vienna we had an exhibition going on in order to celebrate the 10 year anniversary of RABBIT EYE MOVEMENT where we showed its development with artwork that emerged within the last ten years. One month later, we had the world premiere of our documentary "The Deepest Depths of the Burrow", also in Vienna. And this leads to the next big project on my list: Going on tour with the movie. RABBIT EYE MOVEMENT is currently busy setting the next premieres in the US and in Europe. Besides, I'm going to be on the road again spending my summer in San Francisco and L.A. and participating in the mural festival, Montreal and in PowWow, Hawaii. And last but not least, as mentioned before, I'm keeping an eye on pushing RABBIT EYE MOVEMENT to the next level.
For more interviews with the world's talents, check out our Interviews section.
For more of everything, sign up for My Widewalls!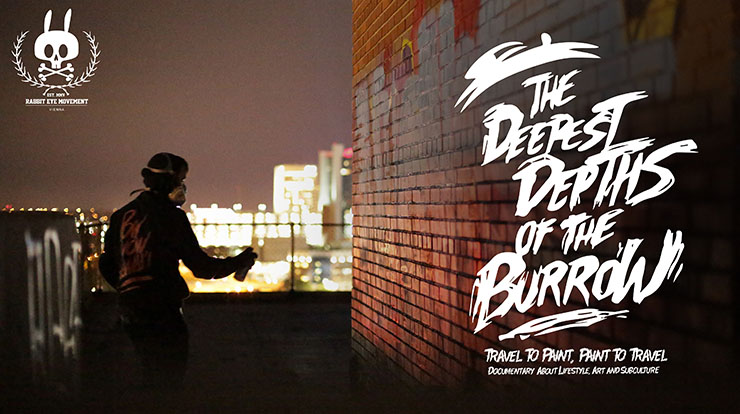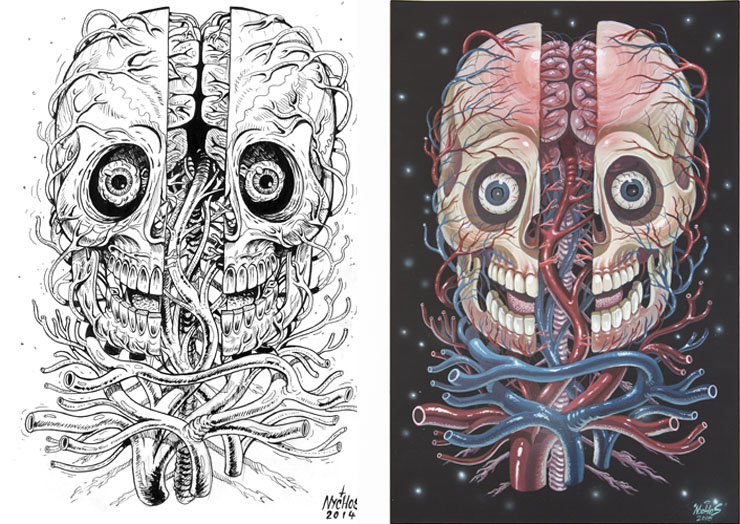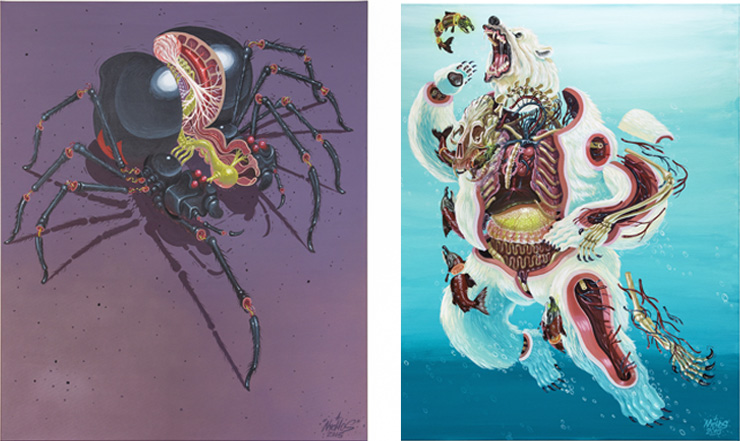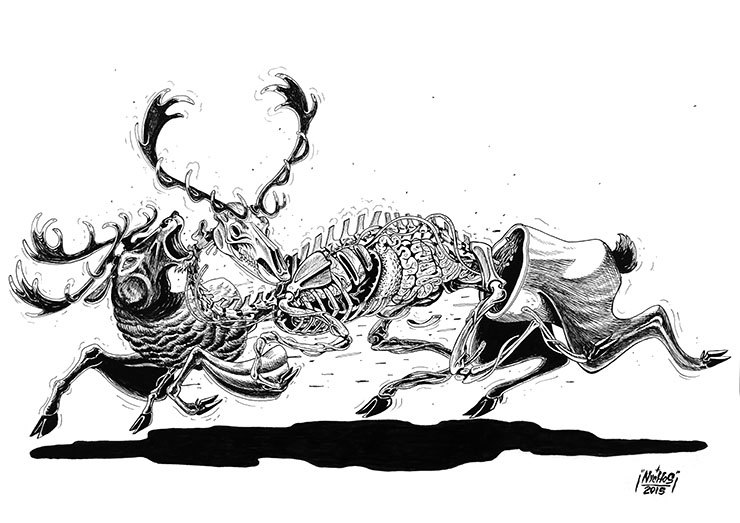 Featured images: Nychos. Photos by Hannes Friesenegger Nychos – Dissection of an Orca, 2015. Canvas, 100x140cm Nychos and Jeff Soto – Dissection of a shark, Hawaii Pow Wow, 2013. Copyright Nychos Nychos – Cross Section Of a Black Widow, Hamburg, 2014. Copyright Affenfaust Nychos – Dissection of a whale, New York, 2013. Copyright Nychos All images courtesy of Nychos and Rabbit Eye Movement.
Follow These Galleries
Vienna, Austria

Jersey City, United States