Interview with Sten Lex
When it comes to stencil art, there are not many street artists who are pushing the boundaries of the genre as much as Italian street artists Sten Lex. The duo, who hail from Rome and Taranto,Italy have become renowned for their unique stencil poster and halftone techniques, creating inspiring street art around the world with their original visions created from stencils.
With stencil art being a popular way of producing images in street art, as can be seen in our 10 Stencil Artists article, it is refreshing to see Italian street artists pushing the technique into new directions with the stencil poster technique. The bold and labyrinth style imagery of Sten Lex is about to be revealed in Mexico, with a new solo exhibition, Paesaggi Industriali, more of which you can read about in Sten & Lex at Celaya Brothers.
Sten Lex have kindly taken some time off from their busy schedule, to answer a few interview questions for Widewalls. Scroll down to read the interview, in which Sten Lex explain how they started working together, the stencil poster technique, discussing their friend lucamaleonte, whom you can read more about in The End is the Beginning, their unusual techniques and creative processes. The Italian street artists also discuss their exhibition in Shanghai, which you can also view in this Sten Lex Shanghai video, along with the new Paesaggi Industriali exhibition in Mexico.
On Their Beginnings
Widewalls: Can you tell us a little about your backgrounds and how you came to work together as a duo?
Sten Lex: We do not have not a classical graffiti background, we never did a tag or a train and we don't belong to any crew. We never went to an academy of art or art school. The first stencil was at elementary school or before, with a sponge colouring upon a decorative stencil, a flower. Then Sten went to study radiology at University and once he cut an x-ray radiography of a bone. Sten then started doing stencils in 2001 and after a short while Lex was very impressed by the possibility of creating beautiful stamps on walls. Thanks to the computer, we had the possibility of creating a portrait by working on the shadows of a photo. Then in 2005 we did the first collaboration on the street and by that period we worked as a single artist but always together.
Widewalls: You are recognised for your stencil posters and halftone stencil technique, what inspired you to work in this unique way?
SL: The halftone was something not very developed in stencil art, even if the silkscreens and some of the pictures on the newspapers were composed by dots or lines since they were invented. It was a period in which the stencil was developing the multilayer process. Our friend lucamaleonte was a master of multilayer stencils; we were interested in doing something that had the same effect of the silkscreen pointillism. So we started cutting thousands of dots for creating a single portrait.
Our research with stencil was always to work with one layer in black and white. We were obsessed by the technique like many stencil artists. So obsessed that in 2010 we decided to do a show trying to paste up a stencil on wood, while we were removing the paper stencil from the panel of wood, we felt an aesthetic sense of stupor watching strips of paper flying on the canvas. Pasting up the stencil on the wood was something functional to the colouring part, to avoid the overspray, but the process became for us the artwork itself. The obsession for the technique finally gave us the first important result after 10 years.
On the Creative Process
Widewalls: Can you describe your creative process?
SL: After many years together we speak more or less the same kind of language. In this period we are following different ways of working with the sign. On one hand we are following a more ordered way of composition with lines, on the other we are working with free sketches very chaotic like scribbles. We like to find a personal balance in our compositions. As we speak the same language we work separately on single sketches. Then we work together for the physical work. We have the same skills on cuttings, for example if we work for a show, we can work on different works at the same time, working individually on each work, especially for the small formats.
Widewalls: You had an exhibition in Shanghai during 2013, can you tell us about that experience & are there different considerations when planning for a gallery show as opposed to planning street art?
SL: We were in Shanghai for a show in Magda Danysz Gallery in 2013. That was the first occasion we did abstracts compositions. We decided to work on small sketches on paper made with a pen and then enlarge those sketches. In the same period we did a mural in the French district, our first abstract mural. Most of the ideas we had for murals came directly from shows we did. In that case the show put us in the condition to work on a new language for us. So the progress and the new ideas about murals come in a great part from a study we usually did for a show.
On Destruction and Change
Widewalls: There is an element of destruction and change associated with your artworks, is this important to you?
SL: The process we use is part of the artwork itself. This process is something we developed for a show in 2010. At first it was something functional to paint stencils very clean without overspray, then it was functional for the realization of big scale murals through the stencil technique. It's not easy to manage a fragile support like stencil for big surfaces. But from that show in Rome in 2010, the process became an important aesthetic part of the artwork. For the murals the atmospheric changes, like the rain, make the artwork change and reveal the final image during the following months.
Widewalls: Your works play with the traditional views on stencil art, is it important that you keep pushing the boundaries of what you do?
SL: The most relevant difference between artworks in the gallery and artwork on walls is that the first are crystallized, we decide the artwork is complete; outside on a mural the artwork is mutating. So the artworks produced on the streets are dynamic, even if just for a part of their life, as at one point all the paper from the stencil is destined to fall down and reveal the final image.
On the Present and Future
Widewalls: You have an exhibition coming up in Mexico; can you tell us more about it, particularly the ideas behind using glass, light and shadows?
SL: Yes, we are showing at Celaya Brothers Gallery and half of the production will be about paper cuts put into glass. We like the idea to project through the paper shadows of the stencil. Paper cuts are something very common in China and we liked to use the same cutting system for the enlarged sketches drawn by pen. In the show you will see three canvasses inspired by the decorative architecture we saw in Mitla two years ago. Then there will be some experiment that we probably use for new murals in the future.
Widewalls: Finally, what else do you have planned for the remainder of 2015?
SL: We feel the necessity to work a little bit in our studio, trying to study new languages for the art we are doing.
For all the latest interviews sign up to My Widewalls today.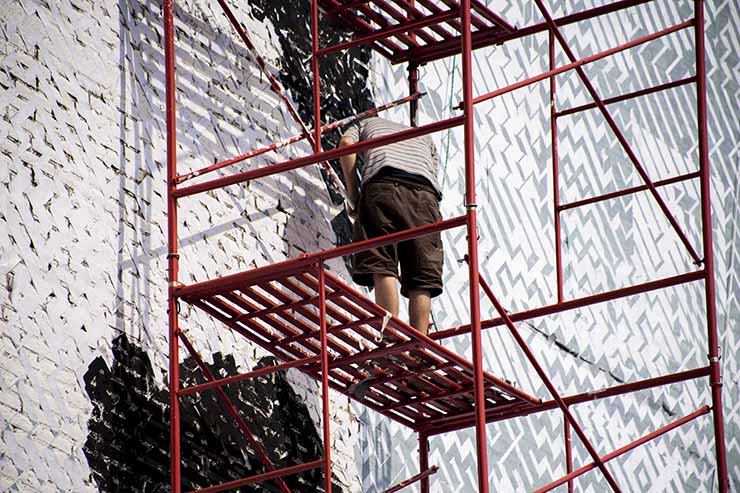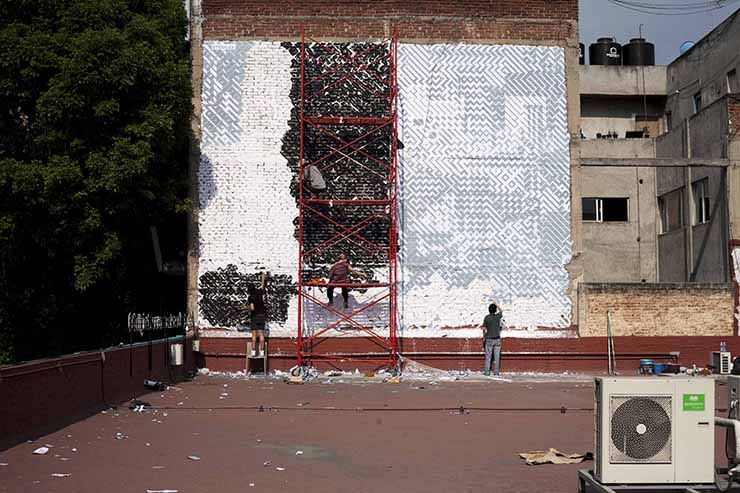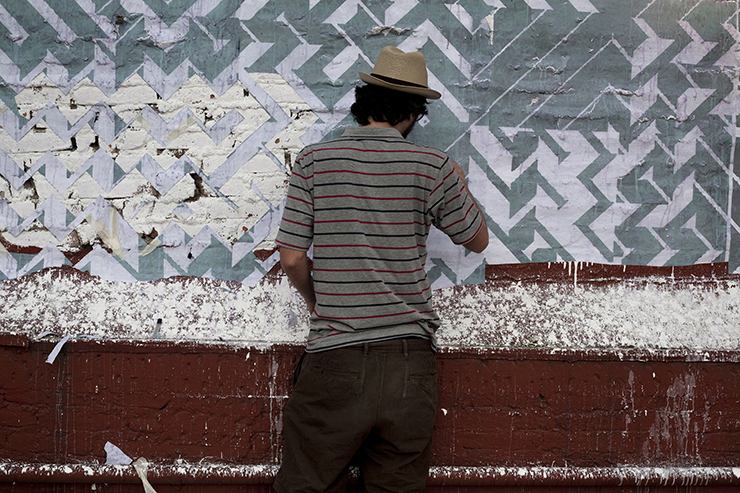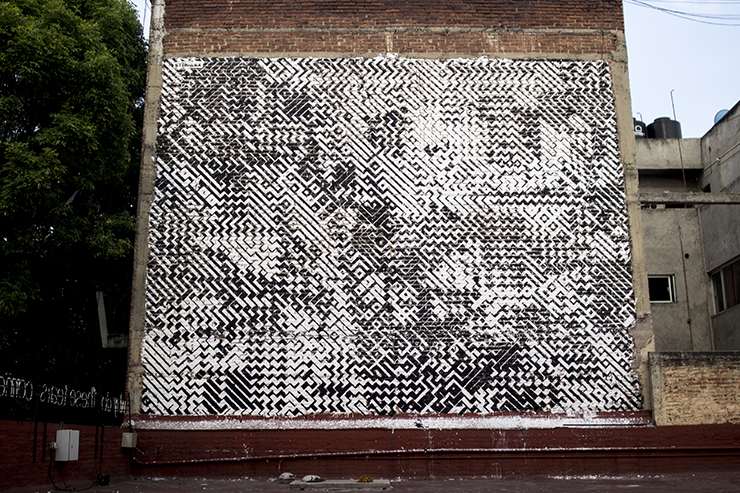 All images courtesy of Celaya Brothers Gallery.