Interview with Zabou
When it comes to the world of street art, it keeps producing incredible talents who are gracing the streets and walls of cities worldwide. And many of those talents are women, even though it seems it's an all-male scene. That women have more and more say on the matter proves Femme Fierce, the female street artists festival held annually in London. We had the pleasure of talking to them in one of our Widewalls Podcasts, so make sure you head over there to have a listen.
One of the ladies participating in the festival was Zabou, who became a street artist in 2012. Coming from France, a country with a particular history of street art, she found inspiration in London, where her artistic adventure began. Zabou's art is high quality, combining colorful shades and splashes with sharp lines and dripping. Interested in the topics of popular culture, she tackles stereotypes by making fun of them. So far, Zabou has worked in Sweden, France, England and Germany, depicting intriguing stories, often accompanied by satirical comments in the shape of writing.
In her interview for Widewalls, Zabou talks about her beginnings, the meaning of her art, artists she would like to collaborate with and the exciting plans for the future! For more of Zabou, visit her website, but in the meantime, scroll down to read all about it and see photos of Zabou's magnificent art!
On Her Beginnings and Femme Fierce
Widewalls: How did you get into street art?
Zabou: I got into street art about two years and half ago when I moved to the UK for my studies. My hometown in France has no urban culture at all, so I was really impressed by the quality and quantity of London's street art and graffiti scene. I have always been drawing and painting, and I thought why not give spray painting a try! Best decision ever.
Widewalls: We recently had a talk with the ladies from Femme Fierce. You yourself participated in the festival. What was it like for you?
Z: The first edition of Femme Fierce was amazing, it allowed me to meet a lot of other female artists and street art enthusiasts. I tried to support the second edition as much as possible by giving a canvas for the Kickstarter and painting two murals for the event.
Images in slider: Zabou – Dinner is ready, Amsterdam, 2014 Zabou – Home Street Home, Braganca, 2014
On Female Artists and Her Artistry
Widewalls: How was your experience as a woman in a male dominated scene?
Z: So far it's been great! Even if we are a minority, there are actually a lot of girls involved in street art. Male or female, everyone in the community is supportive. I've never had to face discrimination because I'm a girl – on the contrary, people are keen to promote us. In the end, what matters is the work you produce, not your gender.
Widewalls: You do stencil and practice freehand. Are there any other ways you would like to explore, when it comes to creating?
Z: I'd love to experience other techniques in the street, painting with extinguishers or doing paste-ups for example. It's important to stay open: there is always something new to learn and try. Right now I have found a great balance between the stencil and free-hand work. I use a one-layer stencil to do sharp black outlines which contrast with the free-hand shading.
On Legacy and the Future
Widewalls: Is there any artists you would like to work with, or whose work you admire?
Z: There are dozens of artists I'd love to work with. So far this year I'm doing collaborations with painter Alaniz, graffiti artist Kiwie and stencil artist Sr.X. There will be more coming up for sure. Regarding artists I admire, the list is long! To mention a couple: MTO or Natalia Rak for example.
Widewalls: What would you like your legacy to be? What would you like for your art to achieve?
Z: My legacy… Hmm I'm not there yet haha! I guess the most important for me is to make the environment a bit more interesting, surprising, funny, beautiful. Make people smile. The future is really exciting; there are endless walls out there. Endless places to visit and people to meet. My challenge is to always push my limits, do bigger, better, new stuffs.
Widewalls: What's next for you? Where can we see your work next?
Z: Next I'm going to Cyprus to paint a few murals, and I have more trips coming up this year such as Paris and Lisbon. London in between as always. There will also be a few group shows taking place later on this year in London and Paris. And my first screen print will be released soon, exciting times!
Sign up for My Widewalls for more interviews with various artists!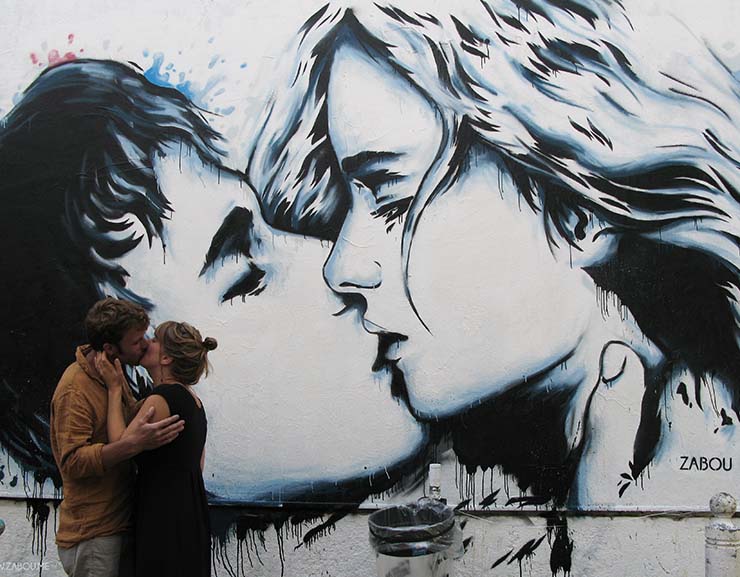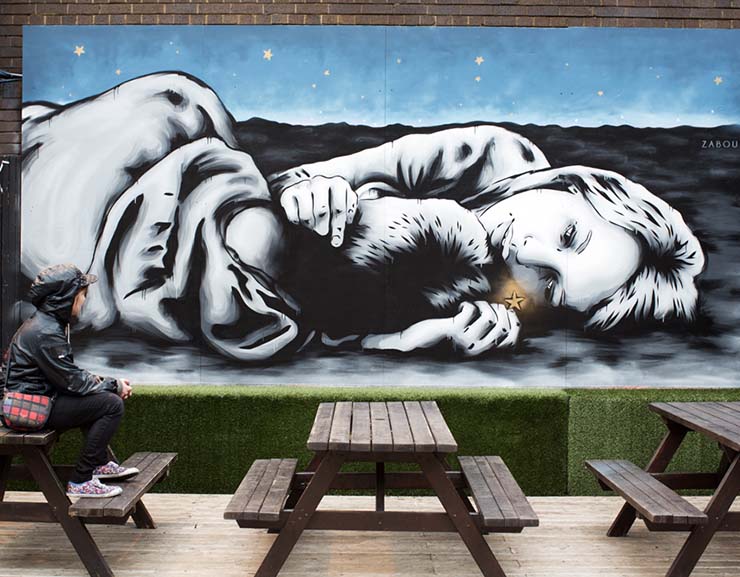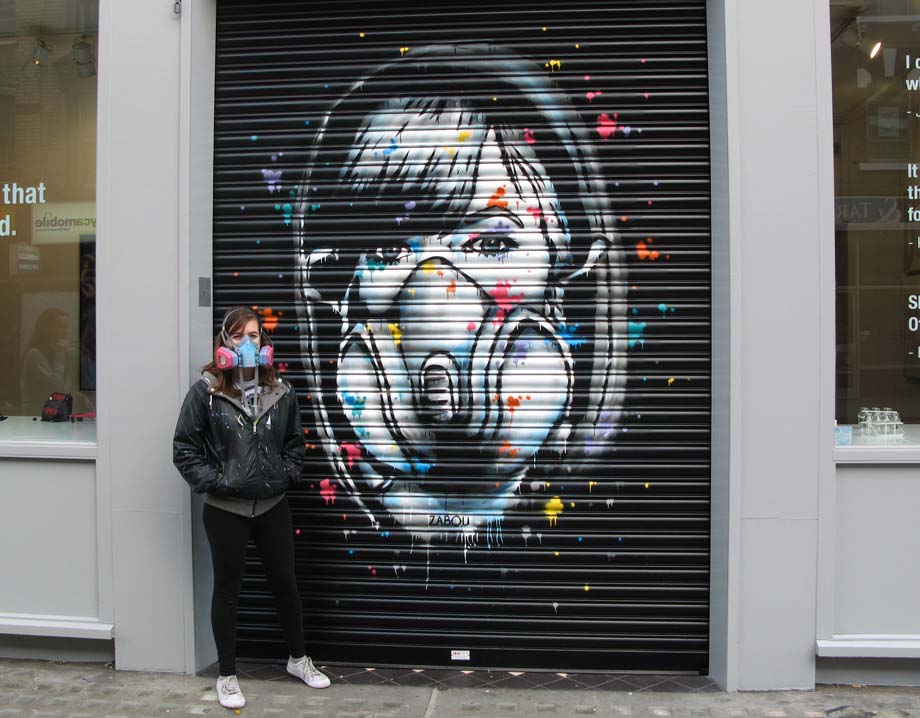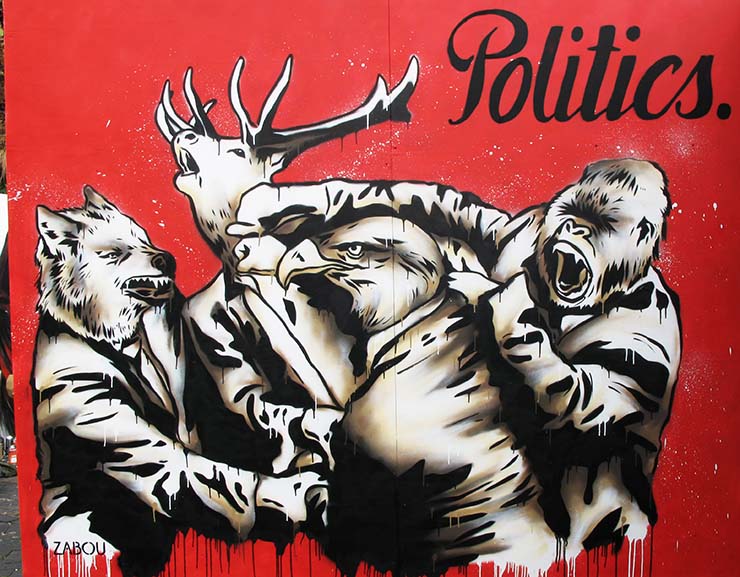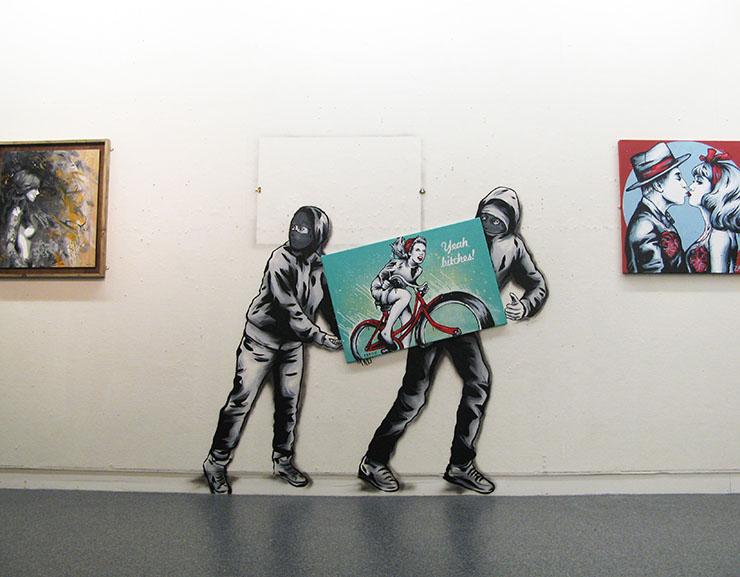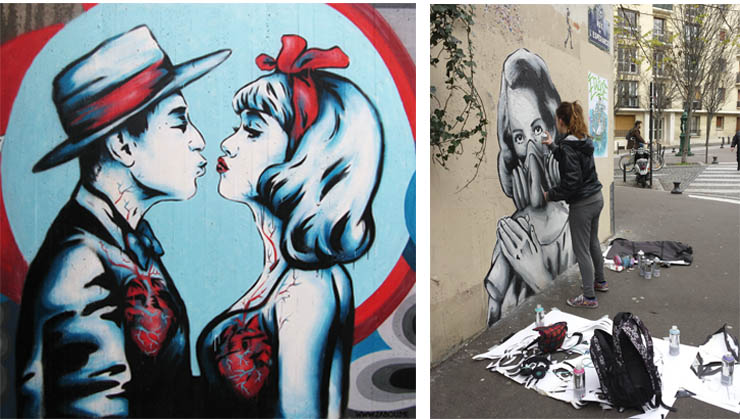 Featured images in slider: Zabou – Dream Big, London, 2015 Zabou – Urban Jungle 1, Paris, 2015. Photo Olivier Tof Zabou. Portrait by R.Wilson Jnr Zabou – Disconnected, London, 2015 Zabou – Dinner is ready, Amsterdam, 2014 Zabou – On the Run, London, 2015. Photo Monoprixx Zabou – Open Heart, Paris, 2015