Is Hyundai Stealing from Street Artists?
Today's topic is something that we have been writing a lot about in the past, the matter of authorship and copyrights that emerges more and more in the world of street art. Is it ok when you borrow someone's artwork for inspiration and use it in commercial purposes? As reported by Vandalog something similar is happening in Hyundai's newest commercial video for the New Generation Hyundai i20. It has caught Vandalog's attention that there is something wrong here.
New Generation Hyundai i20 sets New Standards?
At the first glance one could think that video for Hyundai's car commercial which is currently airing in the UK is supportive of street art. However, if you dig a little deeper, or only skin deep, there seems to be overwhelming evidence that Hyundai borrows works from half a dozen of artists and all that under 30 seconds! What Hyundai called inspiration came across a little suspicious to the Vandalog so they did some research only to find out that most of the street art used relies heavily on the works of certain artists, some of which were not even informed about the commercial. The disputed Hyundai add begins with the monkey and boom box stencils, where one of the boom box's speakers is a draining pipe. These were done by JPS, artists hired alongside with Filthy Luker to do some street art for the commercial. Hyundai's video quickly continues with the Oakoak's piece from the last fall, where girl was replaced with a cat also done by JPS. Next in line is the Mirror Guy originally the Lunette Man by Sandrine Estrade Boulet looking almost exactly as the original. This is followed by yet another artwork by Sandrine Estrade Boulet, her Pom Pom Girl. Pom Pom Girl is a stenciled cheerleader with a grass growth as her pom pom's also with astonishing resemblance to the original. Read here about similar issues rising in the film.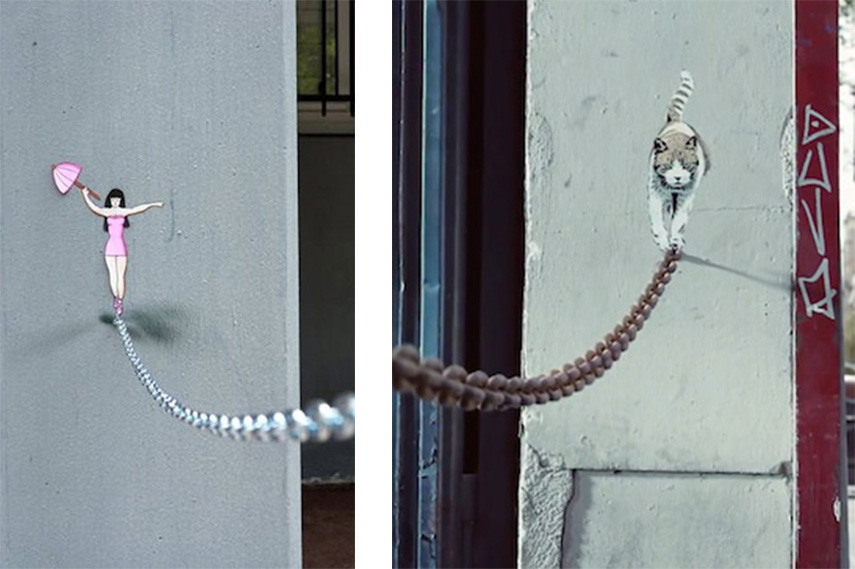 Inspiring Street Art or Rip Off
The scene continues as the Hyundai car exits the garage painted as mouth and teeth inspired by the graffiti artist Sweet Toof. Gums and teeth painted on garages and security shutters are Sweet Toof's signature iconic work that can hardly pass by as inspiration for it more resembles clean rip off. The video continues with the saluting bollards that look shockingly like Sandrine Estrade Boulet work Army Street, again! This time Boulet's work with a political statement was turned into family-friendly one by a simple color alteration. Next street art work that accompanies Hyundai's i20 in its ride through the city is the remake of the iconic movie poster Attack of the 50 Foot Woman. Although Tristan Eaton did a mural as homage to this movie last year in Berlin we can let the Hyundai have this one. Following the 50 Foot Woman we encounter tentacle installation by Filth Luker, the one artist who was actually hired to recreate his own work. At first Filthy Luker saw the collaboration with Hyundai as a chance to earn some money doing his street art but he later discovered that other artists are not coming themselves however the works will not be copied but emanated because it is easier and cheaper.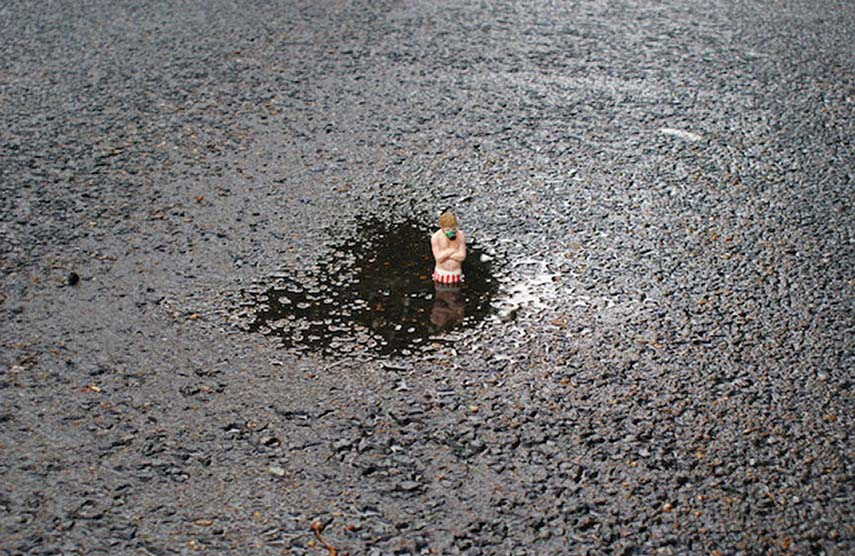 Is Hyundai Stealing from Street Artists?
Filthy Luker later received a couple of angry calls regarding Hyundai's video from artists whose works were used without their consent and copyright. Such is Isaac Cordal whose work was recreated by Patrik Prosko titled Genius Loci after he rejected the offer to participate in the video. Proscko's work is a blatant copy of Cordal's who explained to Vadalog how this affected his art in a very harmful and negative way. It opposes with his beliefs and ideas and many of his followers were confused to see his work in a car commercial. Last but not the least are sculptures done by 3D artist Marco Sobreviela that look exactly like Isaac Cordal's sculptures of people emerging from water. While Cordal's work refers to the climate change Sobreviela's shows carefree bathers.
This commercial by Hyundai raises a lot of questions. No matter how we feel about appropriation or the fact that no original work of art exists today, we cannot turn the blind eye to the fact that Hyundai clearly and remorselessly used street art in commercial purposes without copyrights and tried to make it look as they are supportive of the street art. Do you think this can trigger lawsiuts as in cases of  Cavalli and Richard Prince? We hereby wish to express gratitude to Vandalog for exploring this story and drawing our attention to the growing issues of authorship and copyrights in the world of street art.
Do you feel that Hyundai ripped off the artists or not? Tell us what you think about it on Widewalls Facebook Page.
If you want to learn more about similar stories make sure you sign up for My Widewalls!
Featured Images are Courtesy of the Vandalog.
Follow These Galleries
Paris, France

London, United Kingdom

Montreal, Canada