Izumi Kato Exhibition Opening at Galerie Perrotin New York This January
Humanoid contours, two staring eyes, with only the head, hands and feet distinguishable – these are the characters summoned up by the Japanese artist Izumi Kato. Using his hands, Kato applies layer upon layer of somber-hued pigment, defying the flightiness of brushwork he literally rubs the paint onto the canvas. The certain depth that is achieved with this technique allows him to produce his depictions of creatures with human contours. The figures are ambiguously reminiscent of children with disturbing faces, embryos with fully developed limbs, or even ancestral spirits locked up in bodies with vague forms. Izumi Kato is coming to Galerie Perrotin in New York, bringing his unnervingly ambiguous characters and unusual technique of work.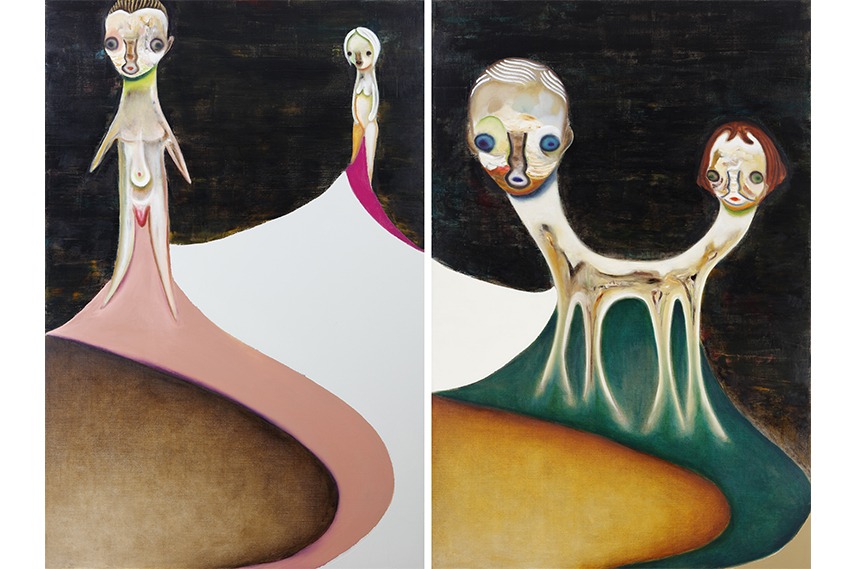 Izumi Kato as one of the Japan's most Interesting and Promising Contemporary Artists
Born in 1969, in Shimane, Japan, Izumi Kato graduated from the Department of Oil Painting at Musashino University in 1992. Coming relatively late into the world of art, the Japanese painter and sculptor made his debut at the age of thirty. Having worked as a manual laborer for some years beforehand, left Kato with a sense of being at one with the world of corporeal achievement, and gave him a humble appreciation of just being another creature on this planet. After a few years of contemplating whether to become an artist or not, in the mid 1990's Izumi decided to go for it and started painting. Ever since 2005, he managed to establish himself as one of the Japan's most interesting and promising contemporary artists. He has exhibited his work widely across Asia and Europe, and has been part of many museum shows in Japan. In 2007, Izumi Kato became the first young Japanese painter to be invited to the 52nd Venice Biennale directed by Robert Storr.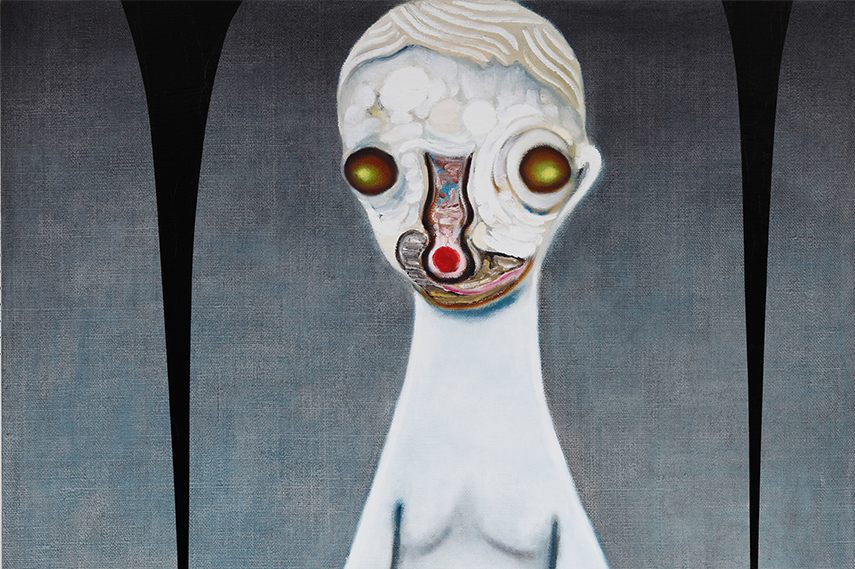 Simplistic, almost Primitive art of Enigmatic Figures
At first, the Japanese artist began painting only abstract forms, but soon after he set out on a journey of exploration of the vast realm of painting, he developed his style and themes. All of his works now feature nothing but human figures. Almost all of the recent pieces are untitled and they consist of no narrative elements. The anonymous silhouettes and unnerving faces with absent features are expressed in simple forms and strong colors. Kato's style is often reminiscent of primitive arts, with his simplistic characters reminding the viewer of totemic figures and animist belief. The dialogue evoked reaches back to our suppressible physical urge to touch, exploring this trait of humans ever since the days of prehistoric cave murals. The subjects are as haunting and weird, as they are enigmatic and inviting. Rubber spatulas, fingers, clad in vinyl gloves are used by Kato to create the motifs and swathes of color which give the pieces their supernatural form. The protuberant eyes draw in the viewer with their silence and stare back as they seem to be floating in space.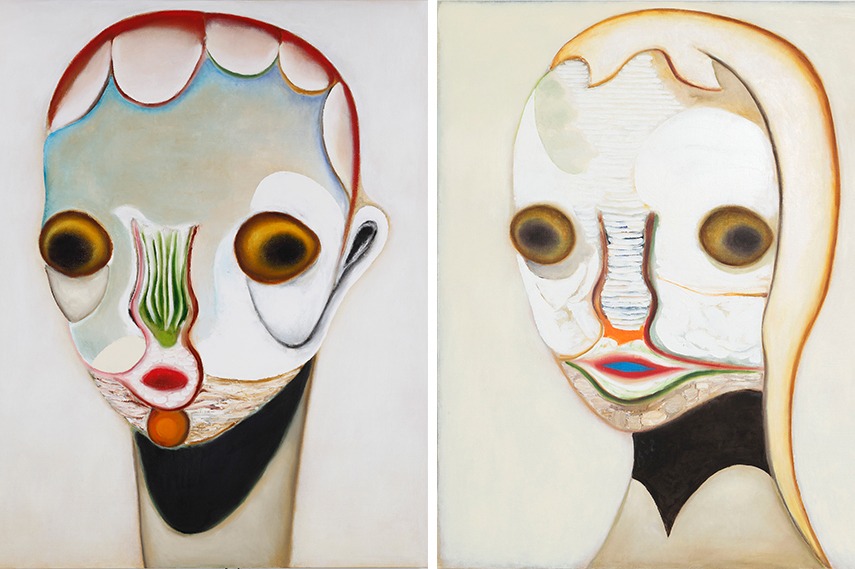 Izumi Kato Exhibition at Galerie Perrotin in New York
10 years ago, Kato began working with sculpture as well. Once again, he deliberately avoided common materials that are easy to use such as clay and resin, and instead turned to wood, carving directly. As in his painting practice, the focus was consistently kept on human figures, chiseled and shaped to represent the idiosyncrasies of the flesh. Izumi Kato's work is stripped of nationality, race, age or any kind of identity for that matter, sometimes even the colors and shapes are created with no clear boundaries, evoking even more ambiguity and openness to interpretation. Exhibition of works by Izumi Kato at Galerie Perrotin in New York is on view from January 7 – February 27, 2016. The opening reception is scheduled for Thursday, January 7, 6-8pm. On the occasion of the show, Galerie Perrotin will be releasing a monograph including a text by Ryûtarô Takahashi.
All images courtesy of Galerie Perrotin
Follow These Galleries
New York City, United States