Restoring an Iconic Jackson Pollock Piece in Dusseldorf
It is the year 1950. A large, twelve meter long canvas is spread out on the floor. Gallons of black paint next to it. The artist, Jackson Pollock, prepares to make Number 32, one of the most radical paintings of Abstract Expressionism and, in the opinion of many, one of his most significant works too. In order to spread the color on such big space, he has to perform around the canvas, stand over, walk around and run across. After an act like that, nothing else is ever the same, and our whole perception of what a painting should be is shaken to its core. Sixty five years after its creation, the Museum Kunstsammlung in Dusseldorf, Germany, will perform an art act of its own – the restoration of Number 32, the artwork's first cleaning ever. And what's more, it's going to be a innovative one as well.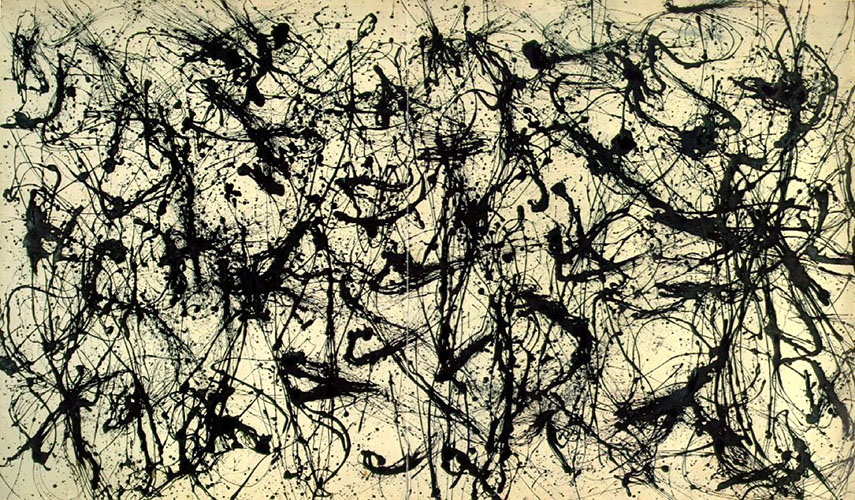 Jackson Pollock in Dusseldorf – A New Method Revealed
An artwork of this grandeur, in both physical and contextual way, holds many revelations and represents quite a challenge for its restorers. With this in mind, Kunstsammlung Museum's director of restoration, Otto Hubacek, developed his own method on how to whiten the now gray-yellowish Jackson Pollock canvas and bring back its old glow. Basing his research on the restoration done on paper works, Hubacek built a device which blasts wheat starch on the canvas under high pressure, which is then carefully cleaned with a miniature brush set on a vacuum cleaner. The process does not involve cleaning of the black paint, as the starch could affect it, so that part is done differently. This detailed approach, described by Mr Hubacek as "handwriting", will require between 200 and 300 hours of restoration work, which he will undertake himself. According to German news agency spa, Mr Hubacek will also present his ways of doing at the Metropolitan Museum of Modern Art in New York soon.
A video of Jackson Pollock's Mural restoration at Getty, 2014
A History Restored
Jackson Pollock's Number 32 is one of the shiniest gems in Germany's North Rhine-Westphalia region and a part of Museum Kunstsammlung's impressive American Art after 1945 art collection. Its founding director, Werner Schmalenbach, bought it in 1964 from the State Gallery in Dusseldorf. Apart from layers of dust and marks from the passage of time in general, the painting also contains footprints and coffee stains, which will stay integral part of the work without a doubt, as part of its history. What will go away, however, is the painting's frame, which still contains many gallery signatures from several exhibitions over the years – the Cologne Western art show from 1981, documenta, or the many loans to MoMA, Centre Pompidou and the Kunsthalle Basel. In February 2016, the work will be put back on view at Museum Kunstsammlung, as part of their permanent collection exhibition.
What is your favorite Jackson Pollock work? Share your thoughts on our Facebook page!
Featured image: Restoring Jackson Pollock in Dusseldorf. Image via welt.de. All images used for illustrative purposes only.