Jackson Pollock's Mural
When I am in my painting, I'm not aware of what I'm doing. It is only after a sort of "get acquainted" period that I see what I have been about. I have no fears about making changes, destroying the image, etc., because the painting has a life of its own. I try to let it come through. It is only when I lose contact with the painting that the result is a mess. Otherwise there is pure harmony, an easy give and take, and the painting comes out well. – Jackson Pollock
Study and Conservation
One of the iconic paintings of the twentieth century, Jackson Pollock's Mural, is currently on public view at the J. Paul Getty Museum in LA after almost two years of study and conservation. The study was led by the University of Iowa's Museum of Art, the owner of the painting, and the Getty Conservation Institute This exhibition presents the newly conserved work alongside findings from the Getty's research.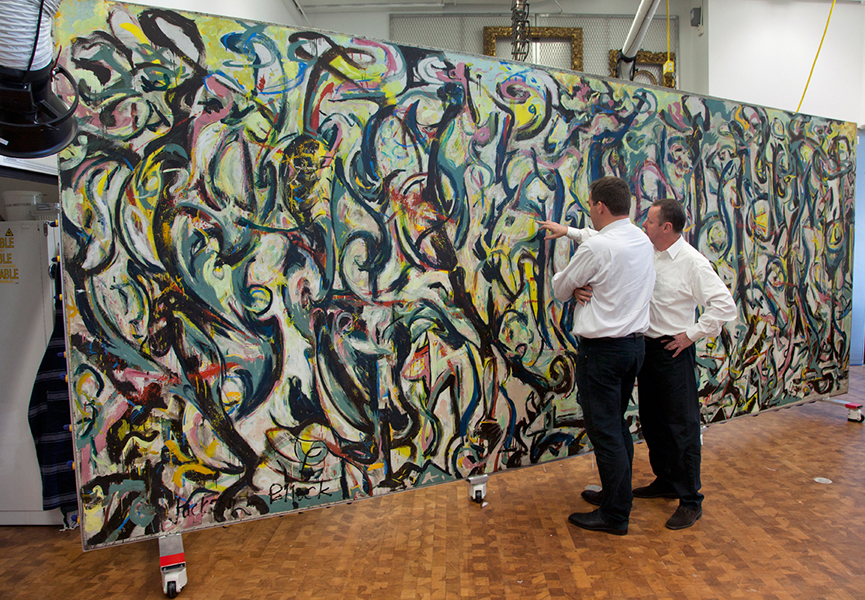 No Limits, Just Edges
Commissioned by art collector and dealer Peggy Guggenheim as addition to her New York City apartment in 1943. The pivotal painting represents a transitional moment in Pollock's career as he moved toward an experimental application of paint i.e. his technique of pouring and dripping paint on canvas. The very scale of Mural, 247 x 605 cm, allowed Pollock to develop these innovative methods of paint application. This breakthrough work is thought to be one of the origins of the action painting and was equally crucial for the Abstract Expressionists who would follow Pollock's radical conception of art —"no limits, just edges." However, Pollock will fully express his unique style once he starts laying the canvas on the floor and dripping paint from above in 1947.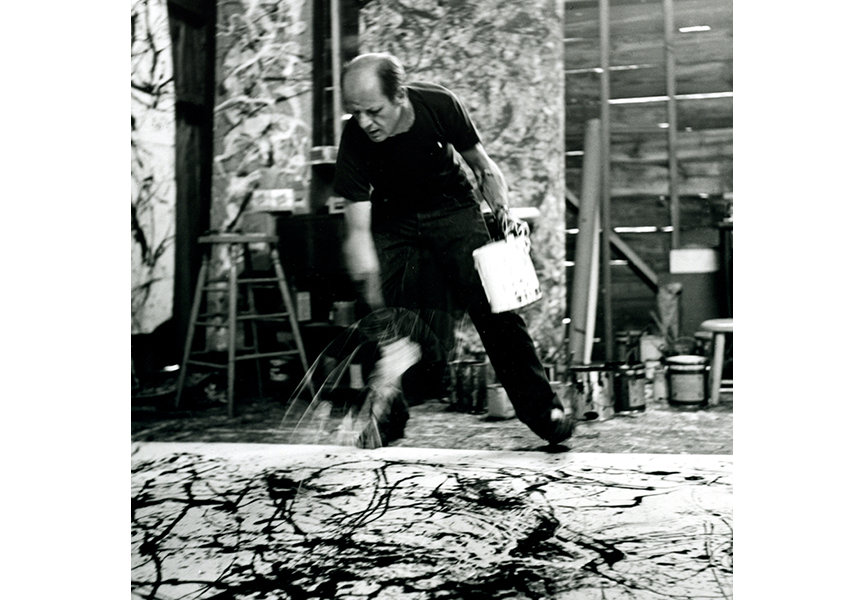 Blocked
There is an almost mythical story behind the birth of Pollock's fundamental 1943 painting. After signing a contract with Guggenheim, Pollock allegedly spent weeks staring at the blank canvas, complaining to friends that he was "blocked". Finally, he got a vision and painted the entire canvas in one sudden and dramatic burst of energy around New Year's Day of 1944. "It was a stampede…(of) every animal in the American West, cows and horses and antelopes and buffaloes. Everything is charging across that goddamn surface", Pollock explained to a friend years later.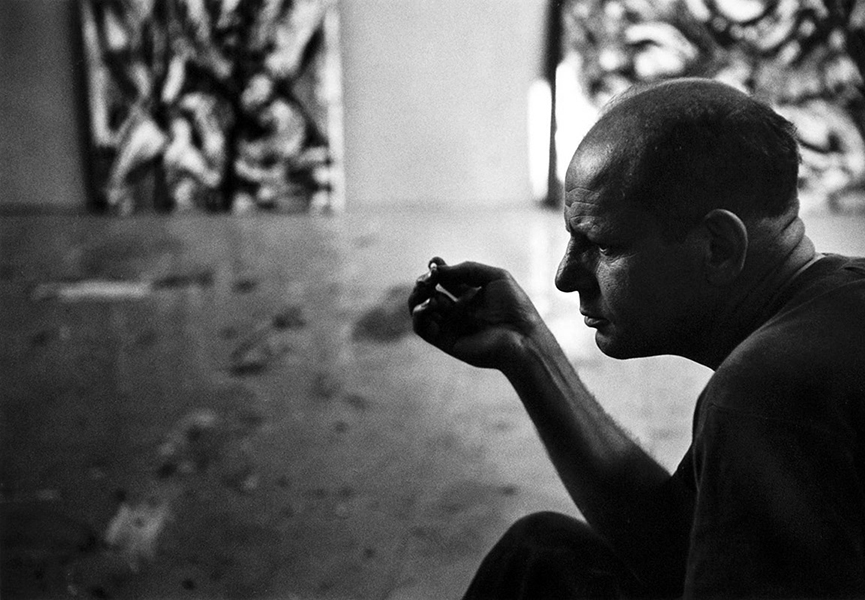 Turning Point
The crucial painting was covered from edge to edge with rhythm and dynamism, bursting with physical energy. There are many influences present in 'Mural': Benton's energetic rhythms; Picasso's abstract figuration; the work of the Mexican muralists; the surrealist technique of automatism; influences from the Native American art; and Jungian psychoanalysis. Needless to say, the art critics immediately recognized that 'Mural' as a turning point for American art.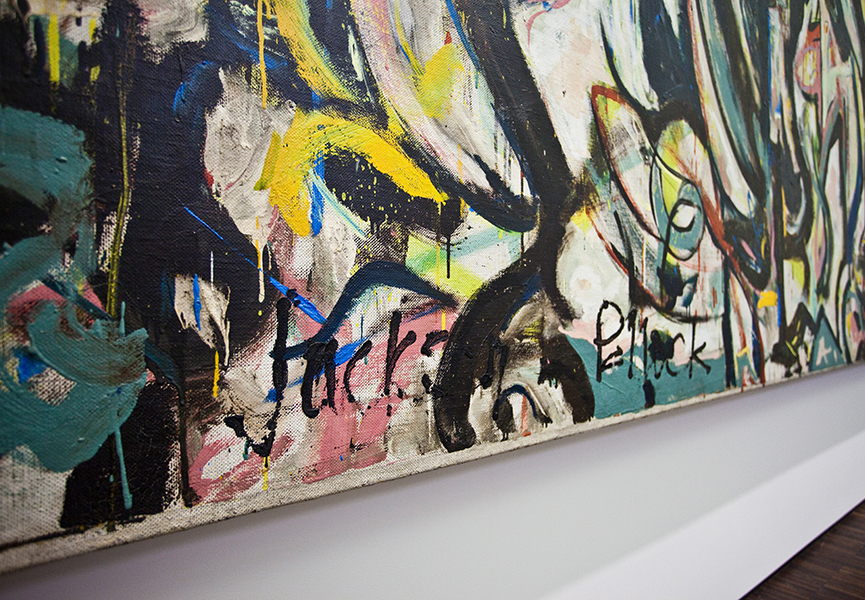 The Myth
These days at the J. Paul Getty Museum visitors have an opportunity to see how Mural looked like 70 years ago. The painting is now brighter and more vigorous, since a layer of varnish, which was applied in 1973, is now removed. In addition to the newly conserved work, the exhibition offers some new insights and, even more, tackles mentioned myth. Despite claims that it was painted in a single breath, Pollock did not paint the Mural in one frenetic and unstoppable burst of inspiration. Instead, it was painted over many days and perhaps even weeks. There is also a new opinion on the issue of dating the work. The Getty Institute set the painting's date back to July-November 1943.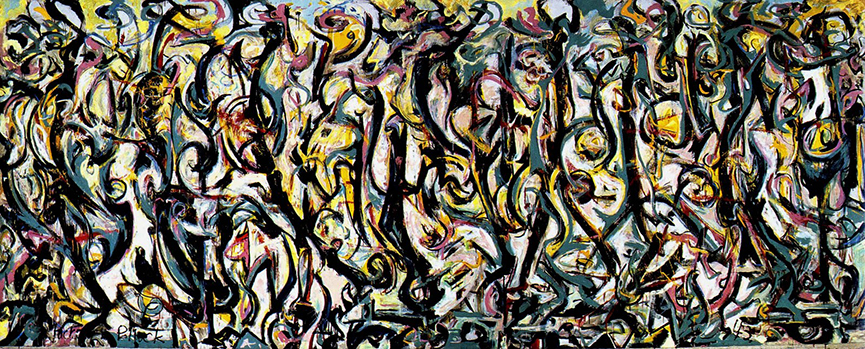 Full Glory
Be that as it may, romantic souls will continue to cherish the story about the sudden vision around New Year's Day because it pleases them, as this iconic work of art will continue to inspire many new artists in the future. Jackson Pollock's Mural is considered to be the most important modern American painting ever made and it will never cease to thrill us. As such, it will surely remain the subject of careful studies and references to come. You have the opportunity to see it in its full glory at the J. Paul Getty Museum until June 1, 2014.