Skyfarm Fortress
Jacob Hashimoto is an American based artist who drew the attention to himself by creating unique installations using the traditional kite-making techniques and forms. These three dimensional wall works are the result of his major inspiration – his Japanese heritage. The light structures such as wall hangings are made of thousands of miniature 'kites': bamboo-stiffened rice paper hexagons suspended with nylon fishing line – some collaged or painted with complex designs – dangling in abstracted motifs. Existing as neither sculpture nor painting, Hashimoto's compositions delicately float before the eye, mounted on an intricate network of interlaced nylon thread suspended from the wall by a line of pegs at both top and bottom. Jacob Hashimoto's work conveys an ephemeral wonder, introducing the viewer with continuous shifting illusion of light, motion and sense of flight.
Hashimoto's Cloudy World
Hashimoto's unique style and not so common technique brought him big success. He's been exhibiting all around the world, but this September Hashimoto will have his large-scale, site-specific installation 'Skyfarm Fortress' shown for the first time in New York. This East Coast installation serves as a counterpoint to Hashimoto's immense 'Gas Giant' that opened at MOCA Pacific Design Center in Los Angeles in March 2014. Comprised of thousands of the artist's signature bamboo and paper kites intricately strung together, 'Gas Giant' offered the viewer an amazing arena to explore.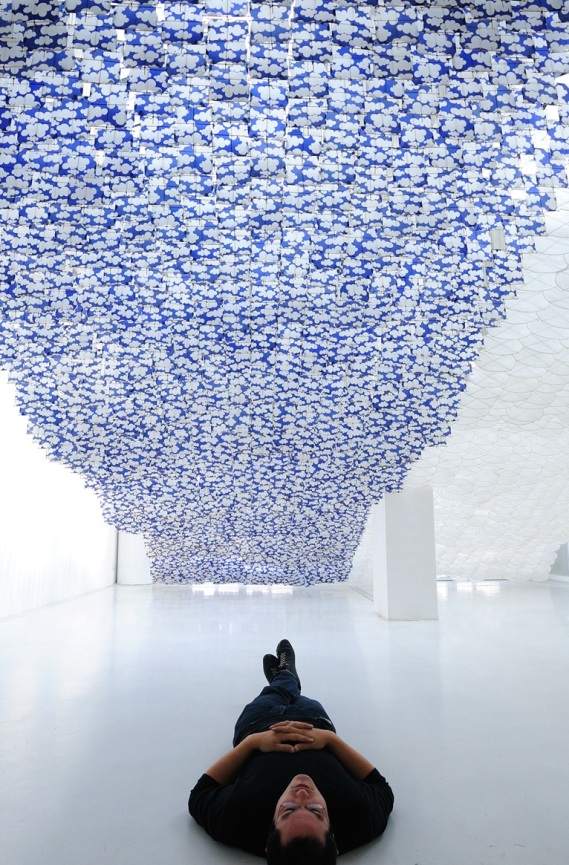 Skyfarm Fortress
With his latest exhibition 'Skyfarm Fortress', Hashimoto similarly creates his recognizable large, wall to wall, floor to ceiling environment, but anchors the three dimensional sculpture with a complex system of suspended open cubes that coalesce from the alignment of solid black square kites. Above the dynamic substructure is a canopy of white elliptical kites. Cloudy, translucent, out of reach, and constantly rippling from air currents, this contrasts with the rigidity of the Fortress below. Hashimoto is a master of creating a tense narrative of abstract form and composition. If you happen to be in NYC next month, don't forget to visit this amazing exhibition starting September 6 and running through October 25 at Mary Boone Gallery.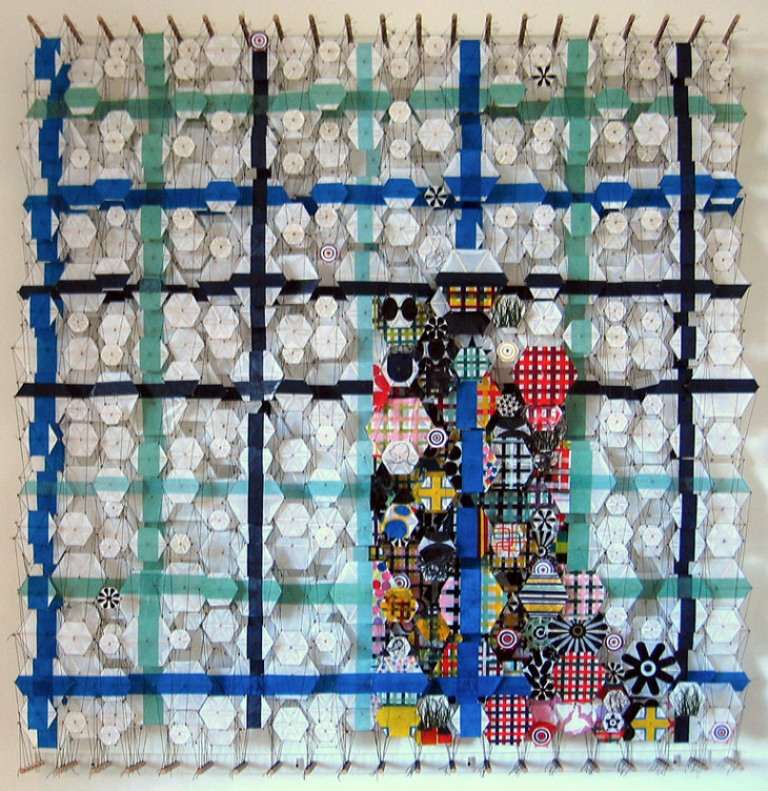 [mc4wp_form]