JANA and JS at Pretty Portal Gallery
Pretty Portal Gallery is quite popular among our readers. In May, the gallery found its place on the list of the most visited gallery pages (on our Widewalls Galleries section). Logically, all activities of this amazing gallery are also popular among our readers; therefore, prepare yourself, because one more great exhibition is about to take place in this Dusseldorf-based gallery. Extraordinary Austro-French artist couple Jana & Js is about to have their first solo show at the Dusseldorf-based gallery. The show is entitled A Matter of Time, during which a new series of works that have been painted in 2015 will be exhibited.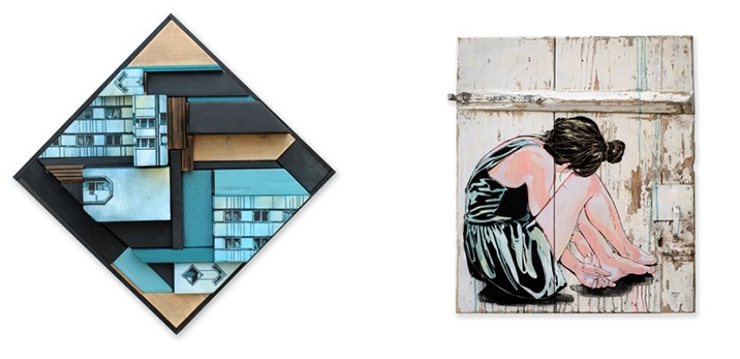 Urban Landscapes in the Art of Jana & Js
Jana & Js are an Austrian-based art duo who works both in urban and in closed environments. They are inspired by different urban surroundings – the city and its architecture is shaping their art expressions. But it's not only about the objects; Jana & Js are inspired by the residents and the viewers, and by people who in general occupy certain urban settings. They spray urban landscapes, portraits and details of architectures with a play of reflections and transparencies.
In their paintings they work with situations in the habitat city. Since both Jana and Js are passionate about photography, this medium has a very important role in their process. Using a special stencil-technique, they work exclusively with their own photography. Finally, it is quite difficult to define Jana & Js' style. They use different materials, and a wide range of media. Also, subject-matters in their works vary a lot. It may representation of urban architecture, but also portraits of photographed people.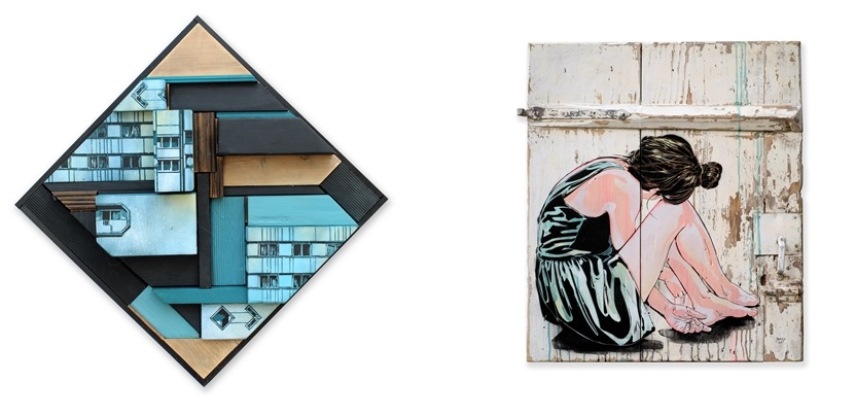 Jana & Js – A Matter of Time
Stencil works are always characterized by acute lines and clean, intense shapes, creating an impression that the characters at play are a stop in time. Just like the knife or the scissors to transform paper or cardboard into stencil, Jana & Js cut away at the time flow, bringing it to a halt so that its details can be observed and analyzed in detail. Moments in time that are captured this way are strongly associated with emotions and sensations that are so vital in Jana & Js work. What is also interesting is the fact that they often paint old found objects. With the objects, which originate in urban areas, the artists link their paintings with the urban surrounding. Likewise, Jana & Js place their art as an intervention in the urban space, they intertwine urbanity in their works for the gallery space.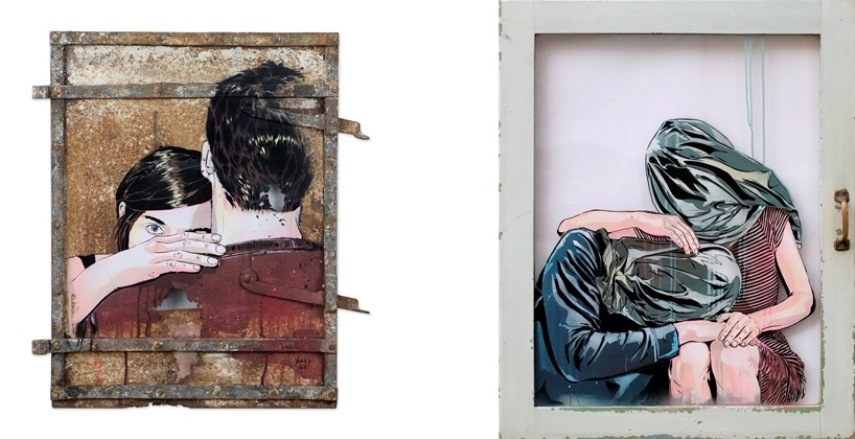 JANA & JS at Pretty Portal Gallery
After several participations in the collective show STENCILS ONLY at Pretty Portal over the last years it was time to have the Austro-French artist couple Jana & Js for a solo show in the gallery. In the exhibition A Matter of Time, Jana & JS show a new series of works that have been painted this year. During the exhibition period, Jana & JS and Pretty Portal will publish a limited stencil edition. A Matter of Time show will be on view from June 12th until July 10th, 2015, at Pretty Portal Gallery in Dusseldorf.
Sign up for My Widewalls, and be informed about upcoming exhibitions!
Featured Image: JANA & JS – Here with you
Image in Slider: JANA & JS – Me in you (detail)
All Images courtesy of Pretty Portal Gallery.