JCDC x Lek & Sowat Collaboration
Fashion lovers know well of Jean Charles de Castelbajac, a man rightfully named the King of Pop of Fashion, unconditionally devoted to the 'now', always coming up with outrageous solutions walking a thin line between art and fashion. Who knew that a famous French fashion designer, a nobleman no less, had a secret hobby – he spent good two decades anonymously sketching angels in chalk all over Paris. Graffiti was therefore more than one of the inspirations for JCDC, it was an urge for creation, with which the designer identifies even today. This is why he invited two French steet artists Lek & Sowat, who recently organized a Parisian painting event called curiously French Kiss, to join him in realization of his runway show for the Paris Fashion Week 2014. The two DMV crew members painted the scenography for the event – an entire garage wall behind the catwalk, with patterns and abstract designs completely inspired by Castelbajac's new collection.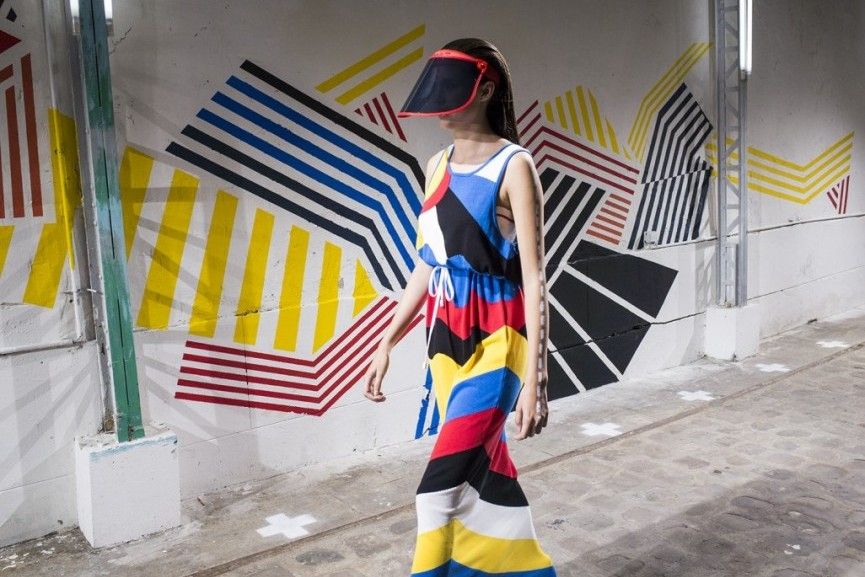 Lek & Sowat at Spring 2015 Collection Runway Show
The Spring 2015 Prêt-à-Porter show was a result of a beautiful collaboration of the designer and artists, where a mural proved to be the perfect setting, corresponding in both color and shape to the clothes models were wearing. Palette was simple on both – just three basic colors, plus the black and the white. Retro patterns of intertwining lines, simple forms and cuts unveil the domination of geometry in Castelbajac's collection, and subsequently, the mural. Another inspiration that led Lek and Sowat in their JCDC mural design were Dazzle Camouflage, a type of disguise used on large naval vessels in World War I, composed out of contrasting zig-zag lines irregularly intercepting each other. Although the camouflage was first employed in order to make determination of a ship target's range more difficult, it undisputedly gave an extraordinary decorative look to the fleet. The show and the painting event had a dual performative nature, where the artists were finishing up the mural immediately before professional models started to walk down the runway.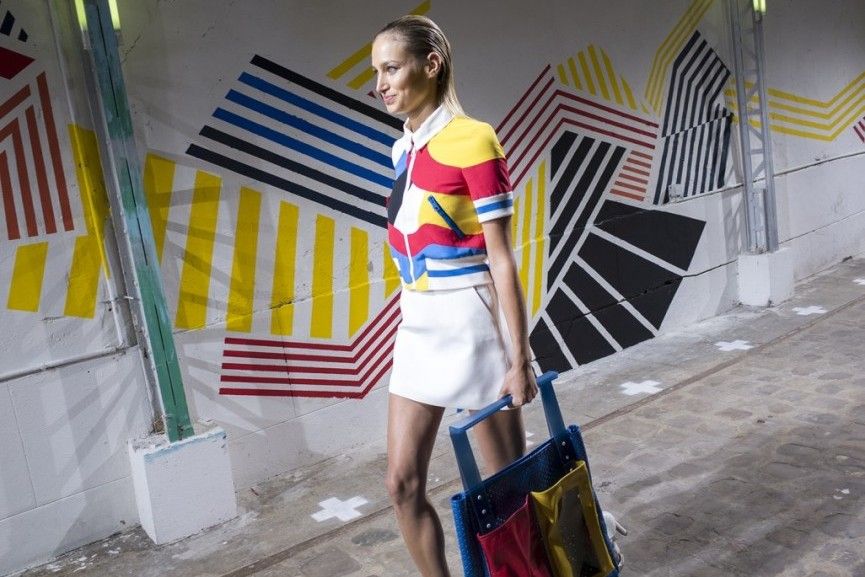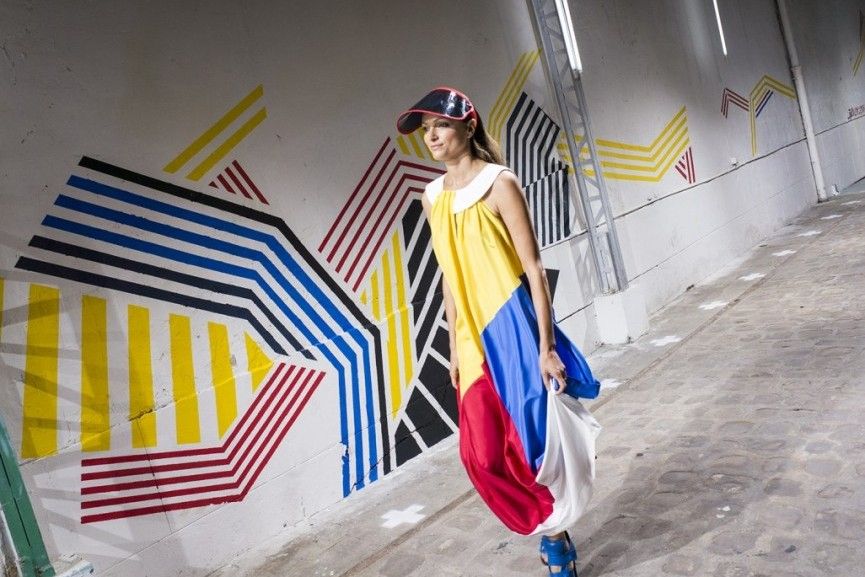 Jean Charles de Castelbajac
Jean Charles de Castelbajac Paris Fashion Week show thus became not only a fashion event, but an urban art event as well, once again successfully merging the applied and the visual art into one brilliant body. As mentioned before, Marquis de Castelbajac is no stranger to street or urban art. In the early 80s, he collaborated with Keith Haring and Jean-Michel Basquiat, while his artistic side always popped throughout his design oeuvre. He is famous for the teddy bear coat even Madonna wore, the LEGO inspired collection, rainbow outfit collection for the Pope and his suite, and for the use of innovative materials in fashion, surprising shapes and bright colors, to mention the very few of his numerous novelties. Recently, JCDC engages in development of his artistic self in the medium of painting, besides the fashion he's constantly in.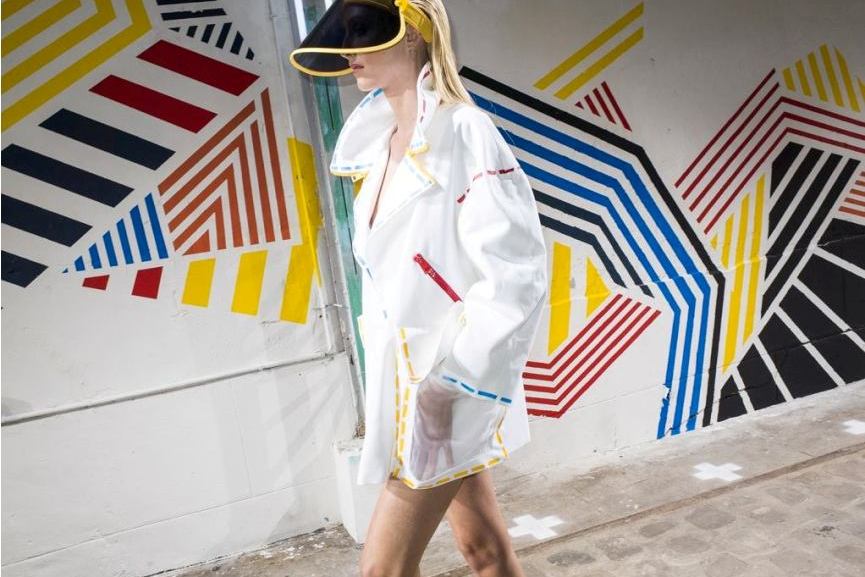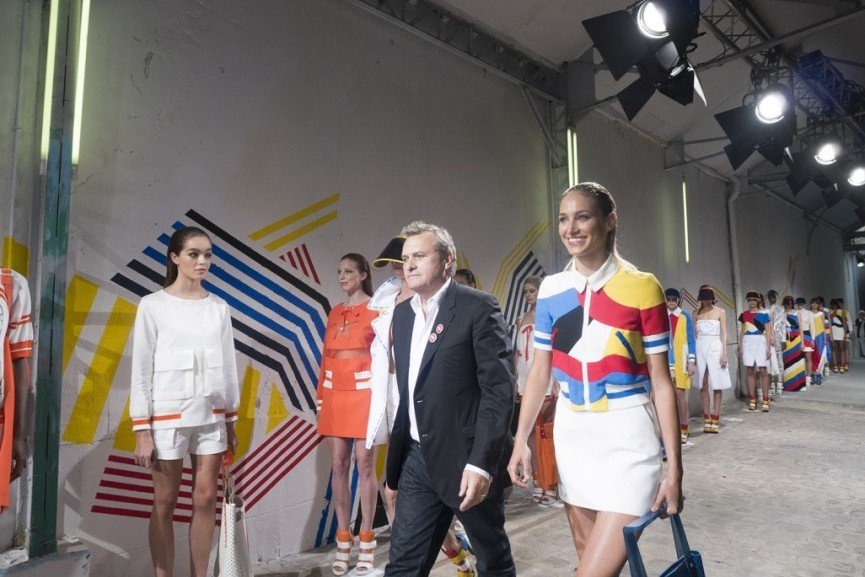 Fashion and Art Collaborations
The JCDC collaboration with Lek and Sowat continues the practice of happy combinations of fashion and art. Kate Moss recently wore a collection of painted parkas, while Pharrell not only curated a show in concordance to his album, but issued a fragrance to follow. Vans shoes are known to work with many urban artists, since their product corresponds best with the street art audience, and Mr. Brainwash designed a pair of very drippy sneakers. Even institutional collaborations occur, such as MoMa that joined efforts with Uniqlo. We hope that these team endeavors will never end, as they give some of the best interdisciplinary solutions.
Fashion show photos by Nicolas Gzeley and Olivier Zahm (Purple Magazine).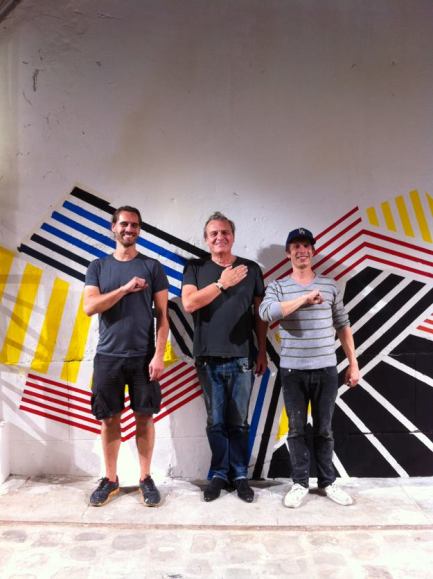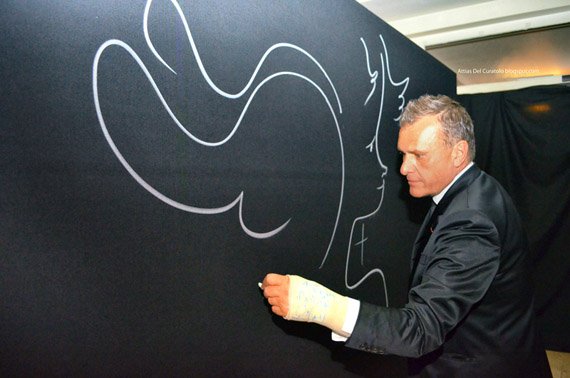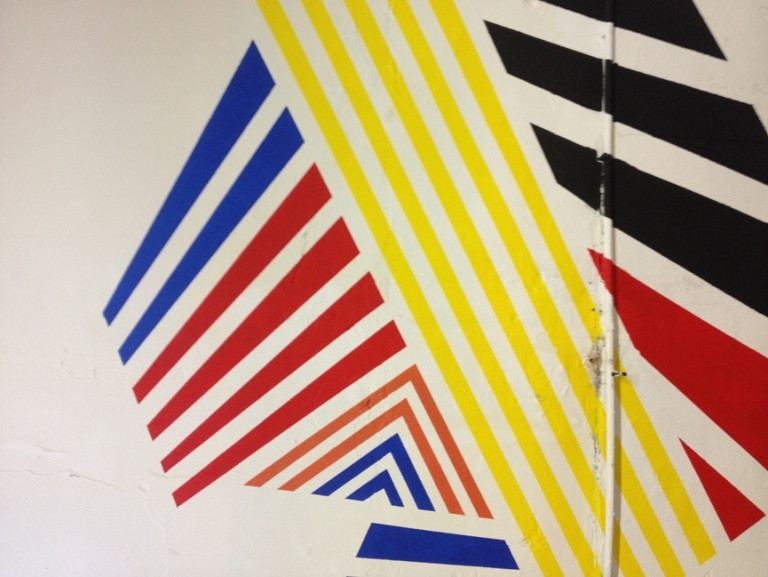 Follow These Galleries
Paris, France

Marrakesh, Morocco

Berlin, Germany