Jean Lowe at Quint Gallery
The Quint Gallery is proud to present new exhibition by Jean Lowe titled SAVOIR FAIRE: WHAT IT IS AND HOW TO GET IT. This is artist's eight solo show in the Quint Gallery. In SAVOIR FAIRE: WHAT IT IS AND HOW TO GET IT Jean Lowe will be presenting her new series of works done on aluminum sheets that she painted to resemble bookcases. The aluminum sheets were then printed to resemble the bookcases templates that are used by Apple for their iBooks. Jean Lowe has a very smart approach to her art, she frequently uses elements from everyday life fusing them with some humor in order to provoke viewers to reflect on subjects they would not normally be questioning.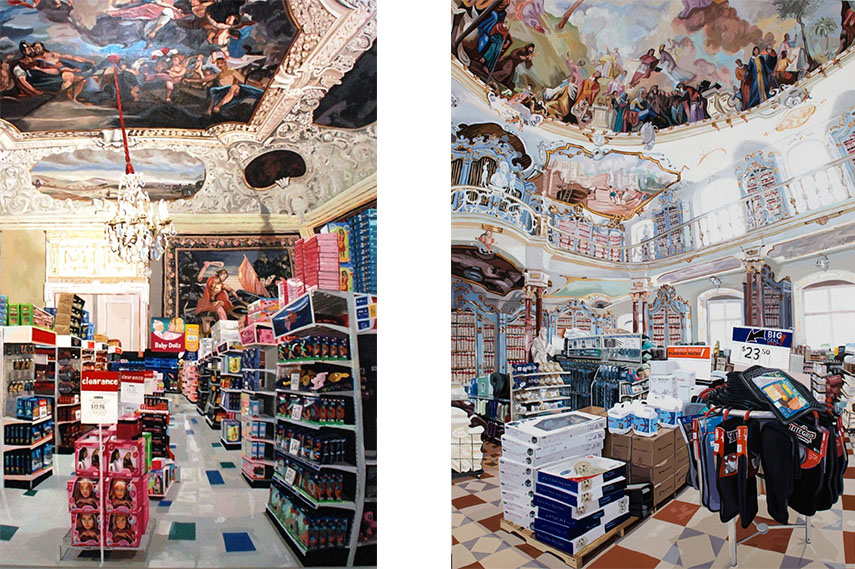 Jean Lowe's Quest
Jean Lowe is a well-established female artist who graduated at the University of California, San Diego MFA program where she later lectured up until 2008. Jean Lowe's work relies on pop art heritage. In different series she employs investigation of psychology of popular culture and social phenomena that span from Business and Career to the matters of Women's Health and Wellness. Jane Lowe's works are characterized by her use of strong, vivid colors that further bring her in relation to pop art. Another thing that connects Jean Lowe to this movement is her use of everyday objects and commodities. The backbones of many of her works are goods from stores, stacks of various commercial products that seem as if they are displaced or cut out of a large supermarket and placed into Jane Lowe's painting. But even the surroundings that she uses in her paintings are a bit odd, as was a series she did few years ago where she painted stacks with merchandise in the interiors of the Bavarian castles. These seemingly comical scenes were riddled with irony that is frequently present in Jean Lowe's art.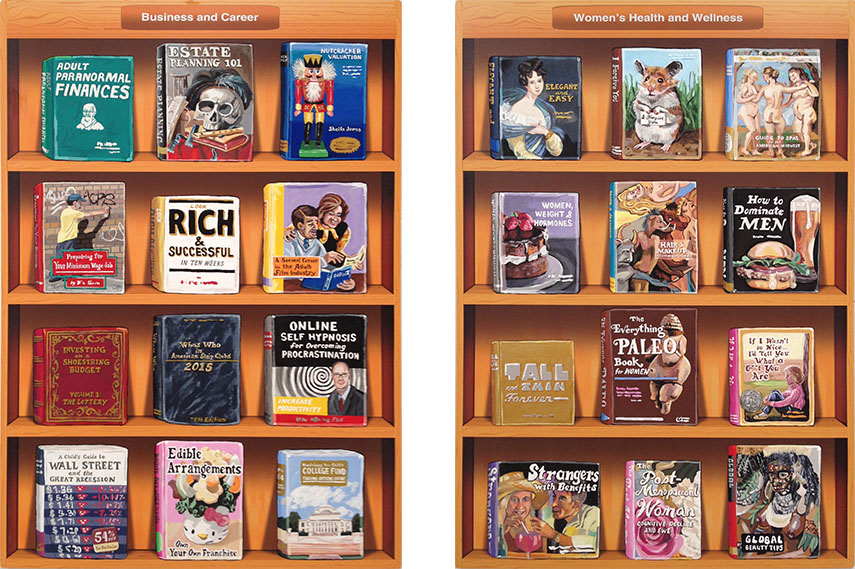 SAVOIR FAIRE: WHAT IT IS AND HOW TO GET IT
In her most recent project Lowe continues to explore the consumerist mentality only this time she tackles the hot subject of contemporary culture connected to digital and electronics. Jean Lowe first printed bookshelves templates that Apple uses for their iBooks and pasted them to aluminum boards painting books directly onto them. The hand painted books fit the sleek aluminum sheet nicely providing viewers with the confusing impression of looking at something that associates with three-dimensional objects such as phones and iPads but flat and two-dimensional. To further sharpness her works, Jean Lowe adds deliberately funny book titles ranging from self-help books to the education, non-fiction and guidebooks. Although often perceived as humorous Jean Lowe employs humor only to attract viewer's initial attention to the subjects she is dealing with.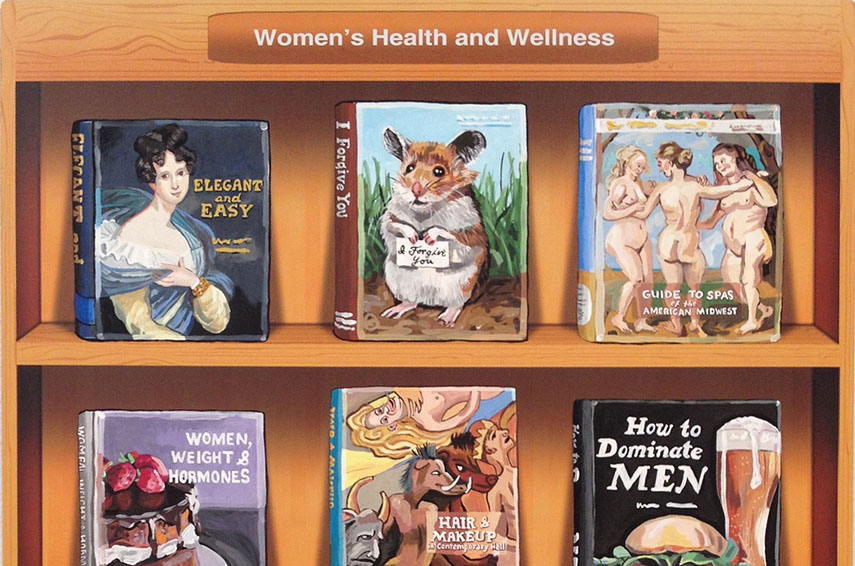 Jean Lowe at Quint Gallery
The works from SAVOIR FAIRE: WHAT IT IS AND HOW TO GET IT are satirical and humorous yet simultaneously a thought provoking critic. Apart from bold references to the art history the works also communicate acute social issues. Although they may appear funny at first glance the works of Jean Lowe are actually quite sobering. SAVOIR FAIRE: WHAT IT IS AND HOW TO GET IT opens on May 16th at the Quint Gallery in La Jolla, California. The show will run until June 6th.
Sign up for My Widewalls and stay informed on all art related events.
Featured Images Courtesy of the Quint Gallery unless differently indicated.