Artist of the Week - Jeff Koons
Apparently, nothing brings an artist closer to super-stardom than placing their art halfway between high and low culture. Things that belong to neither of the two poles always seem to be the most intriguing ones, simultaneously dividing the masses and confronting two opposite sides of our inner selves: Perhaps it's not kitsch, but is it art? Or is it plain kitsch after all? Warhol has left us undecided – and Jeff Koons has picked up where he left off, making the state of the art become even more impure. If everything is as it seems – then nothing really is, everything seems to be either less or more. A ready-made is not just any object, and a sexually explicit image is so explicitly pornographic that it goes beyond porn. Ultimately, you'll either going to love or hate Jeff Koons' ability to handle art so easily, to approach it so casually, to fetishize objects, and to objectify fetishes. The world hasn't seen art so controversial and yet so simple since Duchamp, art that confirms the role of an artist as a thinker, and in this case a good businessman as well. Let's see how he does it, and why he is our new artist of the week – the king of Postmodernism, Jeff Koons.
Dividing up the Art Market
Damien Hirst and Jeff Koons Dividing Up the Art Market is the most famous fictional painting never made, but Houellebecq didn't come up with that title out of nowhere. Jeff Koons holds at least one world record for the most expensive work by a living artist, sold at auctions – and it is his Orange Balloon Dog. There is no doubt that Koons is exceptionally successful, but it's not that he came up with anything particularly new – so what is it that makes his art so enchanting?  There could be lots of possible answers to this question, we could talk about the circumstances, the way in which the world was going in the 80s and how Koons followed, but certainly one of the most interesting qualities of his work is the persistence of his positive outlook on basically everything. The art of Jeff Koons speaks about a mighty good life, taking on various forms of desire and beauty, in the most physical sense of the word. He even married a porn star, which is probably a fulfillment of a stereotypical bachelor's fantasy (and as you know, that story was also translated into a work of art). Art could be just another commodity – so why not make it a shiny, bright one? Jeff Koons' works simply seem like he is having much fun and loving life. This could be the exact reason for his conflict with some of the critics, because loving life and being affirmative is not really backed-up in the art world these days. On the other hand, that's your reason right there to appreciate his art even more. So to reflect back on the beginning – if you're trying to imagine the aesthetics of the fictional painting from Houellebecq's novel, you're probably thinking: Hirst must be bathed in some obscure darkness, and Koons must have a big smile on his face.
Now in the UK
So now that we're mentioning Hirst, we're also going to stress that he is the main reason we're talking about Koons this week. Yesterday, a wide selection of Koons' works – most of them from Hirst's collection – was exhibited at Newport Street Gallery in a pop-up show, including some of his earliest works dating from 1979 (Inflatable Flowers), but also the ones from 2014. Now celebrates the object, as represented and communicated by Jeff Koons, who has mastered the task over the years. Interestingly enough, both Koons and Hirst made an appearance at the show, causing a bit of a stir among the audiences. After all, the show was co-curated by the two mega stars. But, back to the stellar success of Jeff Koons and his indelible mark in the world of art. Cleverly interpreting his own work, Koons speaks about the shiny polished metal surfaces of his recognizable sculptures, saying that they serve to remind the viewer of him/herself. And indeed, it does seem like the material world of Jeff Koons serves as a mediator, a channel that (paradoxically) makes us think about what isn't there – everything that cannot be reduced to an object. Now will be on view until October 16th 2016, at Newport Street Gallery in London.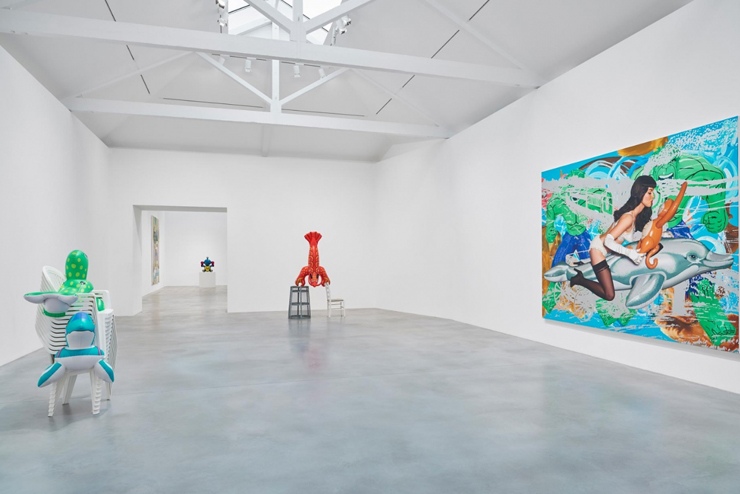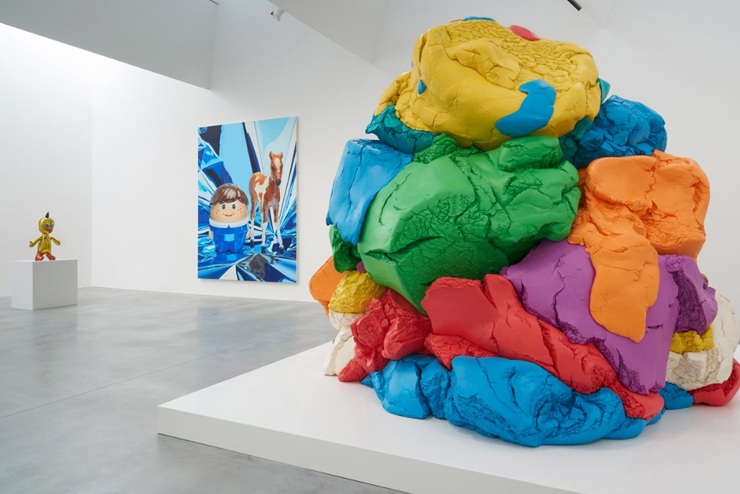 Featured images in main slider: Jeff Koons via Hypebeast; Jeff Koons – Balloon Dog at Palace of Versailles. All images used for illustrative purposes only.