Jeff Koons paints the Guilty
Dakis Joannou, a Greek industrial mogul from Cyprus, is also one of the leading contemporary art collectors in Europe, which explains his decision to make an artwork out of his newest mega-yacht, by commissioning Jeff Koons and Italian yacht designer Ivana Porfiri to design the ship.  From this fruitful collaboration, a luxurious boat named Guilty emerged, measuring 35 meters in length, and being priceless in artistic value. This project represents the largest Koons' endeavor so far and a serious step forward in contemporary yacht design.
Exterior & Interior
Jeff Koons was responsible for designing and painting the exterior of Guilty. He dreamed up the stylized geometrical figures inspired by WWI British naval camouflage called Razzle Dazzle. When viewed from the above, an image of Iggy Pop performing on stage is recognized. As the inner chambers of the ship showcase numerous artwork signed by acclaimed contemporary artists, Koons' exterior creation certainly rounds up the whole project as an integral work of art. The interior of this glamorous vessel with three decks is entirely white, distinguished by exceptionally large windows that open up the space towards natural light. Subtle, but pop-arty color palette ranges from cool shades of pink, violet, blue to warmer nuances of yellow. The main cabin of the yacht is situated on the top deck, and it offers a 180 degree view, an office and a private terrace. A writing above the bed spells the word Feelings, a piece by British artist and musician Martin Creed, executed in cold neon lighting. The other four cabins feature valuable artwork as well, and the living area is adorned with Radical Design furniture from Italy. Front area of the yacht is dedicated to services – there are pantry, day toilet, wheelhouse and galley. The ship is run by two engines that enable the maximum speed of 27,9 nodes. Now docked at the Piraeus port of Athens, Guilty was built in Italy, in the Cantieri Navali Rizzardi shipyard.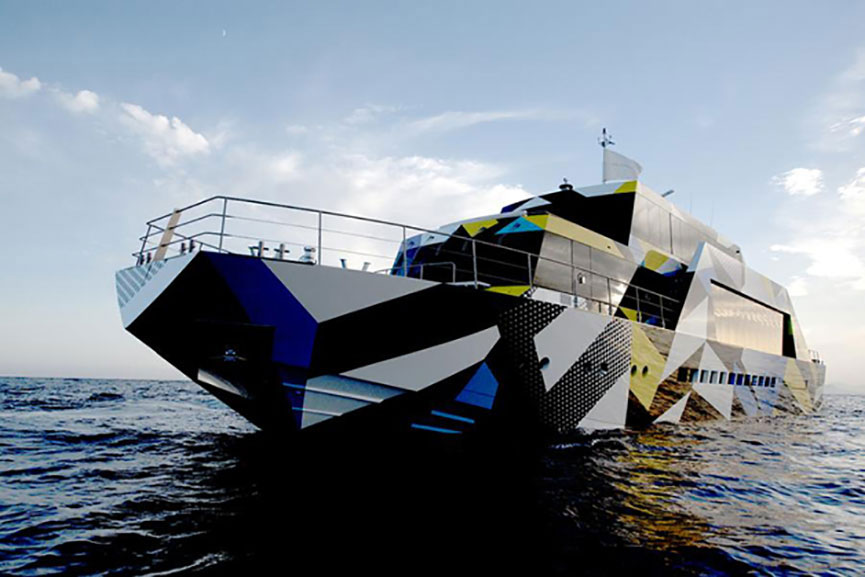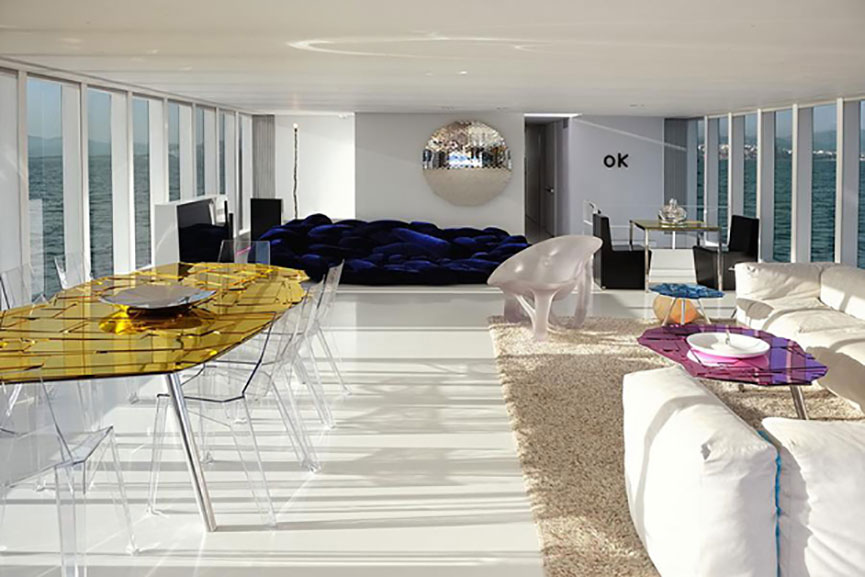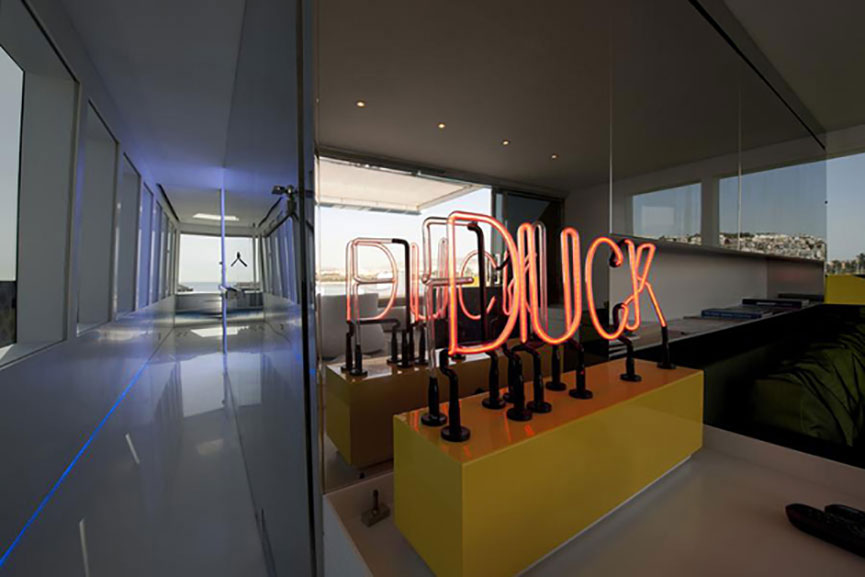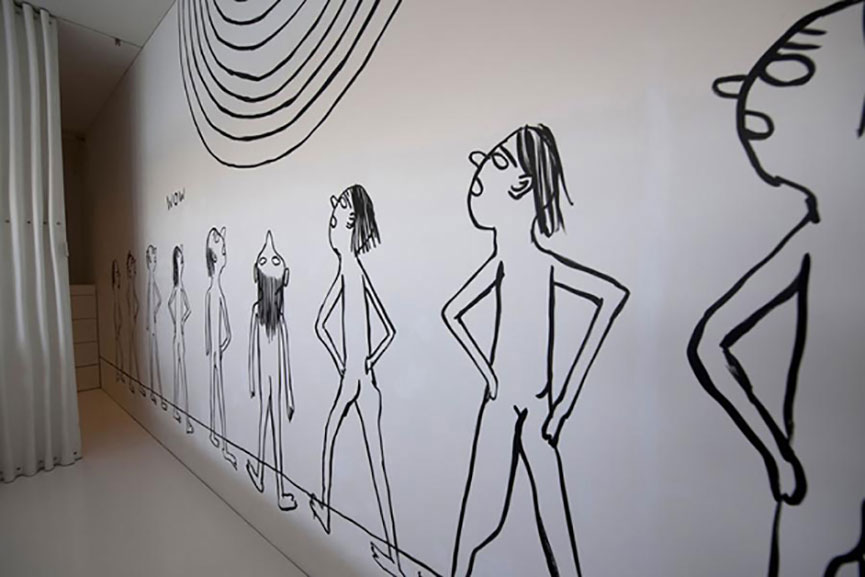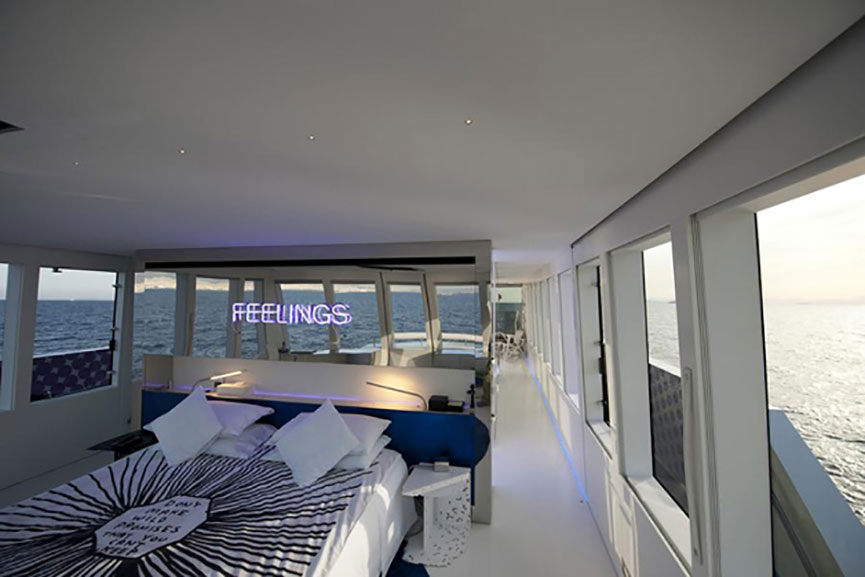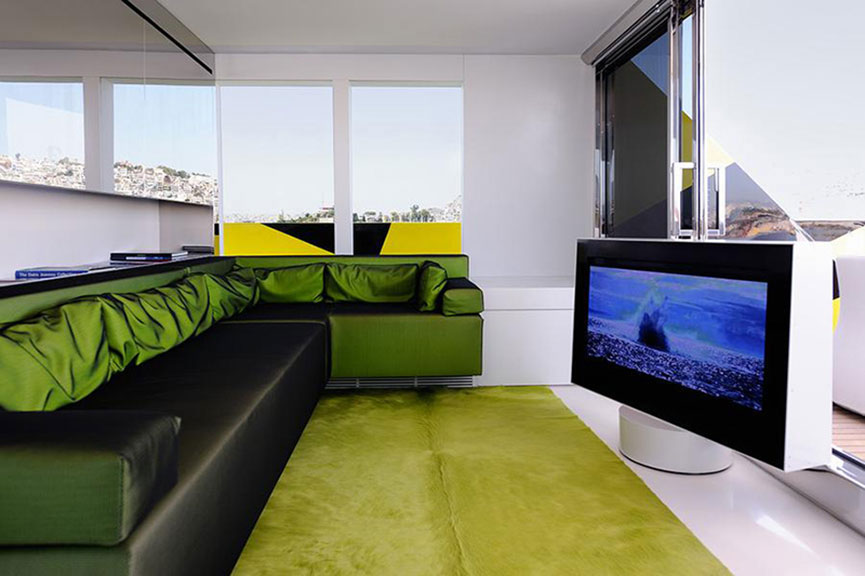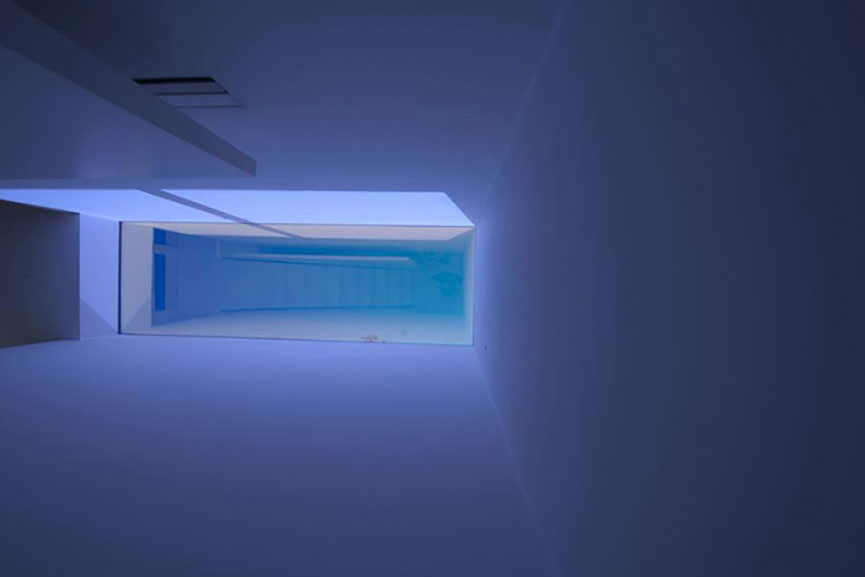 Ivana Porfiri
Ivana Porfiri is a designer from Milan, Italy. She was involved in aesthetic development of several private homes worldwide, a wine cellar in Italy, various office buildings, product design and design of yachts and floating vessels – 14 yachts and one ship bear her signature. She believes that it is important to be active in more than one specialized field, in order to nurture creativity as well as enable opportunities and different working experiences.
Dakis Joannou
Dakis Joannou is a very well known industrialist and a renowned art collector, with earliest works of his collection dating to 1985. He was first amazed by Jeff Koons' piece One Ball Total Equilibrium Tank, back when Koons was not yet as famous as today. Presently, Joannou collection contains a vast selection of internationally acclaimed artists, including pieces by Koons, Vanessa Beecroft, Michael Bevilacqua, Joseph Kosuth, Takashi Murakami, Shirin Neshat and many others. Dakis Joannou also founded the Deste Foundation in Athens, an organization dedicated to supporting contemporary art.
Pictures retrieved from: Green Label