Paintings by Jeffrey Cortland Jones and Sara Pittman Take Over Matthew Rachman Gallery
Exploring optical changes in hues and transparency, Jeffrey Cortland Jones describes painting as a physical activity and a material practice, rather than a narrative tool. On the other hand, Sara Pittman paints thin, transparent layers in order to reveal a story and invite the viewer to unveil what is buried beneath. Although discernibly different in appearances, Jeffrey Cortland Jones and Sara Pittman paintings tackle similar themes in their individual explorations of life through art. Their work will soon take over Matthew Rachman Gallery in an exhibition titled Paintings by Jeffrey Cortland Jones + Sara Pittman. Sharing an introverted and intuitive approach to creating, they both act on a raw, observed feeling. The juxtaposition of detail in Pittman's pieces combined with Jones's subtle minimalism results with a harmonious exchange about what happens at the moment that conscious contemplation breaks down.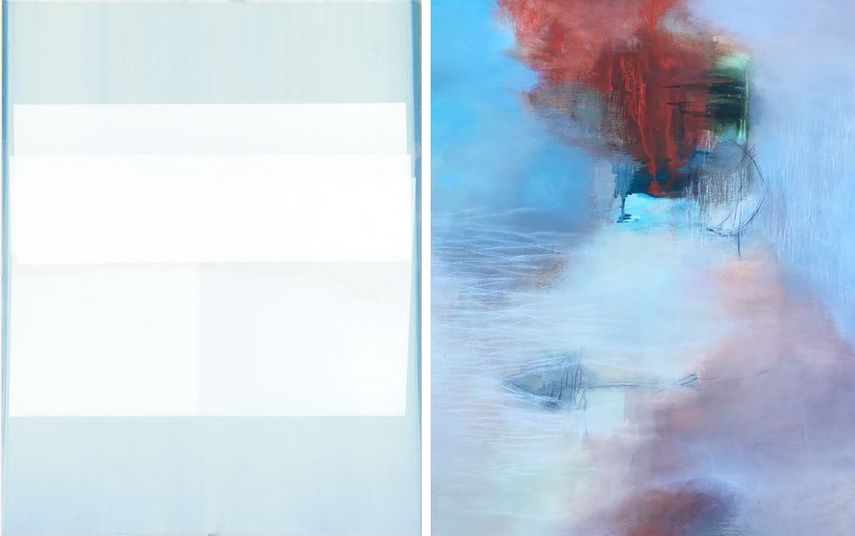 Jeffrey Cortland Jones Paintings
Initially working with large and graphic pieces using big brushes and latex house paint and tar, Jeffrey Cortland Jones has transformed his practice influenced by the work of Anselm Kiefer. Exploring optical changes between subtly different hues, opacity and transparency, matte and glossy surfaces, and warm and cool tones, Jeffrey creates an intimate world, a cave fill of reserve and refrain. Making strong geometric compositions filled with light colors, he has been often called a painter that paints white. His works engage the viewer in a slow process of viewing and processing in order to notice shifts, from warm to cool, from the mostly matte surface to the little tinge of gloss that hangs out at the edge.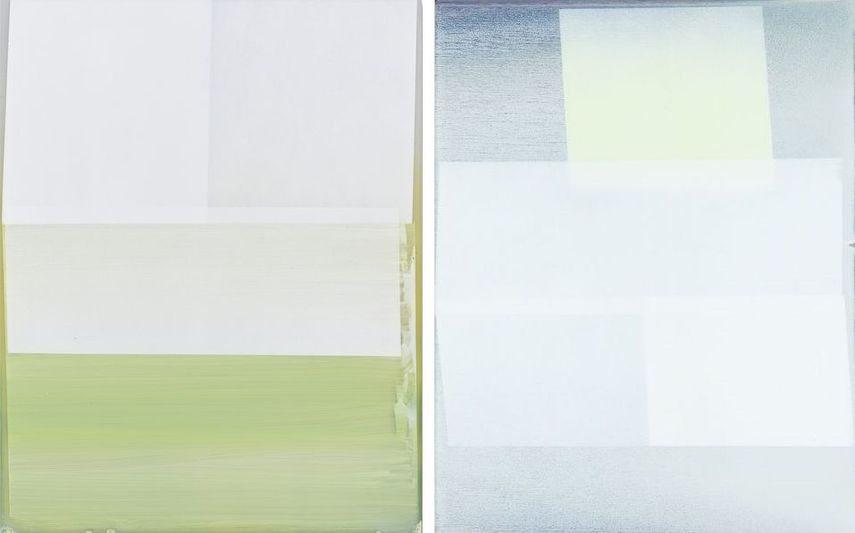 Sara Pittman Paintings
An emerging abstract expressionist, Sara Pittman reveals heavily on intuition and raw emotion in order to convey her visual language. She begins each piece with a thought or feeling and naturally allows her instinct to take control and guide her process. Her work is imbued with an aesthetics of balance and tension, where she combines bright colors and muted tones and incorporates loose and controlled movement through the use of negative space. Appreciating the often unpredictable nature of this process, the artist always looks forward to connecting with the images as they present themselves to her. Nature has always been a huge influence on Sara's practice, finding this area of work spiritual and aiming to bring back something once beautiful and peaceful.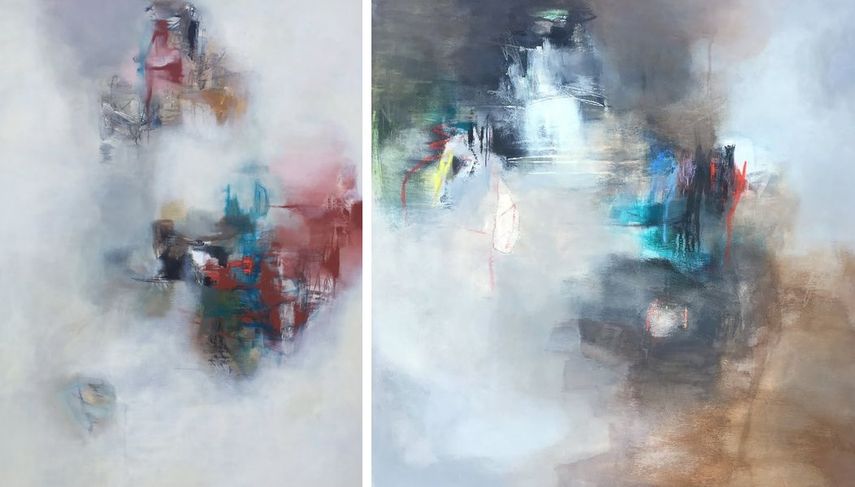 The Duo Exhibition at Matthew Rachman
Based in Southwest Ohio, Jeffrey Cortland Jones is currently a professor at the University of Dayton where he heads the painting program. The work of Sara Pittman can be found in private collections and galleries throughout the United States. Exhibitions are held regularly and their collection of rare decor changes constantly. The exhibition Paintings by Jeffrey Cortland Jones + Sara Pittman will be on view at Matthew Rachman Gallery from April 14th until May 28th, 2017. The Gallery will host an opening reception on Friday, April 14th from 6 to 9 p.m. Both artists will be in attendance.
Featured images: Sarah Pittman – Rudimentary (detail); Jeffrey Cortland Jones – Burnside  (Northern Portrait) (detail). All images courtesy of Matthew Rachman Gallery.