Fish is Hunting Trophies
Trophy is a word of million meanings, since there are as many trophies as there are people in the world. However, if we choose to perceive a trophy in the more traditional sense related to hunting, an instant image of a wooden board with a taxidermy head of a killed animal comes to mind. For some it's a proud possession, for some a symbol of terror, but all must agree that hunting trophies do possess a particular aesthetics, which cannot be found elsewhere. They are eerie and strangely appealing, while at the same time repulsive in the realization that they were once a living being.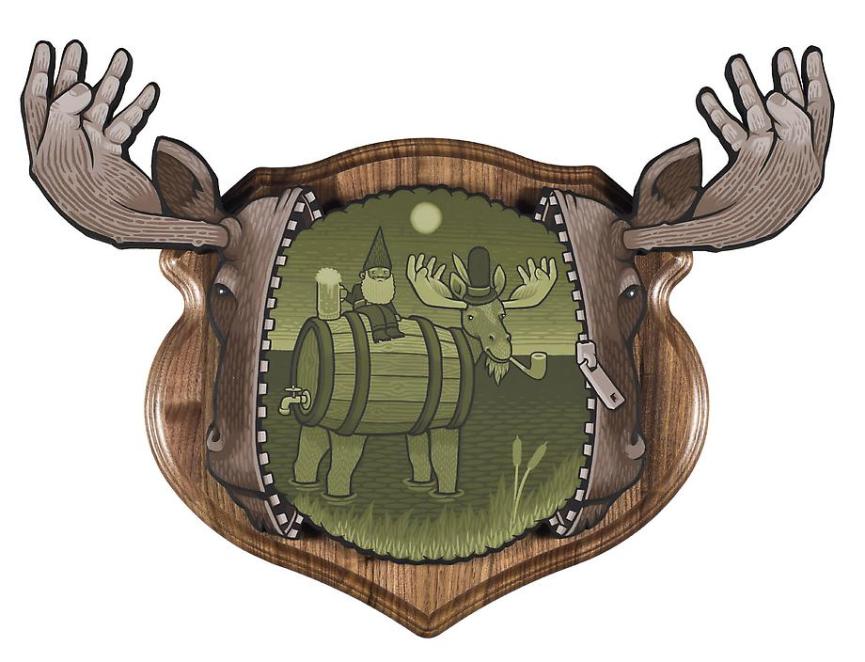 Allegories
A captivating installation entitled Hunting Trophies by an interdisciplinary artist Jeremy Fish was inaugurated on April 5 at the Mark Moore Gallery in Culver City, California, in which the artist depicts critical sociopolitical and personal subjects into an array of allegories. Each work is a different narrative, portrayed in a surreal space, presenting a metaphorical situation, while their visual language is constructed upon the visual quality of a hunting trophy. Filled with serious and engaging allusions, works of Jeremy Fish are characterized with vital humor, softening the blow of harsh reality.
Hunting Trophies will be on view at Mike Moore Gallery until May 3, 2014.
Hunting Trophies
Exploring the topic of a decorative memento, the artist investigates the concept of value throughout this body of work. He proclaims that we are all obsessed with prizes of various kinds, accumulation of possessions and awards. Our minds are infected by the idea that we deserve, and therefore must have, the "top notch" of things, while objects of desire are highly individual, ranging from latest gadgets to the expensive art. In the overly commercialized environment, the spirits turn to the rush encouraged by the material, while some of the most important intangible values and ideologies remain neglected. Fish seduces the observer to enter the hunter's mind, and thus criticizes his bloodthirsty attitude, through a display of his prizes. Fish's signature object-paintings resemble real hunting trophies from the walls of cabins and clubs, while their content is modernized through the use of critical imagery characteristic for the contemporary context. Reducing the often tragic or ridiculous actions of man to cartoonish scenes drenched enriched with humor, the artist mocks are precious Hunting Trophies, leaving the observer wondering about his or hers needs and desires.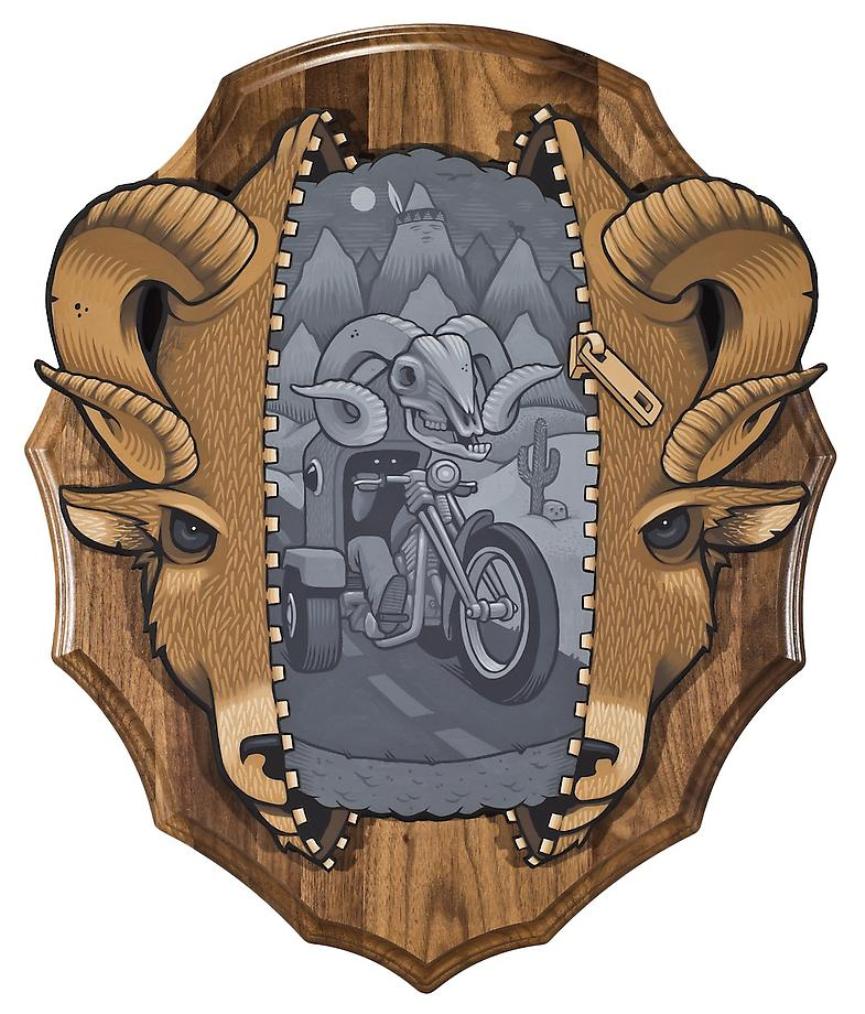 Jeremy Fish
Coming from the world of graphic design, Jeremy Fish has collaborated successfully with some of the market's leading brands, such as Nike. His wide recognition on the contemporary art scene came after cooperation with rap artist Aesop Rock and partnerships with Upper Playground and 5024SF. Influenced by the allegory of Orwell, Jeremy Fish creates acrylic paintings and wooden sculptures which have been exhibited worldwide, from Mexico to Switzerland. The imaginative scenes he depicts are product of his interest in industrial development and its connection with human condition. Jeremy Fish was born in Albany, New York in 1974. He graduated from the San Francisco Art Institute in 1998. His work has been shown internationally of solo and collective exhibitions, and it is a part of the Laguna Art Museum in California.