Jesse Hazelip and the Mark of Cain
The artistic practice of Jesse Hazelip is essentially rooted in resistance. Through an eclectic body of work this artist protests against mistreatment of prisoners in American jails, whereas his expression might even be considered controversial by some. Still, if we reduce things to the fight for human rights, which it actually is, Hazelip's art becomes a provocative statement advocating equality without judgement. Symbolically entitled, Jesse Hazelip's new exhibition Mark of Cain will open at Known Gallery in Los Angeles, presenting his latest visions on human confinement, including a performance and a site-specific mural.
Jesse Hazelip – The Body Artist
Observing Jesse Hazelip's creative process and preparations for exhibitions this year alone, it's evident his expression expands beyond the limits of canvas or paper. Although his draughtsmanship remains the key carrier of his pictorial language, installation combinations of pictures with performance and purposeful tattooing mark Hazelip as a body artist, or a conceptualist whose thematics addresses universal problems channeling them via a very specific set of emblems. For the exhibition Love Lock: The Cycle of Violence the artist realized last January at Jonathan LeVine Gallery, he had his head inked with a very elaborately designed infinity sign, as well as his eyebrows and forearms. At the same occasion he confined himself to a simulated plexiglass cell he occupied during the opening.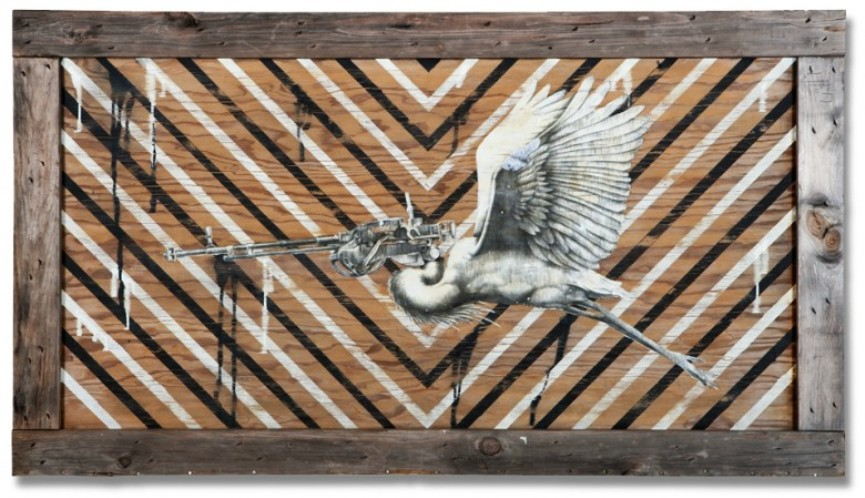 Performance and Tattoos
Mark of Cain will follow and develop the exhibitional pattern of Love Lock. As the artwork will still serve as a visual foundation, Hazelip will construct an installation made out of fluorescent light bulbs, which will describe a solitary confinement cell, replicating its exact measures – 6 by 9 ft. The artist will once again dwell within the symbolic prison during the reception highlighting the context of his artwork. Another physical aspect of devotion to his cause will be demonstrated by another tattoo Hazelip will have done – a stylized variation of the Mark of Cain, on his face, to make an even stronger statement. Tattooing his face relentlessly as a part of his artistic practice, Jesse Hazelip promotes himself as a vessel, raising awareness not solely about the prisoner mistreatment issues, but about the prejudice held against former, especially heavily and symbolically, tattooed inmates.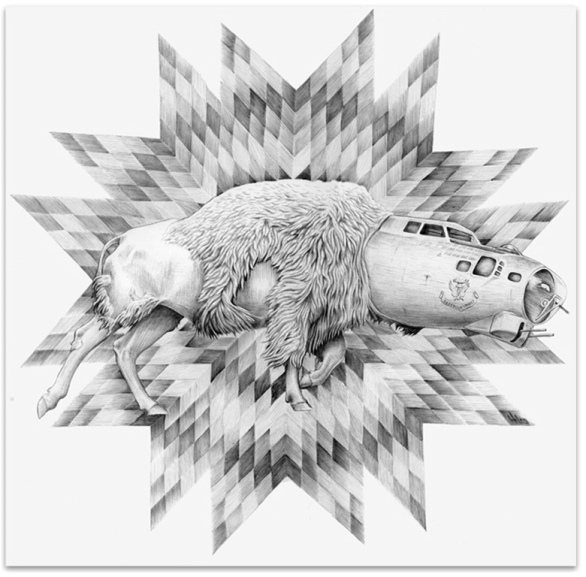 Mark of Cain Artwork
Other works prepared for the Mark of Cain will include carved bull skulls in a scrimshaw technique, study drawings in ink on paper and mixed-media paintings on wood that was salvaged from an abandoned prison. A temporary mural will also adorn the walls of the gallery, only on view during the exhibit. Usual symbolism of Hazelip's animals is still the main bearer of meaning, drawn from the Navajo culture. The bull, the wolf, the snake or the vulture all present various incarnations of the artist's personal system of emblems, referring to oppressive labor practices, pack mentality, violence, predatory behavior, prison hierarchy and the need for survival. Skeleton hands found on the poster for this exhibition are cuffed, as they represent death caused by the extreme force and brutality employed within detention centers nationwide. The new macabre symbol introduces a classic note to Hazelip's art, but also a more direct one.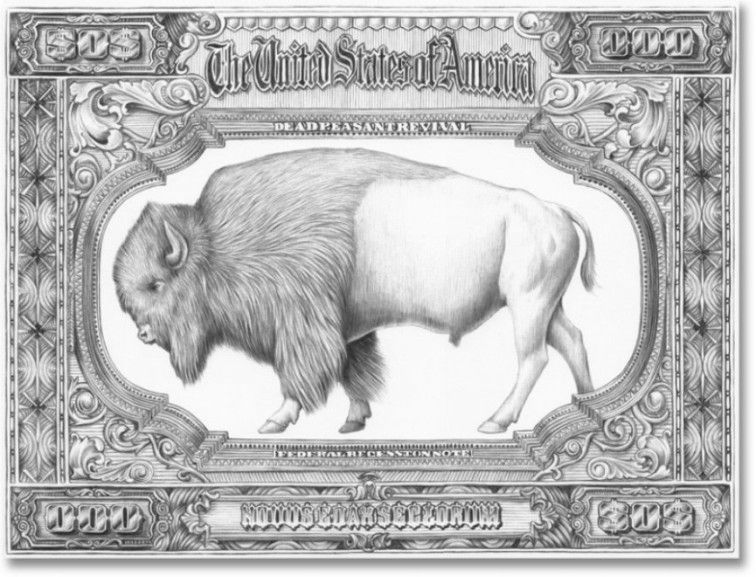 Show at Known Gallery
Known Gallery show is to be the first solo exhibition of Jesse Hazelip in Los Angeles. Simultaneously with the event, the artist will release a screen print in three colors, which will be available for purchase during the opening. Mark of Cain opens on November 1 and it will run for two weeks, through November 15, 2014.
More on different types of body art read in article about famed Marina Abramovic show at Serpentine, a site that promotes graffiti painting on girls called Shriimp or something called – Wild Art.
Article artwork does not necessarily correspond with the show.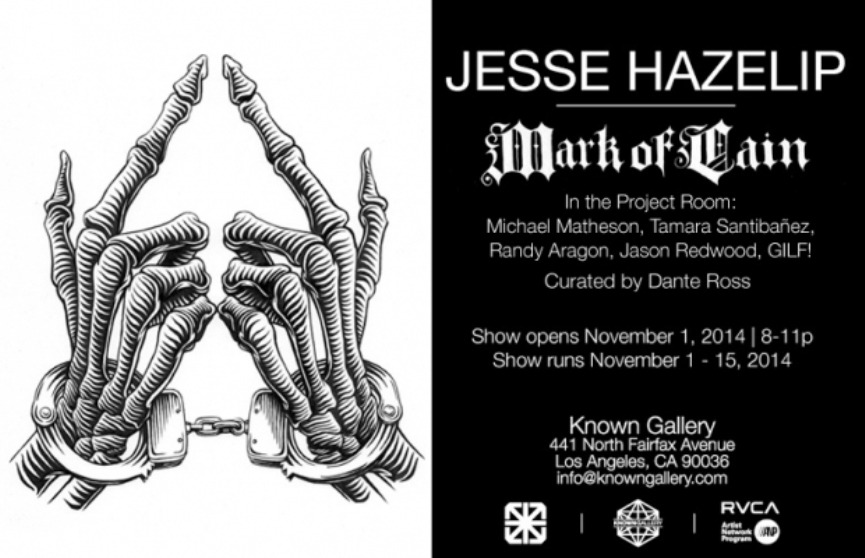 [mc4wp_form]