Above All Else
If you are of those who are always trying to get a seat by the window on the plane, there's a good reason why you should visit the C.A.V.E Gallery on June 14. Jim Darling brings new work from his popular 'Airplane Window' series – an engaging collection of life-size, hand sculpted woodwork "windows", framing fluid landscapes created by the artist's stylized aerosol and acrylic technique. A view high above the earth – it's such an inspiring perspective. Darling has had a long love affair with the airplane window. His take on the view from an airplane window masterfully links modern and classical sensibility.
3-D Glimpse
Jim Darling has always challenged himself conceptually and with various media – including intricate ink drawings, layered woodwork with illustrative painted skins and freestanding sculpture. Each piece in his new exhibition Above All Else is a three-dimensional glimpse of intricately patterned landscapes balanced by the open horizon. Close attention to the work reveals the artist's fascinating, unique and skilled technique. The fluid layering of paint is created with a rigorous process, yet appears subtle and organic. The vistas are wonderfully dynamic. Each time the viewer peers into the "window", one will discover interesting nuances in the work.
Magical Sunsets
In addition to this new collection of life size "windows", Darling has created two larger pieces with hues inspired by magical sunsets that brighten up any space. The work inspires the imagination as one peers into the playful mosaic of these mesmerizing vistas.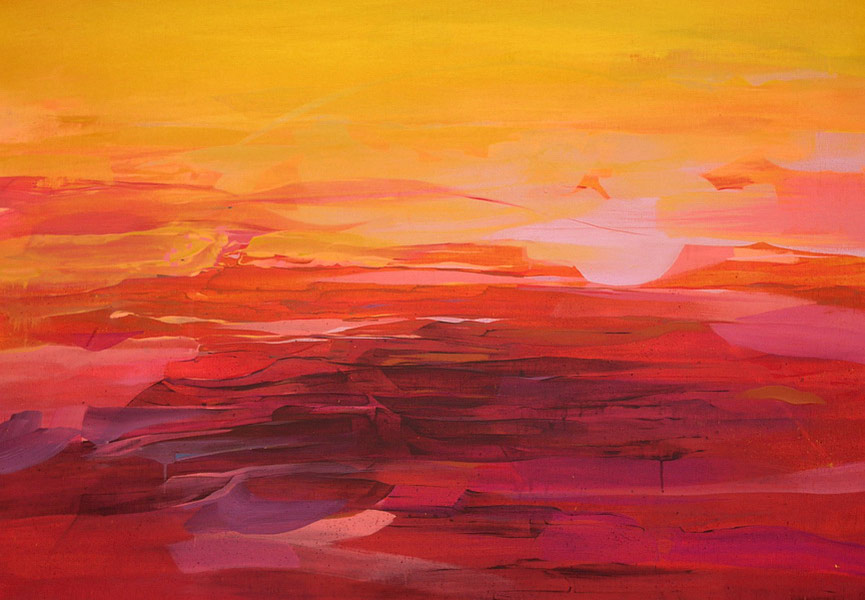 About Jim Darling
Jim Darling grew up in the suburbs of Dallas, Texas. As a junior in high school, Darling took his first art class and realized art school was where he wanted to be. He received his BFA in graphic design from Rocky Mountain College of Art & Design in Denver. He works as an illustrator, street artist, painter and sculptor.
About C.A.V.E. Gallery
C.A.V.E. Gallery in Venice Beach, California is focused on introducing and supporting cutting-edge art that is engaging. The gallery presents a new exhibition each month that features a select roster of ambitious artists who focus on creating bold work, executed with attention to content and technique, and with a challenging perspective on contemporary urban culture.