Joakim Allgulander Brings out the Multitude of Dimensions in Landscape Painting at Orion Contemporary and Fiumano Projects
The work of Joakim Allgulander evokes both emotion and curiosity. One of Sweden's most renowned artists, Allgulander's practice is broad in both subject and media. Despite the curiosity for exploration of different media and techniques, the existential lyricism and poetic content is a constant in his work. Joakim Allgulander exhibition entitled Dra Åt Skogen – The Rural Abstractions opening at Orion Contemporary will present works that are the result of his investigative project within the field of Landscape Painting. Focusing on the potential for abstraction and colour fluidity, Allgulander interprets this artistic genre with a more existential, more urban and more mundane practice.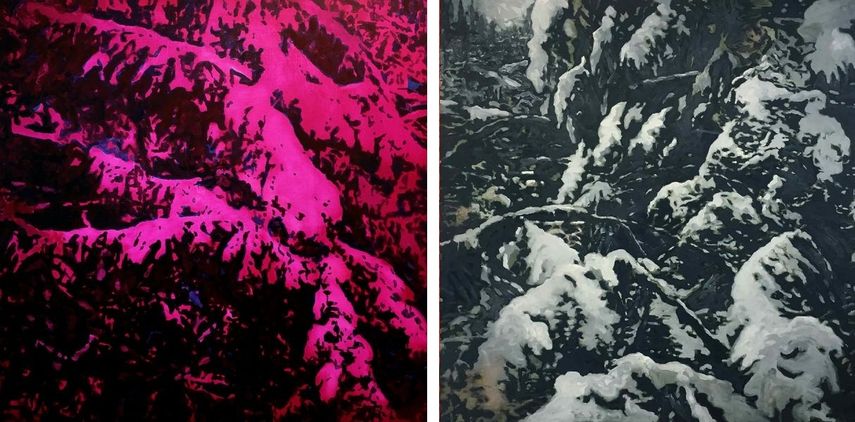 Building Up Memories
The new body of work is the result of a deeply personal study of the landscapes that have surrounded him while growing up in rural Sweden. Extracted from photographs and memory, snowy spruce trees are depicted in a semi-abstract way as fragments. Portraying only details and not the whole trees, his practice symbolizes a fragile quality of childhood memories, as well as the natural recognizable abstraction. Referring to multitude of dimensions of the memory and the way our brain builds these recollections up with subsequent additions, Allgulander uses numerous layers of oil paint and washes to create his images. Often using the same tree motif across several canvases, he explores how the final viewing experience changes after using different painting methods such as the contrasting shading and colour palettes.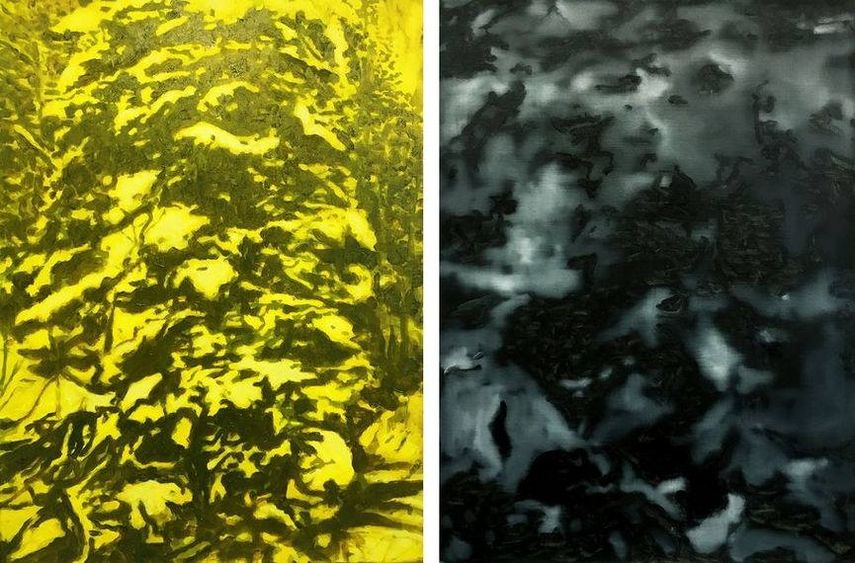 Sculptures on The Flat Surface
Similar to Claude Monet's approach when painting the infamous Rouen Cathedral series, Allgulander's paintings do not merely mirror reality but become sculptures on the flat surface with the use of colours and the texture of the paint. This method of abstraction removes his work far from a traditional notion of picturesque. The memories of mysterious depths of the Nordic forests are combined on a subtle psychological level with his experience of living in an urban environment of London.
Joakim Allgulander –  The Rural Abstractions
Joakim Allgulander Exhibition at Orion Contemporary
Founded in 2008, Orion Contemporary focuses on promoting young and emerging artists with a strong focus on Nordic art. Having previously been a nomadic gallery, it now has a semi-permanent base within Fiumano Projects space in London as this event represents just one in the series of collaborations between Orion Contemporary and Fiumano Projects. The exhibition Dra Åt Skogen– The Rural Abstractions will be on show from May 10th to May 15th, 2016.
Editors' Tip: Nordic Landscape Painting in the Nineteenth Century Hardcover by Torsten Gunnarsson
Explore the rich tradition of Nordic landscape painting that have influenced Allgulander's work. This richly illustrated book is a comprehensive study of landscape painting in Scandinavia during the prolific and vital period of nineteenth century. The search for national identity and a strong sense of unity with nature sparked the growing interest in this genre in 1800s in Scandinavia. This picturesque wilderness became a symbol of Nordic strength as well as a response to fast industrialization of that era and urban European culture. Torston Gunnarsson provides much more than just a catalogue of painters and their lives. Exploring the political context and ideas that led to popularization of portraying fjords, fir trees and silvery northern mist, this book features striking works by painters much appreciated in their home ground.
Featured image: Joakim Allgulander – Heavy Branches (detail). All images courtesy of Joakim Allgulander / Orion Contemporary / Fiumano Projects