Whimsical Illustrations by Joan Cornella Coming to Spoke Art
Viewing the world through the keyhole vacated for us by comic books, we are not only able to identify ourselves and our own practices, but also the experiences of those opposing us. We can expand our comprehension of the surrounding world by taking in these stories and engaging ourselves in their complexity. The established Barcelona illustrator Joan Cornella, is preparing a new solo exhibition set in Spoke Art gallery, an exploration of the wry universe that he has so meticulously devised and conceptualized for us. Productively disregarding anathemas and by using forms constructed from simple lines, Joan efficiently communicates situations which he finds whimsical. His drawings are generally characterized as disquieting, discouraging and abhorrently abusive. This all grants his works the privilege to be designated as Not Safe For Work.
Here's a Short Animated Version of one of Joan Cornella's Illustrations
Joan Cornella Vs Imposed Values
Using the very basics of visual expression, Cornella's comics manage to induce an unsettlingly playful note. Ridicule and sarcasm are often used to force judgment upon us, reminding us of malevolence and desolation rooted deep in the human psyche. Most of his scenes are set in what seems to be an infinite number of idiosyncratic schemes. Artist's subjects freely range from our artificial bonds with social media to legislative forms of oppression, to chemical and non-chemical addictions, to the sickness we call selfie and far beyond the dark portals of reality. Adversely combining gallows humor and severe displeasure, best witnessed in his voiceless six-panel comics, Cornella's works deal with physical impairment and dismemberment, perverse, vicious or inattentive violence, complete separation from modernity and complete disrespect for human life. Even though none of this seems entertaining, one would, upon witnessing and understanding his art, be compelled to try and make sense of all our godless endeavors, and all in order to grasp the magnitude of artist's comprehension of human ridiculousness, ludicrousy and general "goofiness". We and our archetypal visceral fears of being excluded from the pack are mercilessly being put on the "wall of shame". His pictures gloat in their lunacy and gaucherie. Deeper inspection of his work reveals that apparent cheerfulness and playfulness of his characters is nothing more than a folly, all of them adhere to simplistic ideals and values of consumer society by means of cloning their vacant smiles and lifeless facial expressions.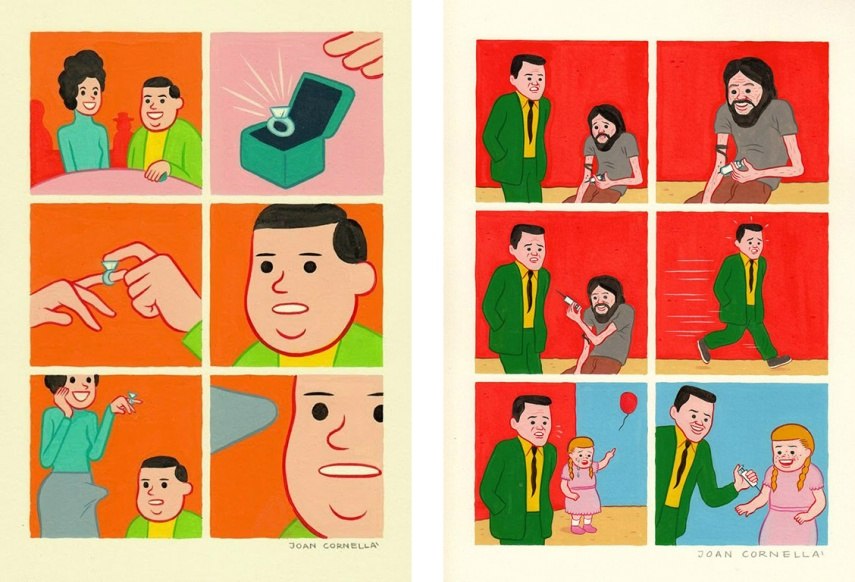 Contemplations on Human Form
Satire has for a long time been one of humanity's rare beacons of introspection, by combining juxtaposition, comparison, analogy, and double entendre, Joan forms his militant irony and sarcasm, just as satire would require. Nothing is too sacred. The scarcity of visual clues in his works leads to the necessity for contemplation in order to fully grasp the message being conveyed. Amputation is the recurring theme in his works, for it intently invokes in us feelings of Fremdschämen, as if our own limbs were being severed. Absorbing and truthful moralities of his comics seem truly candid, allowing for them to retain authority and vigor, even in the face of extremely brazen humor.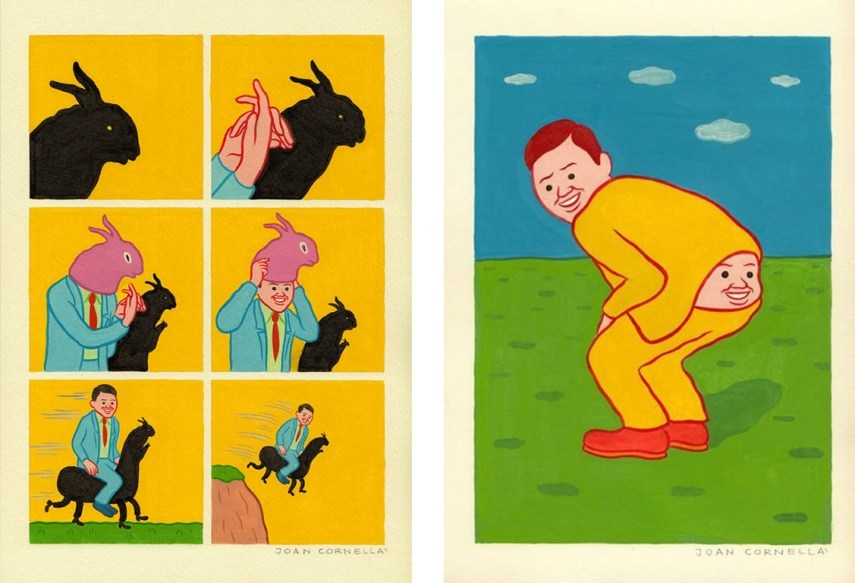 Joan Cornella's Expedition to Discomfort at Spoke Art Gallery
What unites us in respect and admiration for his work is best spoken in the artist's own words: "I think we all laugh at misery. It's the most hilarious thing. And death, we all think about death but we don't want to talk about it. So if you talk about death in a funny way it can be sort of cathartic". For Joan Cornella's solo exhibition, opening Thursday, March 3rd and staying on view through March 26th, 2016, Spoke Art gallery will be opening its doors in an attempt to remind us of our ambiguous nature.
All images courtesy of Spoke Art gallery
Follow These Galleries
San Francisco, United States