Sweet Armageddon by Joe Webb
Inspired by Peter Blake's collage Pop-art, Joe Webb started to reinvent the imagery through hand-crafted low fi collages. Apart from gaining recognition by exhibiting at Saatchi Gallery in London, his works have gone viral on the internet through tens of thousands of shares. After 2013 and his first solo exhibition at Hang-up Gallery in London, they rejoined once again and are happy to present another collaboration – Sweet Armageddon, a new 2015 series of large scale collage silk prints and paintings, alongside new limited edition release commenting the social perversions of the 21st century.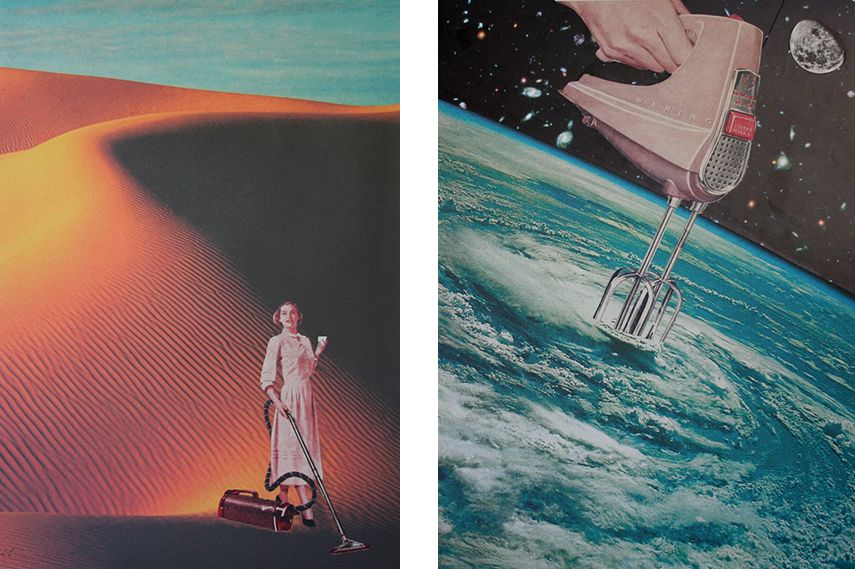 It's Sweet Armageddon Time
Joe Webb's artwork is impregnated with doom and gloom. Juxtaposing two completely different imagery, Webb is creating shocking disturbance with a deep contrast of 1950's American conformity and consumerism, and the images of natural and man-induced disasters. Hurricane over the ocean is stirred up with a mixer from the 1950's implying on the irreversible damaging effect caused by the inadequate mankind's treatment of its own homeworld.  The critique of the 1950's home appliance design intended for housewives who joyfully take part in the predetermined division of gender roles is embodied in the absurdity of vacuuming the desert dunes. Joe Webb is, through his work, eager to show human's ability to enjoy in the outcomes of foul behavior.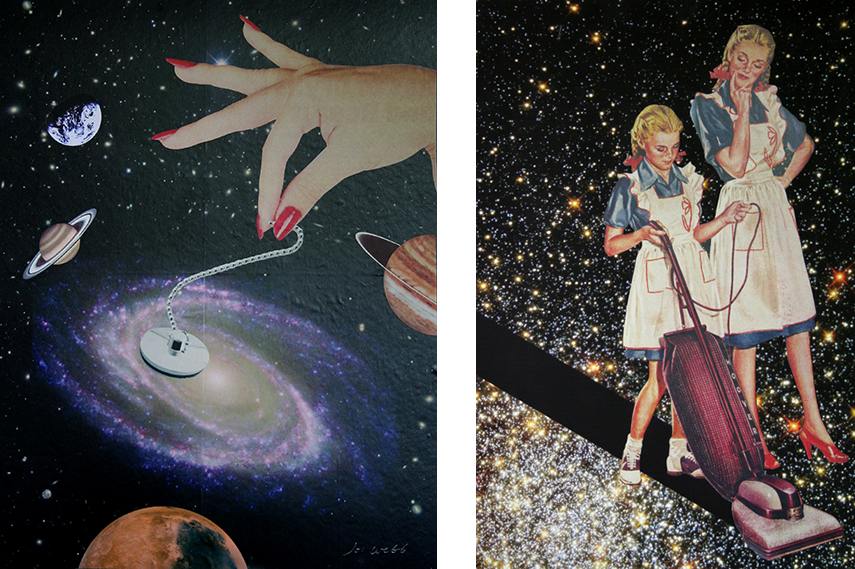 Oxymoron As Joe Webb's Weapon Of Choice
Injected with a strong dose of deadly humor, Joe Webb ridicules day-to-day life tucked in the ignorance of the consequences and casualties caused by the conformity of a minority. Somewhere, on the other side of the looking-glass are people dying of famine caused by droughts, deforestation and war. Webb's artworks are shouting out oxymorons with an idea to reorganize our ranks and think through the impact we are making on our environment before someone pulls the plug and we become surrounded with nothingness. Joe Webb's idea was to fill up a void in the art world deprived from activism and social awareness, since, in 2015, we are overwhelmed with the usual themes while the fire is burning beneath our feet.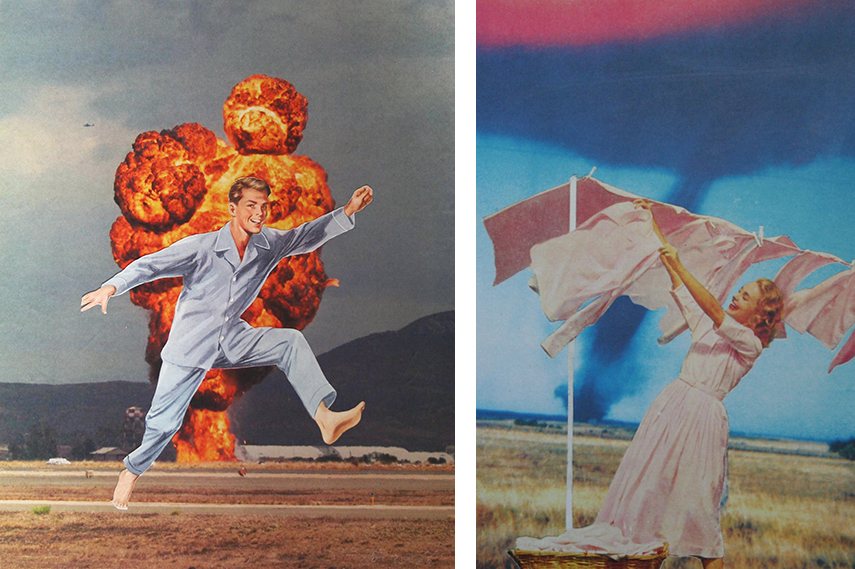 Joe Webb At Hang-Up Gallery In London
Besides exhibiting his original collages in Hang-Up London, with a price range form $1900-$4000, Joe Webb recognizes the affordability of prints, therefore, a new hand of print edition with a price of $470 will be presented at the opening. Joe Webb's clever comment on how consumerism has lead us to turn a blind eye to world problems personified in his solo exhibition Sweet Armageddon will be available for visitors from May 29 until July 12, 2015  at Hang-Up Gallery in London.
Stay tuned with our exhibition announcements and sign up for My Widewalls now!
All images are courtesy of Hang-Up Gallery, London.