Pilgrimage
Shooting Gallery in San Francisco presents the first solo exhibition with the gallery by John Felix Arnold III entitled 'Pilgrimage'. The exhibition will present a new body of work in painting, drawing, mixed media, installation and sound. The exhibition will be a holistic art satisfaction for all visitors. The exhibition is the newest edition of Arnold's post-apocalyptic series that the artist titled 'Unstoppable Tomorrow'. Previous editions included 'Unstoppable Tomorrow Vol. 1', 'Past from the Blast' and 'Found in Darkness'. 'Pilgrimage' will open on May 10th and will run through June 7th. The opening reception will take place from 7 – 11 pm.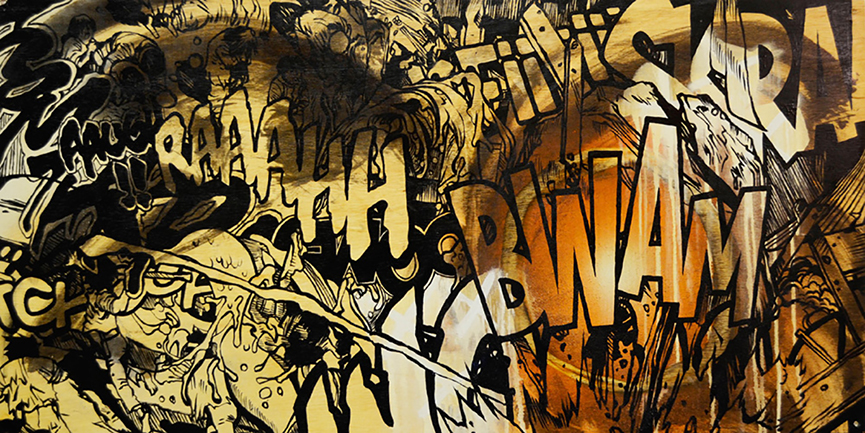 Human Evolution
Arnold describes his latest vision as set in tn a world where human kind's obsessive drive to innovate has lead to a reset of civilization wherein humans are no longer the dominant species: "A group of beings known as the Astroknots (man-made storm like entities created for the military, whose sole purpose is to devour everything in their path) have torn the world apart. The artwork follows a group of survivors who perceive the end of the world as a sign to change their ways and be grateful for the lives they have. They seek spiritual growth as a collective by becoming nomadic and beginning a Pilgrimage. The group has made a decision to search for fertile land, clean water sources and meaning. The tribe strives to create a nurturing world from the wreckage of the past. They have mourned their dead, they have made their peace, and they wish to cultivate a higher state of being, a next phase of human evolution. Theirs is a phase in which self-sacrifice, loss of ego, and a true sense of consciousness is their guide. Having accepted their reality, the survivors have come to exist in a state of gratitude for this new chance to cultivate their humanity and spiritual connections as they move forward on their great pilgrimage.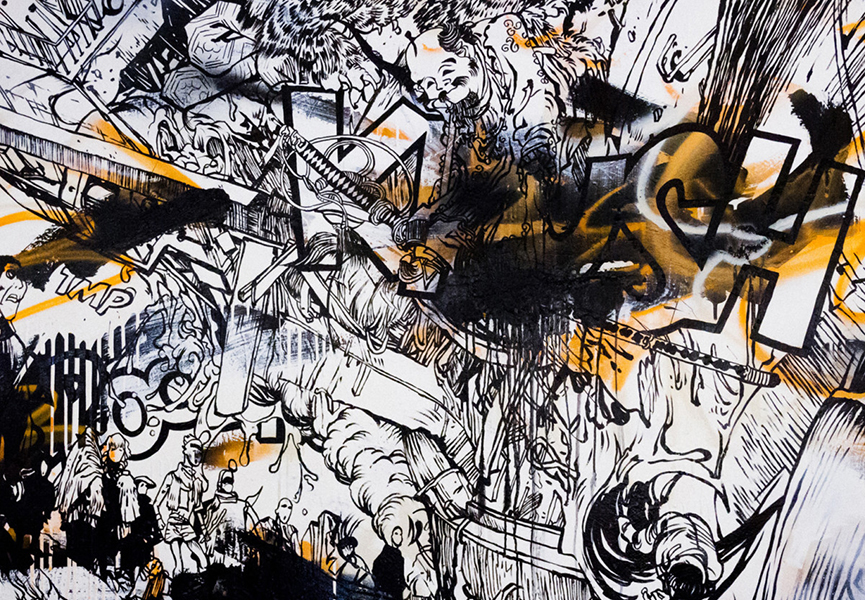 Neo-Cave Painting
Arnold explores this conceptual framework in his signature ever-evolving style. His work references comic book and Manga illustration, Japanese woodblock prints from the Edo period, portraiture and assemblage to create his brand of self-described "Neo-Cave Painting". He creates work with a range of media and references "to visualize and explore his synthesized reality." Many of the pieces are to be perceived as creations from the scribes of the Pilgrimage tribe to document their history and chart a path for the future. Some pieces feature found wood fabricated into beautifully designed panels on which the visualizations of the Astroknots are depicted, while other works include portraits of the survivors on paper, tribal relics, as well as pen and ink studies.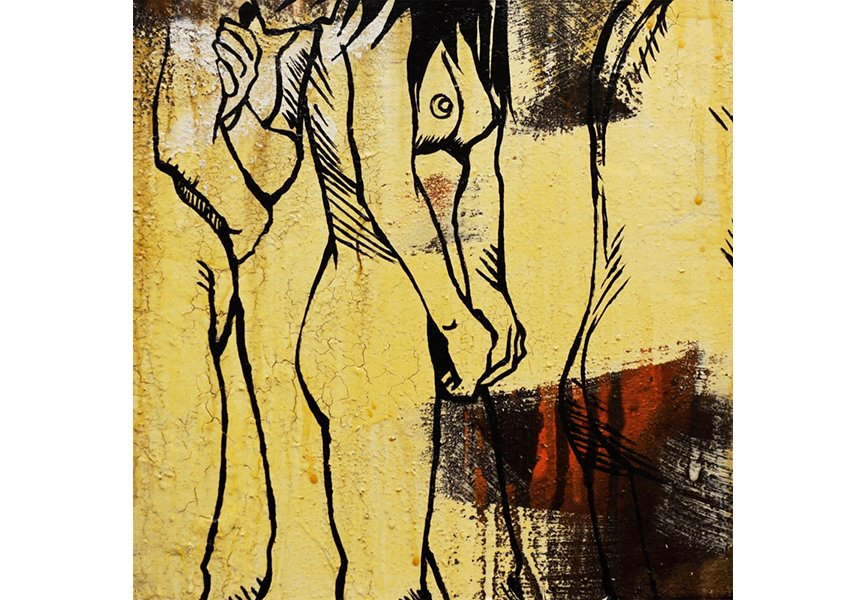 Skulls and Bones
There will be two site-specific installations in the show allowing the viewers to fully immerse themselves in the Pilgrimage. One will be an environment that "the tribe" have just left behind, the last remnants at their point of origin. The other will be a flatbed sculpture trailer structure built from found material that will hold a reclaimed motorcycle frame sculpture (which will incorporate real skulls and bone) that acts as mobile altar to one of their fallen comrades. Both installations will feature Arnold's neo-cave paintings on their fabricated surfaces and emit ambient soundscapes woven with recorded voiced from members of the narrative. All of the components in this exhibition work together to create a multi-sensory journey through which the viewer can experience the narrative.