Blow Your Brains Out
First it happened in Seoul (South Korea) and soon it all continued in New York City subway. Jon Burgerman is being shot by the movie characters featured on film posters. What's this all about? A NYC based artist of British origin, Jon Burgerman, recently commenced a new project entitled "Head Shots" which involves urban interventions in public space. It is an ongoing series of photographs in which the artist is standing against the background of film posters in the subway and appears to have been wounded by movie characters displayed on them. These staged performances are photographed, edited with blood injuries using Photoshop and then shared online. This unique artistic expression belongs to the post-graffiti culture. Since we live in a time of visual saturation from advertisements, shop windows, and, if you like, graffiti as well, street illustrators found themselves challenged to attract attention in a meaningful way which gave birth to a new generation of street art works i.e. urban interventions. Its authors use available components of urban space and modify them in a humorous, speculative and intelligent manner. These interventions often represent critical comments against the use of public space.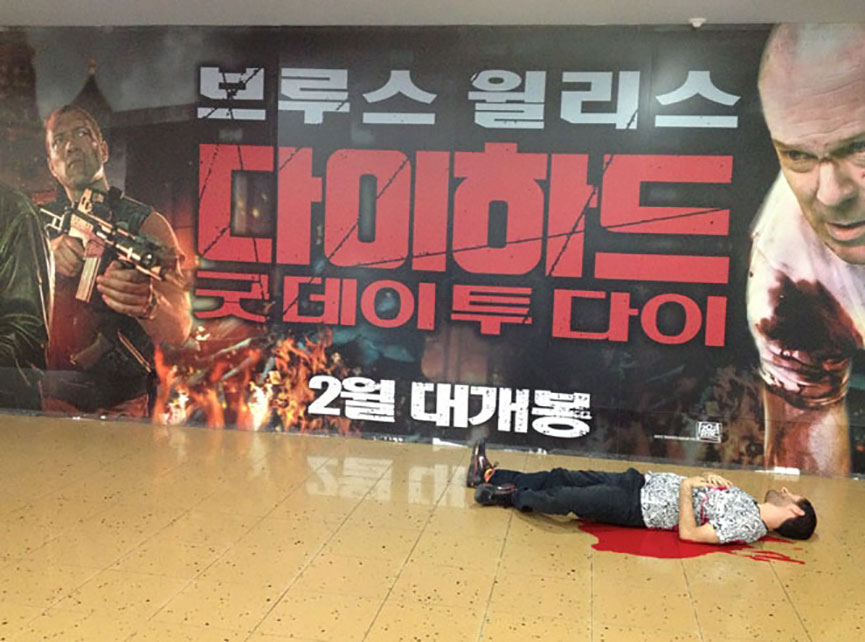 Head Shots
Burgerman's "Head Shots" undoubtedly fall within this body of work since he alters the reading of film posters in public space with a unique twist by adding himself into the suggested scenes as a victim. And so we see James Bond Daniel Craig blowing Burgerman's brains out in a Skyfall poster. Nothing glorifies gun culture more like the movies and/or movie posters. With this project Jon Burgerman urges people, in his own words, to look again at and re-evaluate the type of imagery we have no choice of avoiding in our public spaces. It is also an impressive comment on violence as well as a way of pointing out that high-profile tragedy in the US usually involves shootings. The project is meant to encourage greater interaction with the public hoping to inspire people who have viewed his work to put themselves into situation-altering pictures of their own. Judging by the reactions on the Internet so far, it seems that the project already made an impact.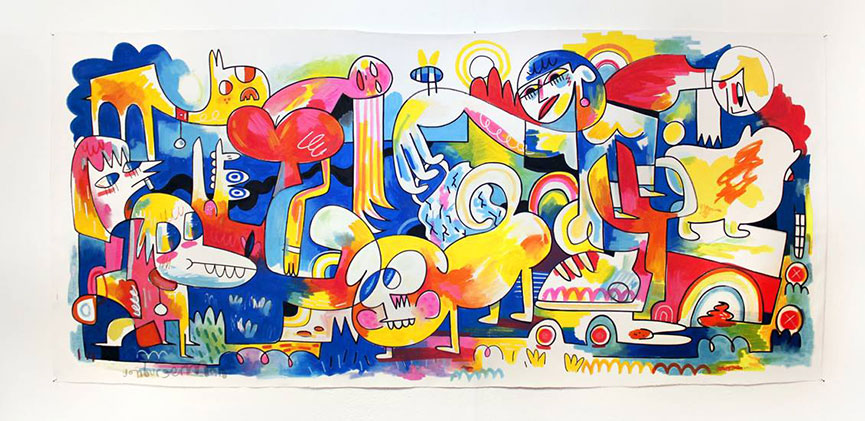 Jon Burgerman – Background
Jon Burgerman has risen to be one of the prominent artists in the recent boom of practitioners. He intersects the disciplines of contemporary art, street art, post-graffiti art, and illustration. He is interested in instigating improvisation and play through drawing and spectacle. "I'm trying to make sense of stuff, it's my take on it which might be humorous, it might be silly, it might be making a comment, it might be just a mere form of discussion. That's the language I use", says Burgerman.