Jon Fox Digs into the Condition of Man in Modern Society at Galerie Celal
Have you ever thought about your life as your own Kingdom, in which it is only up to you, the King, to decide the course it's going to take? Or have you always been aware that this Kingdom of yours would inevitably be tainted by the incredible force called Nature sooner or later? How does knowing this affect you? This and many more questions dealing with the man's dwelling on his own character and state of mind is what British artist Jon Fox will explore in his latest exhibition of works coming to Galerie Celal in Paris. A group of nine intricate paintings and as many drawings are about to go on view in Paris under the title Spoilt Kingdom, as they reflect on both the artist's technical and philosophic evolution.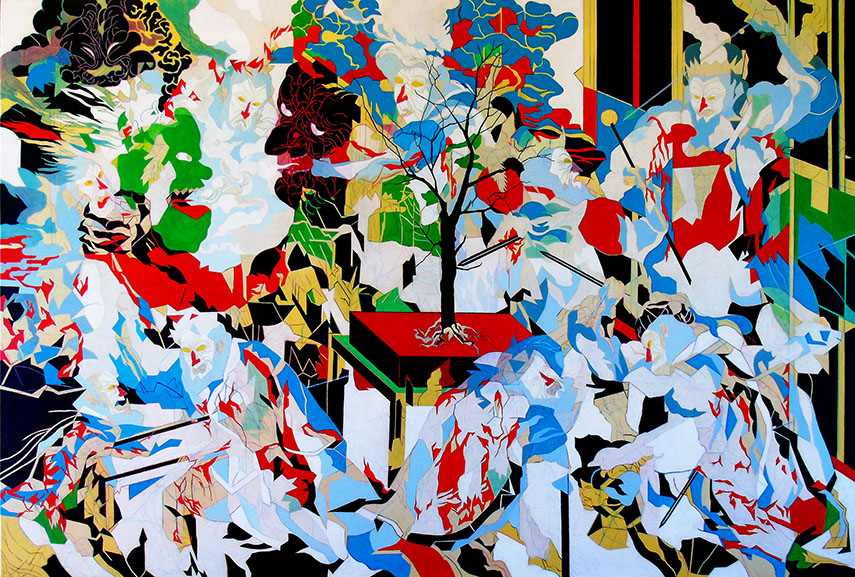 Spoilt Kingdom
In this new series of artworks, Jon Fox looks upon the tormented inner landscape of modern-day man and the reasons that make him go into a state of a frenzied and blind anxiety. This man, a torn, solitary individual with no roots, leads an impeccable life of his own terms, until he is eventually pulled away from it, devoured by the one and only Nature, the Silent Teacher. He cannot escape such fate, as Nature is the all-seeing guardian who can see into our soul better than we can. But does this sort of relationship benefit the man, as it makes him return to his sacred origins? According to Jon Fox, this is not a mere journey to the beginnings of it all, but rather a restoration of our innocence, our lost purity – and by reconnecting with the natural world, the man restores his own process of evolution, as he begins to grow physically and spiritually.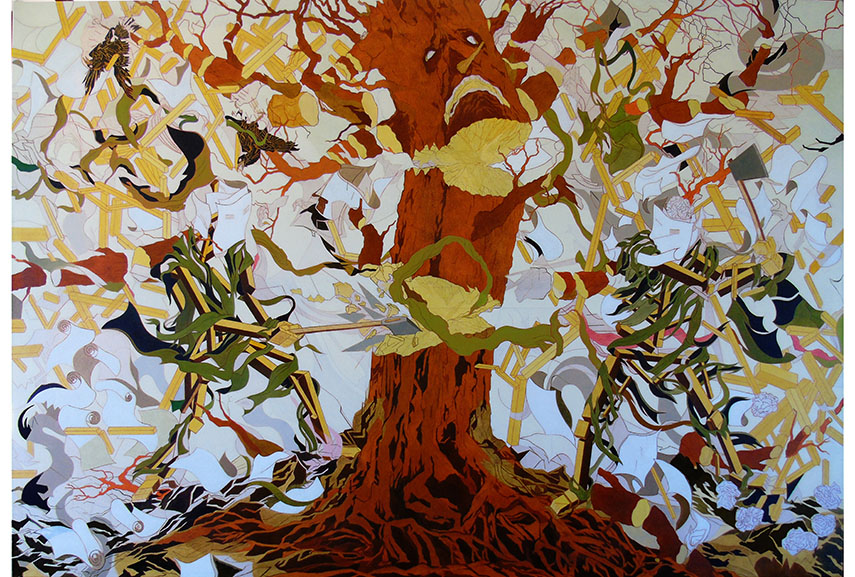 The Metamorphosis of Man
This very change, the rebirth of the human soul, is the protagonist of Jon Fox's latest artworks. The artist reveals a dual process in both structural and chromatic sense, as he introduces us to new shapes and a distinguishing color palette, a much more earthly-related one. Less sharp than before, his scenery is now soaked in shades of yellow, dark-green and orange, all of which maintain the same brightness, which could be seen as the metaphor for human soul as well. These paintings and drawings ooze with vital energy as they accompany the man on his quest to find spiritual regeneration. Complex and elaborate, they make us keep on observing the composition before us, as we try to figure out its meaning and the way we can apply it to our own understanding of the self.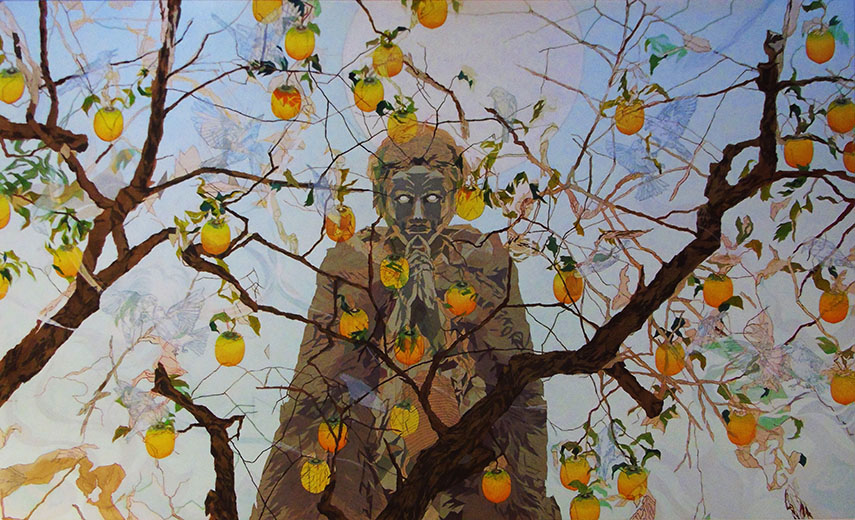 Jon Fox Exhibition at Galerie Celal
In order to become one with the world around them, Jon Fox's characters become that world themselves, as we see them here in forms of trees, branches, rocks and fire. As such, they become a forged mirror of the perfect world, as they identify themselves into the pervasive vastness of the living universe. Spoilt Kingdom, an exhibition of new works by Jon Fox, will be on view at Galerie Celal in Paris, France, from May 19 through June 18, 2016. The opening reception is scheduled for May 19 from 6.30pm.
Featured image: Jon Fox. All images courtesy of Galerie Celal.
Follow These Galleries
Paris, France

Amsterdam, Netherlands